5 Reasons for 'Finding Dory's' Record-Breaking Box Office Splash
Everyone knew "Finding Dory" would be big; the only question was: How big? Well, here are some of the box office records that the animated fish tale swamped.
It's the biggest debut weekend ever for an animated feature, at an estimated $136.2 million. It had the biggest Thursday night preview ever for an animated movie ($9.2 million), followed by the biggest Friday opening day for a cartoon ($55.0 million). It enjoyed the largest-ever per-theater average ($31,634 per screen) of any wide-release animated film ever. It's also the biggest opening weekend ever for a PG-rated film.
Even so, "Finding Dory" wasn't necessarily a sure thing on paper. After all, it had been 13 years since its predecessor, "Finding Nemo," an eternity in family-film and franchise terms. It was rated PG, not the more all-embracing G, as "Nemo" was. And while Pixar movies generally reach all demographics, including adult men and women, it faced real competition for grown-up guys and gals alike from the new "Central Intelligence," the new comedy from Dwayne Johnson and Kevin Hart, two broadly popular box office draws among adults of both sexes.
How did "Dory" overcome those potential obstacles to swim to a record-breaking debut? Here are five ways.
1. It's Pixar, StupidFirst and foremost, the success of "Dory" is "a testament to the consistency that is Pixar," Disney Executive Vice President of Distribution Dave Hollis told Moviefone. It's the 17th of 17 Pixar movies to date to earn an A grade from CinemaScore audiences, indicating very strong word-of-mouth among ticketbuyers. Critics have been similarly kind to "Dory," with 95 percent of them on Rotten Tomatoes giving it a Fresh rating. According to Hollis, the movie had the three elements that Disney likes to see, not just in Pixar movies, but in all its releases: memorable characters, great storytelling, and the creation of a compelling world for audiences to immerse themselves in.
As a result, sequels are not the gamble for Pixar -- or its audiences -- that they otherwise often are. Every one of the five sequels Pixar has released to date has opened bigger than its predecessor. "Dory" opened nearly twice as big as "Nemo" did 13 years ago (at $70.3 million); inflation alone isn't enough to account for that boost.
2. There's Room for EverybodyWhile "Dory" had plenty of appeal for adults (some 26 percent of the audience was made up of grown-ups who came without kids, and 42 percent of viewers were over the age of 25) and to both men and women (the audience was 45 percent male, 5 percent female), the same could be said of "Central Intelligence." Despite being an action comedy, the. PG-13-rated movie drew an audience that was 51 percent female and opened with a healthy estimated $34.5 million. Nonetheless, it's clear that "Intelligence" didn't hurt "Dory" at all. "If you have a good film," Hollis said, "the box office will expand." He also cited the success of Pixar's "Inside Out" debuting well (with $90.4 million) against the second weekend of "Jurassic World" ($106.6 million) last summer and "Monsters University" (an $82.4 million debut) against "World War Z" ($66.4 million) three Junes ago. So Pixar has no trouble attracting its share of grown-ups, even when adults have a similarly compelling alternative at the multiplex.
3. A Bigger FishbowlIMAX wasn't a huge factor in "Dory"'s debut, with some $5 million coming from 211 of the giant screens. Still, it didn't hurt. It might even have been one of the factors that drew adults, especially men, Hollis suggested. "These premium formats provide the very very best way to see it," he said. Booking the film on even a handful of IMAX screens "sends a message" to grown-ups who are willing to shell out extra for premium-format tickets, most of them men, that the movie is worth their while.
4. G, PG -- What's the Difference?There really isn't any, Hollis said. "We've had G-rated movies do massive business, and we've had PG-rated movies do massive business." There may have been more of a distinction years ago, but audiences don't perceive it anymore, he said. So having "Dory" rated PG was "not a factor" at all, he said.
5. TimeYou'd think the 13 years that have passed since "Nemo" might have provided the biggest hurdle of all. But Hollis calls the passage of time "serendipitous" because it allowed for the creation "of what we call 'Generation Nemo.'" For many viewers, he said, "Nemo" was a formative experience. It was their favorite film as a child, or their favorite as a young adult, or it was the first movie they took their kids to see or bought for them on DVD. And the movie hasn't gone away; it's remained ubiquitous in reissues, home video, and cable. So there's a generation of viewers who were primed for the sequel.
Not mentioned by Hollis is that those 13 years have also made lead Ellen DeGeneres a much bigger star than she was when she acted in "Nemo." She's been promoting "Dory" relentlessly for months on her popular daytime talk show.
So the only real challenge, Hollis said, was meeting the high expectations of Generation Nemo. But the success of "Dory" suggests that it's "either lived up to or exceeded their expectations."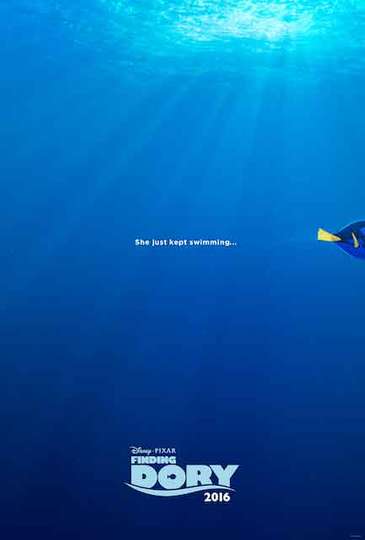 "An unforgettable journey she probably won't remember."
Showtimes & Tickets
Dory is reunited with her friends Nemo and Marlin in the search for answers about her past. What can she remember? Who are her parents? And where did she learn to... Read the Plot