First Pictures from Stephen King Adaptation 'Mr. Harrigan's Phone'
John Lee Hancock directs the latest film based on the prolific writer's books, with Donald Sutherland and Jaeden Martell.
Like many studios and streamers, Netflix just can't get enough of Stephen King's stories, and there have been any number of adaptations.
Yet while Mike Flanagan has been behind several (including 'Gerald's Game' for the streaming service), the latest movie comes from 'The Blind Side' and 'Saving Mr. Banks' John Lee Hancock.
'Mr. Harrigan's Phone', which was first published in 2020 as part of a King collection titled 'If It Bleeds', sees Hancock writing the script as well as directing.
The story follows Craig (Jaeden Martell, while Colin O'Brien plays him as a younger kid), who lives in a small town. He befriends Mr. Harrigan, an older, reclusive billionaire (Donald Sutherland), the two begin to form an unlikely bond over their love of books and reading.
But when Mr. Harrigan (mild spoiler alert, though it's really part of the basic concept) sadly passes away, Craig discovers that not everything is dead and gone and strangely finds himself able to communicate with his friend from the grave through an iPhone…
Which is honestly a surprise to us, since we sometimes have trouble getting a signal in our apartment.
Hancock gratefully accepted the challenge of turning a relatively short story into a movie. "Because it's a novella and it's only 80-something pages, you have to jump in and grab onto thematically what I think he's trying to say and activate some of it into scenes that aren't necessarily all in the novella," he tells Netflix's Tudum blog.
His biggest concern, though, was pleasing the man behind the story. "You finish a script and you realize you've got to send it to Stephen, and you're going to get a thumbs up or a thumbs down," Hancock says. "You go, 'Oh my God, Stephen King's reading my script. I hope he likes it.'"
Though there are definitely scares to be found in the tale, Hancock was not aiming for a full-on fright fest. Which is fitting, since not every King tale is loaded down with terror. "More than anything, it's about an odd relationship between a billionaire in his 80s and a young man and the bonds of friendship, and how far will you go for a friend?" he says. "Do you like 'Shawshank Redemption', do you like 'Stand By Me', do you like 'Green Mile', do you like a ton of other Stephen King? My take on it was, it's in the fashion of Brothers Grimm. It's a cautionary fairy tale in a way."
Martell, of course, is no stranger to King territory, having played the younger Bill Denbrough in both of the big screen 'It' movies. Sutherland, meanwhile, appeared in a TV miniseries of 'Salem's Lot' back in 2004.
The cast for 'Mr. Harrigan's Phone' also features Joe Tippett, Kirby Howell-Baptiste, Cyrus Arnold, Thomas Francis Murphy and Peggy J. Scott. The movie will arrive on Netflix on October 5th.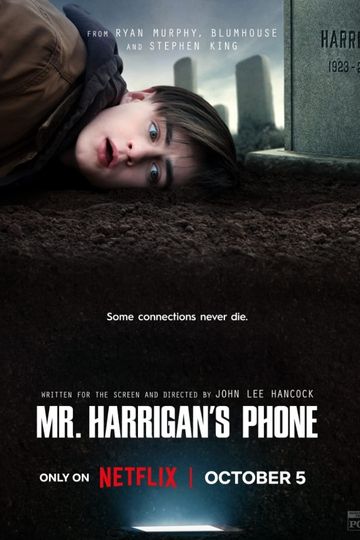 "Some connections never die."