First Look at Zazie Beetz as Domino in 'Deadpool 2'
Hello, Domino!
"Deadpool 2" star Ryan Reynolds shared yet another image from filming on the movie's set, and this time, he released the first look at Zazie Beetz in costume as Domino. It's a tongue-in-cheek image (of course), with Domino laying on top of Deadpool's back. Looks like she's got him right where she wants him:
Some people just know how to work a red carpet. #Domino#DeadPool2pic.twitter.com/llCc8JfKT6

— Ryan Reynolds (@VancityReynolds) July 31, 2017
Domino's real name is Neena Thurman, and she's a mutant who can alter probability. She's also skilled at marksmanship and hand-to-hand combat, and often works as a mercenary. In the comics, she is a partner and love interest of Cable, who will be played by Josh Brolin. She becomes a member of the X-Men and Cable's militant group X-Force.
Not much is known about the plot of "Deadpool 2," or how Cable and Domino come into play. But with this reveal of Domino, it seems like we can expect to get a first look at Cable soon (other than Brolin working out in the gym).
"Deadpool 2" opens in theaters June 1, 2018.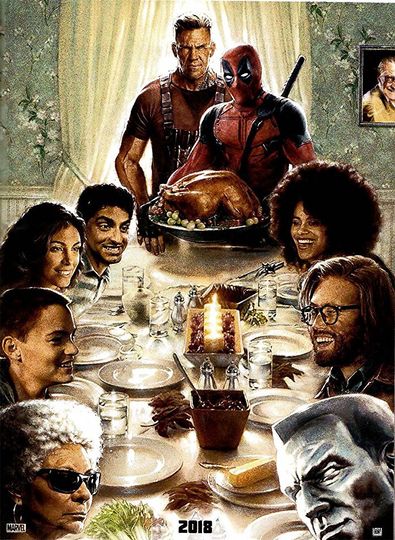 "Prepare for the Second Coming."
Wisecracking mercenary Deadpool battles the evil and powerful Cable and other bad guys to save a boy's life. Read the Plot