'Focus' Movie Review: A Pretty-as-a-Picture Crime Caper
"Wait, what is 'Focus' again?" This is a question that is usually fired back at me, over the past few weeks, when people ask me what I've seen recently and really liked.
Lately, when I run down the movies I've seen recently, "Focus" is always one of those movies I mention, because I really, really liked it. But then, without fail, the person I am talking to asks what "Focus" is. And then I have to explain it to them. This probably has to do with the film's nebulous title and equally nebulous ad campaign, which isn't exactly explanatory (or particularly evocative or moody). So let me tell you just what "Focus" is, exactly. And when I explain what it is, you'll probably be shocked you haven't heard more about it.
So "Focus" is a romantic crime caper starring Will Smith, who until very recently was largely considered one of the biggest movie stars in the world, and Margot Robbie, who, with primo roles in upcoming movies like "Tarzan" and the DC Comics adaptation "Suicide Squad" (where she'll play the villainous Harley Quinn), is poised to become one of the biggest movie stars in the world. Smith is the wary architect of large scale heists, Robbie is his fiery apprentice. Together, sparks fly.
If you think that, based on the aforementioned premise, it sounds like a movie that would have probably gotten a green light in the '90s, you're probably right. It would sit comfortably in a double feature alongside John McTiernan's brilliant "Thomas Crown Affair" remake or Steven Soderbergh's equally brilliant Elmore Leonard adaptation "Out of Sight." It shares the same jazzy DNA as those movies (not to mention a half-dozen David Mamet movies), as well as their restrictive R-rating (yes there's cursing and sex and it's a delight). There are double-crosses and twists galore and you'll find yourself smiling wildly while clutching your armrests because of all the suspense.
It's great to see Smith having fun again, although his exacting performance sometimes borders on brittle. Robbie, on the other hand, is in superstar mode. She's so charming and loose and luminous that you almost have to put on sunglasses while you watch her. As the novice criminal, she's eager and as hilarious as she was in Scorsese's "Wolf of Wall Street." She is the real deal. And she always does a great job to lighten up the material when Smith threatens to bog it down. (It's weird writing about Smith in this way, considering he used to be emblematic of unflappably buoyant cool.) The movie is sexy and fun and a lot of that rests on Robbie's shoulders and she handles it gamely.
The movie, too, is pretty incredible for a couple of stylistic tics. The first is that, instead of a typical three-act structure, it's built around two acts (and two giant heists that take place three years apart). The only other movie that has successfully been structured like this (to my understanding) was Stanley Kubrick's "Full Metal Jacket," and, quite surprisingly, it works wonderfully here. Even if you aren't familiar with the three-act structure, the movie feels decidedly different. And it looks decidedly different, too. This is the other really cool flourish of the movie -- it was shot with spherical anamorphic lenses but instead of the typical 2.35:1 aspect ratio (the one that looks like a thinner band), it's been opened up to a boxier 1.77:1. So it's literally a round image in a square frame. And it looks absolutely stunning. Even on these technical and narrative levels, "Focus" is something of a must-see.
"Focus" was written and directed by Glenn Ficarra and John Requa, who wrote "Bad Santa" and directed "Crazy Stupid Love" (one of the better romantic comedies in recent memory), and these guys know how to make a big, slick movie that actually moves. "Focus" never gets bogged down in the mechanics of crime or feels like it lets expositional dialogue get in the way of character development or the chemistry between the two characters. It's snappy and vivid and gorgeously shot, a pretty-as-a-picture crime caper comedy that feels very much like a throwback but never dusty or out of sync with contemporary styles or concerns. It's very sexy and occasionally quite rude and violent and like something you'd probably watch again, to catch all the things you missed the first time. The ad materials weren't very clear, but really this is what "Focus" is. Any more questions?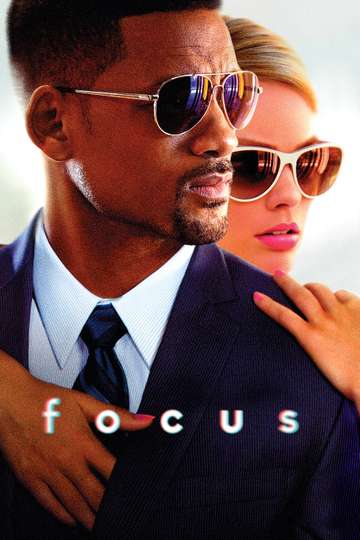 "Never Drop The Con."
1 hr 45 min
Feb 24th, 2015
Nicky, an accomplished con artist, gets romantically involved with his disciple Jess but later ends their relationship. Years later, she returns as a femme fatale... Read the Plot