13 Things You Never Knew About 'Forrest Gump' on its 25th Anniversary
It's been 25 years since "Forrest Gump" landed in theaters and provided Baby Boomers everywhere with a concentrated dose of feel-good nostalgia. In the process, it became one of the most critically and commercially successful movies of 1994. Mark this anniversary by learning a little more about the making of "Forrest Gump" and just how much it differs from the original novel.
1.Tom Hanks wasn't paid a salary for starring in the film. Instead, he opted for percentage points of the gross, a savvy decision that netted him about $40 million.
2.John Travolta, Bill Murray and Chevy Chase all turned down offers to star as Forrest.
3. Hanks actually based his Southern accent on that of child actor Michael Conner Humphreys, who plays young Forrest in the film.
4. Comedian Dave Chappelle turned down the chance to play Bubba, fearing the movie would be a box office disaster. Chappelle and Hanks would eventually appear together in 1998's "You've Got Mail."
5. In addition to playing Bubba, Mykelti Williamson has a smaller role in the film as the White House waiter who removes the cap from Forrest's Dr. Pepper bottle.
6. "Forrest Gump" is one of three '90s movies featuring Hanks and Gary Sinise, with the other two being "Apollo 13" and "The Green Mile." All three were nominated for the Academy Award for Best Picture.
7. Lieutenant Dan's Saint Christopher medal was actually worn by Sinise's brother-in-law during his military tour in Vietnam.
8. Sinise later formed a cover band called The Lt. Dan Band, which mainly performs benefit concerts for veteran-related charities.
9. Hanks' brother Jim served as his body double for many of the running scenes.
10. The Vietnam scenes weren't shot anywhere near Vietnam, but rather in Fripp Island, South Carolina.
11.Kurt Russell has an uncredited role in the film. He provided the dubbed voice for Elvis Presley, building on his previous experience starring in 1979's "Elvis."
12. While based on the novel by Winston Groom, the movie version differs significantly from the source material. The novel includes segments where Forrest becomes stranded among a cargo cult in New Guinea and participates in a disastrous movie shoot with actress Raquel Welch.
13. The sequel novel "Gump & Co." opens with Forrest complaining about how poorly he was depicted in the movie and the hassles of becoming an overnight celebrity. This sequence stems from Groom's anger toward Paramount, whose questionable accounting figures prevented him from earning any royalties from the movie.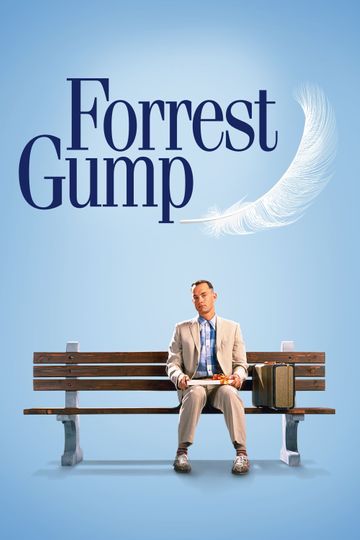 "The world will never be the same once you've seen it through the eyes of Forrest Gump."
A man with a low IQ has accomplished great things in his life and been present during significant historic events—in each case, far exceeding what anyone imagined... Read the Plot