Horror Sequel 'Happy Death Day 2U' Lands Romantic Release Date
It's really happening. "Happy Death Day" -- which killed at the box office last October -- now has a sequel with an official title and an official release date.
"Happy Death Day 2U" will arrive in theaters February 14, 2019. Yes, that's this coming Valentine's Day. Bring your favorite *or* least favorite person.
We heard about this sequel in May when Deadline said it was starting production that month. They also mentioned two new characters added for the sequel, in addition to original cast members Jessica Rothe (Tree Gelbman) and Israel Broussard (Carter Davis).
The first film followed Tree's "Groundhog Day" style murder on her own birthday. Christopher Landon directed the first film, and he also returned to write and direct the sequel.
According to EW, in "Happy Death Day 2U," Tree discovers that dying over and over on her birthday was actually easier than the dangers that lie ahead.
Blumhouse produced the film, and chief Jason Blum raved about the sequel to EW last month:
"I'm extremely proud of the second movie. It's better than the first movie, it takes it further. Chris Landon got the tone right, and you're going to love it."
Landon and Rothe have both teased out Chris Landon's plan for the second film. Last year, before the first movie even came out,  Landon told Insider the idea for a sequel was already in the first movie "hiding in plain sight."
In January, Rothe praised Landon's sequel idea to Collider:
"Chris has done this incredible thing where the sequel, the way he described it to me, elevates the movie from being a horror movie – and I wouldn't even say it's just a horror movie because it's a horror, comedy, rom-com drama – into a 'Back to the Future' type of genre film where the sequel joins us right from where we left off, it explains a lot of things in the first one that didn't get explained, and it elevates everything. I was really pleased to know that we weren't just gonna be pushing all the buttons that people loved the first time, over and over again, 'cause I think that gets old."
At the risk of being disappointed on Valentine's Day (wouldn't be the first time), we're getting our hopes up a bit for this. "Happy Death Day" was a massive surprise hit, and we're ready to be surprised again -- in a good way.
You now know when the sequel opens. Will you head out to see it?
Want more stuff like this? Like us on Facebook.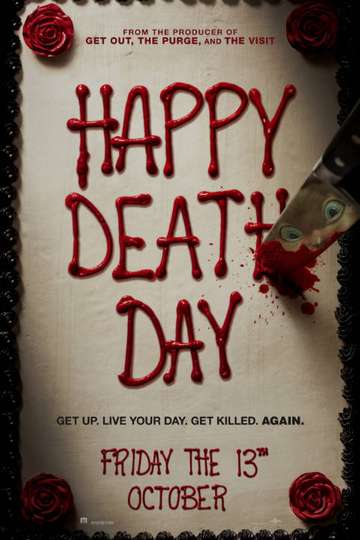 "Get up. Live your day. Get killed. Again."
1 hr 37 min
Oct 13th, 2017
Caught in a bizarre and terrifying time warp, college student Tree finds herself repeatedly reliving the day of her murder, ultimately realizing that she must identify... Read the Plot