How 'Glass' Connects to 'Unbreakable' and 'Split'
"Glass" marks the culmination of a story that began 19 years ago with the release of "Unbreakable," M. Night Shyamalan's tribute to superheroes and more broadly, the visual and narrative language of comic books. Though the prospect of completing its mythology once seemed unlikely, the success of 2016's "Split," a psychological thriller that featured a few important overlapping details (including a cameo from Bruce Willis as David Dunn) catapulted it back into the public consciousness. After finally arriving in theaters this weekend, Shyamalan's long-awaited follow-up answers some lingering questions, clarifies important details about these characters, their lives and their connections to one another, and paints a fuller backdrop for this burgeoning world of super-powered individuals. Beware of spoilers if you have NOT seen "Glass" yet, but here are just a few of the motifs, themes and threads that tie these films together: Elijah Price
Before he played "Avengers" assemblyman Nick Fury, Samuel L. Jackson helped find Shyamalan's motley crew of super-powered individuals as Elijah Price. Elijah's own origin story is built on twin interlocked pillars of unhappiness and pain -- he was born with a disease that makes his bones susceptible to breaks, ostracizing him from other children. But it's his resulting escape into comic books that drives the discovery, at a terrible cost, of his eventual adversary, and later, the proof that what he has read on the page of thousands of comics is a thinly-veiled version of reality. After the events of "Unbreakable ," Elijah's triumphant epiphany is undercut by almost two decades of institutionalization, but an introduction to Kevin Wendell Crumb (James McAvoy) rekindles his determination to show the world that heroes -- and villains -- do actually exist.
David Dunn
Bruce Willis had long since become one of Hollywood's toughest guys by the time he took the role of David Dunn, a melancholy security guard who learns he has extraordinary abilities. If "Unbreakable" unveils not just his powers but his purpose, "Glass" gives his efforts meaning: after taking on the responsibility of combating evildoers, he faces his greatest opponent in Crumb, whose strength and endurance rival his own, but whose ferocity as The Beast counterbalances his resolve and moral clarity. Price eventually pits David and Kevin against each other in order to push them to show the true extent of their powers -- both to themselves, and to the world at large.
Kevin Wendell Crumb
Like Jackson, James McAvoy was no stranger to superheroes before taking the role of Kevin Wendell Crumb, a young man who suffers from Dissociative Identity Disorder whose multiple personalities are in a constant battle for control of his body, which they call "the Light." Shyamalan actually conceived the character at the time that he was writing "Unbreakable" but eventually cut that story down to focus on the balance of good and evil between that film's two main characters, David and Elijah. In "Split," many of Crumb's personalities were showcased, as well as just a hint of his powers as The Beast, a creature with heightened strength, speed and abilities who's believed to be the next step in man's evolution. Because those abilities are largely demonstrated in the service of kidnapping young women whose bodies are later eaten, he soon finds himself in conflict with David; at the same time, Elijah provides his dueling personalities with a clear-eyed authoritative presence to drive them forward, leading to the showdown that occurs during the climax of "Glass." Supporting Cast
Though David and Elijah anchor the superhero dialectic in "Unbreakable," a handful of supporting characters throughout that and "Split" play important roles in nudging them towards not just self-discovery but their destinies. Mrs. Price (Charlayne Woodard), Elijah's mother, introduces him to comic books as a child as a way to get him to venture outside into a very frightening and dangerous world, paving the way for his expertise and even obsession with their conventions as an adult. Joseph Dunn (Spencer Treat Clark), David's son, becomes his closest confidante as he begins to realize what he has been hiding (even from himself), and Joseph both idolizes him and encourages him to share those gifts with the world.
And then from "Split," Casey Cooke (Anya Taylor-Joy) is the only young woman to survive kidnapping by Crumb, and later, to be freed by The Beast. She becomes an unlikely ally after the three are detained, providing Crumb -- or at least his buried "real" personality -- with much of the unconditional love that he was refused that subsequently unleashed his violent alternates. Meanwhile, there's also Jai (Shyamalan), a young drug dealer David briefly detains in "Unbreakable" who by the time of "Split" and "Glass" has turned his life around, and now himself works in security. Bonus trivia: the same character appeared in the non-"Unbreakable"-connected "The Village!" How's that for a twist?
Colors, Images and Sounds
Shyamalan's creation of the world of these characters was very detailed and deliberate, and as far back as "Unbreakable" he associated specific colors with each of the characters -- in David's case, the green of his poncho that conceals his identity, and in Elijah's, various shades of purple (a color that just viscerally stands out on screen but is used particularly often with villains in comic books). He later adds another color to this landscape with Kevin, whose multiple personalities all in different ways seem to gravitate to some shade of yellow. Though he uses a different composer for "Unbreakable" than for "Split" and "Glass" (West Dylan Thorsdon), in the final film Shyamalan skillfully integrates cues from the first two to reinforce the continuity of the characters and to underscore thematic ideas like David's understated pursuit of criminals. Finally, Shyamalan uses two scenes originally deleted from "Unbreakable" as a look inside the minds of David and Elijah at two particularly fraught moments in their journey in "Glass" that amplify the emotional intensity of their continued, individual and collective search for meaning.
Eastrail 177
Unofficially, "Unbreakable," "Split" and "Glass" form what is known as the "Eastrail 177" trilogy, because it's the train crash from "Unbreakable" that sets these characters on their path: Elijah, hoping to uncover news of a Super, sabotaged the train, causing all of its passengers except for David to die. Though he is ultimately -- and horrifyingly -- elated to discover what he's been searching for, Elijah unexpectedly created two super-powered beings that day, because Kevin's father died in the crash, leaving the then-child to deal with his mother's own mental illnesses, which eventually caused his own. The Beast's eventual discovery of this fact in the final scenes of "Glass" brings not just his own or David's stories full circle, but Elijah's, as the unhinged mastermind fulfills his destiny and finally exposes the world to superheroes -- even as it comes at the ultimate cost.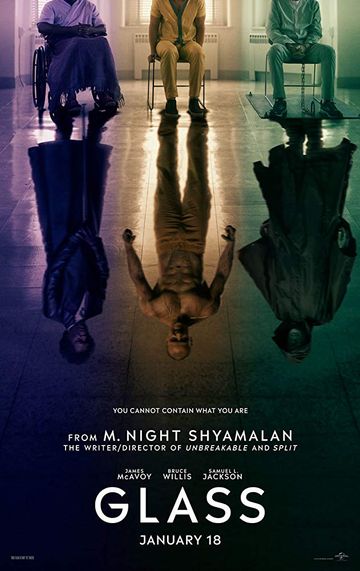 "You Cannot Contain What You Are"
In a series of escalating encounters, former security guard David Dunn uses his supernatural abilities to track Kevin Wendell Crumb, a disturbed man who has twenty-four... Read the Plot