J.J. Abrams Called Daisy Ridley's 'Star Wars' Acting 'Wooden' on Her First Day
Why is it that an insult tends to have a longer shelf life than a compliment? J.J. Abrams directed "Star Wars: The Force Awakens," and he cast mostly unknown actress Daisy Ridley for the star-making lead role of Rey, probably because he saw that she was a great talent with incredible potential. But she remembers a comment he made on her first day of filming that darn near killed her off.
"I was petrified," Daisy told Glamour, in a cover story for the magazine's January 2016 issue. "I thought I was gonna have a panic attack on the first day. J.J. ... he probably doesn't remember telling me that my performance was wooden. This was my first day! And I honestly wanted to die. I thought I was gonna cry, I couldn't breathe."
Maybe that was part of J.J.'s hazing process? Just watching the trailers and clips and TV spots, you can already see a multi-dimensional performance from Daisy, so she can leave that "wooden" comment behind. Not that she has seen her full "Force Awakens" performance. She told Glamour, "I haven't seen the film yet - I kinda want to, and I kinda don't - Steven Spielberg's seen it three times, as he told me when I met him!" But did he say anything about her performance? If he said she was wooden too, she probably would've gone into hiding, so he must've liked what he saw (all three times).
"Star Wars: Episode VII - The Force Awakens" opens December 18th, 2015.
Want more stuff like this? Like us on Facebook.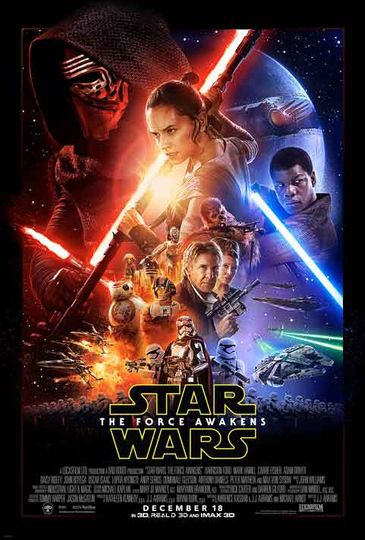 "Every generation has a story."
2 hr 16 min
Dec 18th, 2015
Thirty years after defeating the Galactic Empire, Han Solo and his allies face a new threat from the evil Kylo Ren and his army of Stormtroopers. Read the Plot