First Photo of Keanu Reeves from 'John Wick: Chapter 4' and First Trailer
A reflective moment for the assassin as Reeves' Wick is pictured among candles. While Lionsgate releases the first teaser trailer for the upcoming movie.
UPDATE: Watch the first trailer from 'John Wick: Chapter 4' in the video player above.
Is John Wick asking for thoughts and prayers? It's not really what you expect from a man who has been known to kill people with whatever is convenient, but in this first image from 'John Wick: Chapter 4', he certainly appears to be having a moment of quiet reflection.
Until, that is, he starts stabbing people with candles. We don't know if that'll happen for sure, but we won't rule it out.
What will happen in 'John Wick: Chapter 4' still largely remains a mystery, and studio Lionsgate is in no hurry to fill us in.
The end of the third movie, 'Parabellum', saw the rogue assassin become "incommunicado"; and landed with a huge price on his head. But by the end of the movie, allegiances have been tested… with The Continental and Winston (Ian McShane) assuming their neutral status once more, after the possible betrayal of Wick. Thankfully, Wick finds himself rescued by none other than the Bowery King (Laurence Fishburne).
Alongside Reeves, Fishburne and McShane, the cast includes a mixture of returning veterans and new faces such as Lance Reddick, Rina Sawayama, Donnie Yen, Hiroyuki Sanada, Shamier Anderson, Clancy Brown, Marko Zaror, Bill Skarsgård, and Scott Adkins.
Chad Stahelski, who has been the franchise's guiding director since making the first installment with David Leitch back in 2014, admits he worried about following the third installment, 'Parabellum'.
"There's been a couple days where I've decided to do number four and I've woken up in a cold sweat going, 'Horses! How do I beat horses?' I have no f*****g idea, to tell you the truth," Stahelski tells Collider. "I have a lot of really cool ideas for the next one that I think are different and shocking and fun and unique. How to do them, I have no f*****n' idea right now. I'm still figuring it out."
Stahelski also says that it was never the plan to make more than one movie way back when. And he's been treating each Wick movie – despite an expanding narrative universe – as a standalone film. But there are always new ideas lurking, even on press tours…
"I think we were in Japan, and Keanu goes, 'I think I got one more left in me,' and we had one idea we didn't use which we really loved, and we have to cut it out of 'Parabellum', just didn't have the space for it," he says in the same Collider interview. "So we're like, 'Okay, we'll do a fourth. That's gonna be awesome. We'll make a plan.' The studios went, 'We totally get what you're trying to do.' We submitted an idea or thematic plan, and it was really big. So, we're talking about doing a little bit more. We'll see how that goes."
So far, the only real clue we've had might not be a clue at all – as actors don't always know these things for sure – but Anderson has teased the full title is 'John Wick: Chapter 4' – Hagakure (a Japanese guide for warriors in case you didn't already know).
Whatever it is subtitled, 'John Wick: Chapter 4' will punch its way into theaters on March 24th, 2023.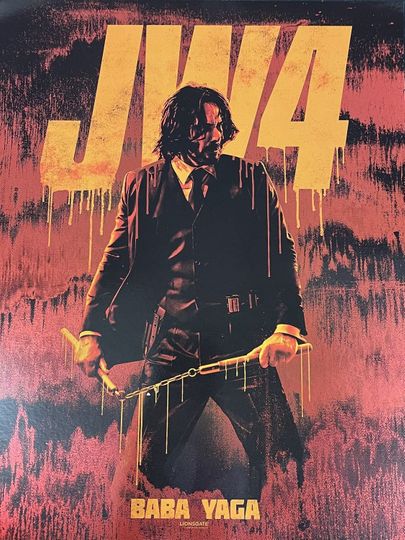 With the price on his head ever increasing, John Wick takes his fight against the High Table global as he seeks out the most powerful players in the underworld,... Read the Plot