Jordan Peele's 'Us' to Premiere at SXSW Film Festival
It's safe to say that Jordan Peele's new horror movie, "Us," is one of the most eagerly-awaited movies of 2019. And as such, it's getting a splashy premiere at one of the country's biggest film festivals.
"Us" will make its world debut on opening night of the SXSW Film Festival in Austin, Texas, slated for March 8. The sinister flick stars Lupita Nyong'o, Winston Duke, Elisabeth Moss, Tim Heidecker, Yahya Abdul-Mateen II, Anna Diop, Evan Alex, and Shahadi Wright Joseph.
"We are crazy excited to world premiere the most anticipated film of 2019 from the creative powerhouse that brought us 'Get Out,'" said Janet Pierson, director of film for SXSW, in announcing the flick's addition to the festival's lineup. "We honestly couldn't imagine a more perfect film to kick off the 2019 SXSW Film Festival."
The film debuted its haunting first trailer on Christmas Day, which you can watch below:
And here's the official synopsis:
Accompanied by her husband, son and daughter, Adelaide Wilson returns to the beachfront home where she grew up as a child. Haunted by a traumatic experience from the past, Adelaide grows increasingly concerned that something bad is going to happen to her family. Her worst fears soon become a reality when four masked strangers descend upon the house, forcing the Wilsons into a fight for survival. When the masks come off, each stranger takes the appearance of a different family member.
We're ready to be scared silly. "Us" will open nationwide on March 15.
[via: The Hollywood Reporter]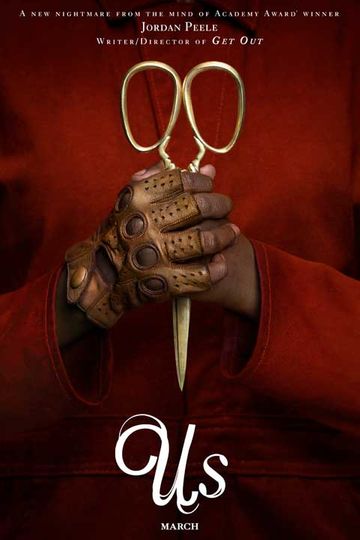 "Watch yourself"
1 hr 56 min
Mar 22nd, 2019
Husband and wife Gabe and Adelaide Wilson take their kids to their beach house expecting to unplug and unwind with friends. But as night descends, their serenity... Read the Plot