Female Filmmakers in Focus: Julie Cohen and Betsy West Discuss Their New Documentary 'Julia'
Welcome to Female Filmmakers in Focus, featuring recommendations for films directed by women to seek out each week. This week, Julie Cohen and Betsy West talk about their new Julia Child documentary 'Julia' and I recommend you pair it with Nora Ephron's 'Julie & Julia.'
Julia - directed by Julie Cohen & Betsy West
Julie Cohen attended Colgate University for undergrad before receiving a Master's degree from Yale Law School, where she was a Knight Journalism Fellow. Currently, she is an adjunct professor in the documentary program at Columbia University. Betsy West attended Brown University for undergrad before receiving a Master's in Communications from Syracuse University. After working for three decades in network news, she joined the faculty at Columbia University Graduate School of Journalism. Cohen had directed seven documentaries and West had produced countless documentaries for film and television before the two joined forced on the Oscar-nominated doc 'RBG' about the life and career of U.S. Supreme Court Justice Ruth Bader Ginsburg. 'Julia' is their third collaboration together; their second documentary 'My Name Is Pauli Murray' was released on Prime Video earlier this year.
Combining archival research with new interviews with those who knew her best, and exquisitely shot food, 'Julia' is a crowd-pleasing documentary that brings the life and passion of Julia Child sizzling into focus. The documentary swiftly traces Child's life from her upbringing in Pasadena, California to her time serving in WII to her passionate love affair with her husband in France, and how all of this culminated in her becoming the first celebrity chef. You will laugh, you will cry, and you will definitely leave the theater hungry.
'Julia' is in theaters now. "The delicious life of America's first food icon."
Directors Julie Cohen and Betsy West spoke to Moviefone about bringing her extraordinary life to the big screen.
Moviefone: How do you choose a topic for your documentaries, and how did you land on Julia Child for this one?
Julie Cohen: You know, we're always looking to tell amazing stories about groundbreaking Americans. And the font, the question of how we choose very much has to do with the individual. When we're looking at someone's story, we're thinking: is this person someone who really changed America in one way or other? Are they fascinating? Do they have a life trajectory that will work well, in a film? And the big question: is there the right material, you know, audio and video to tell this story with? Julia Child's story fits the bill perfectly in many ways.
MF: How long were you working on sort of the research side of this particular film?
Betsy West: We worked for about a year getting everything in place, talking to the Julia Child Foundation, figuring out where all the materials were, reading the number of biographies and other materials, and then securing the funding for the film. So that was about a year in development. In terms of making the film, it was a little under two years to film and to edit it.
MF: How do you decide what the trajectory and arc of the story is?
Cohen: It's a process. In our mind, the shooting process and the editing process and the research are all kind of melded together. It's not like you do one then the next time the next. As we're researching the story, we're trying to think about what things we want to focus on. As we're picking out who to interview, we're figuring out what makes each interview subject and an amazing character, who doesn't just feel like an expert, but really feels connected to the story. By the time we get into an edit process, we already have some ideas in mind about what the story should be. That's when Carla Gutierrez, who was the editor of this film, and also had been our editor 'RBG' comes into the process, and then it becomes the three of us together figuring out of all of the material that we're gathering and seeing what's the stuff that sings the loudest?
West: I remember after Carla screened every a lot of interviews that we have done, and screened highlights of all of the archive that our archive producers had organized, we had a meeting, and we went over the story points, and we made little cards of what are the main scenes and the main points that we want to highlight here. Now, of course, that keeps changing as you go along. But you've got to start somewhere. Carla will start doing a scene, and then we work on that and one scene leads to another step by step.
MF: How does your collaborative process work as co-directors?
West: I'm sure it's different with different people. But you know, for us, we make all of the major decisions together, we have a certain amount of trust now because we've been working together since 'RBG'. I think once we've set a path, then we will often divide and conquer. So Julie will do one interview, and she'll write the questions, and she'll be doing the interview, but I'll look at the questions. And I'll often be there for the interview and kind of backstop her. And in terms of putting together scenes, we often will split that up and each of us will work on a section and then when we feel like we've gotten into a pretty good place, show it to the other person to get the feedback. It's very much back and forth.
MF: What is sort of the most surprising thing you learned about Julia Child that you didn't know before starting?
Cohen: We should say we did not come into this film as great Julia Child experts, so there were many parts of her story that felt like revelations, like understanding how she had involved herself in various political movements. We were fascinating by the story of how her view towards gay rights had changed, basically going from being homophobic to being a vocal, active supporter of AIDS research in a completely unapologetic way. That was very unusual at the time that Julia was speaking out for research to help people with AIDS in 1988. No one was doing that, let alone someone like Julia Child, whose fan base was middle America. So that really felt like an interesting part of her character and just an amazing, fascinating story to us.
West: I'll say also, the love story kind of blew us away. We knew that she had a great, supportive husband. But I think we were a little surprised to find a nude photo in the archive and other evidence of just how much Paul child adored his wife.
MF: How did you decide what recipes to cook and frame the film that way? They really made you feel the way she felt about the food.
West: We worked with food stylist Susan Spungen, and talked to her about which of the classic Julia Child recipes would help us illustrate the various aspects of the story. Like how to show making a mistake and trying over and over and over again. Anyone who has ever made hollandaise sauce knows that it can curdle. That's one example. It was Susan's idea to do the pear tart to illustrate the love story, because it has so many cool parts, massaging the dough and the pears bubbling around. I like that you use the word feeling because that's what we were trying to get at: what's the emotion involved in preparing and consuming food together with the people that you love?
MF: Do you think there's a direct correlation between Julia Child's show and today's internet food culture?
Cohen: Absolutely, I don't think there would be the internet obsessed food culture that exists today if it hadn't been for Julia Child. Before Julia, there was something embarrassing almost for Americans about loving food. They didn't have that very French sense of like you should stop everything in the middle of the day and just savor and enjoy your lunch and some wine. It's a fantastic experience. Americans were like food was just like something to get through. The whole idea that your food is beautiful, and something to not only share, but kind of talk about and show off. That's part of what Julia brought to our country. At the same time, we do feel it necessary to say that Julia, according to really everyone who was a friend, would not approve of the notion of taking a photo of your food before you eat it. As we say in the film, when the food is placed in front of you, and it's hot, you should dig right.
MF: When the film is over, what you're hoping people feel coming away from the film?
West: We hope that we've conveyed Julia's joie de vivre. We hope people come out of the film feeling happy, and perhaps have a little more appreciation for Julia Child and what she did for all Americans. And maybe they'll be a little hungry too, and go out and cook themselves a great meal or go out to a restaurant.
---
Julie & Julia - written and directed by Nora Ephron
Born in New York City, Nora Ephron was the eldest of four children. After her parents relocated to the west coast to work as screenwriters in Hollywood, Ephron grew up in Beverly Hills. Graduating from Wellesley College in 1962, Ephron briefly worked in JFK's White House before applying to work at Newsweek, where she was famously rejected as a writer because they "did not hire women" in that department. She took a job in the mail room, but also took part in a class action lawsuit against the magazine for sexual descrimination. After many years working as a writer, Ephron began writing screenplays, starting with 1983's 'Silkwood'. She received an Oscar nomination for her work on 'When Harry Met Sally…" Altogether, Ephron wrote or co-wrote 14 screenplays and directed eight feature films.
Based on Julia Child's book 'My Life in France' and Julie Powell's memoir 'Julie & Julia,' Ephron's final film is a portrait of Child's time in France learning to cook and eventually co-writing her cookbook masterpiece 'Mastering the Art of French Cooking.' This is contrasted with Julie Powell (Amy Adams), who is going through a rough time in her life and decides to start a blog project documenting her attempt to cook every recipe in Julia's book over the course of a year. Meryl Streep received an Oscar nomination for her performance as Julia Child, and has off-the-charts chemistry with Stanley Tucci as her husband, Paul Child. Another film in which you better have some really great food at home, or make time to go out and something scrumptious to eat when it's over. Trust me.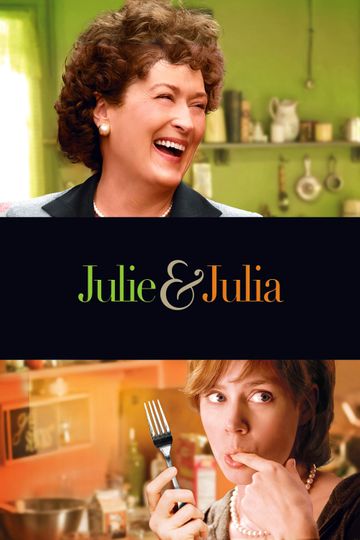 "Based on Two True Stories."