'Legally Blonde': 10 Things You (Probably) Didn't Know About the Reese Witherspoon Hit
It's been 15 years since Reese Witherspoon taught us all how to do the bend-and-snap.
"Legally Blonde" was released this week, on July 13, 2001, and it turned Witherspoon into a bankable leading lady after a decade in movies. It also spawned two sequels and a Broadway musical, as well as launching a jillion GIFs and memes. But as many times as you've watched Elle Woods triumph over sexism and stereotyping, there's a lot of behind-the-scenes dish on the film that you may not know. Here's how it all came together -- the hot pink wardrobe, the hair, and Harvard Law School.
1. "Legally Blonde" started as a series of letters home from Stanford Law School, written by first-year student Amanda Brown, that made fun of the classmates who were ostracizing her. (She found herself on the outs after laughing at the campus feminists' attempt to change "semester" to "ovester," a joke that made it all the way into the movie.) The letters became the manuscript for a novel, which the publisher plucked from the slush pile because it was the only one written on pink paper. MGM soon bought the film rights and hired "10 Things I Hate About You" screenwriters Kirsten Smith and Karen McCullah to adapt it.
2. 25-year-old Australian filmmaker Robert Luketic was hired to direct, though he'd never made a feature film before. He landed the job on the basis of his short film "Titsiana Booberini," a 12-minute CinemaScope musical comedy about a supermarket checkout girl whose co-workers bully her because of her hairy upper lip. The short screened at Colorado's Telluride Film Festival, and Luketic claims that it played so well that he had an agent, a manager, and a studio deal within 40 minutes of the screening.
3. The studio had other stars in mind for Elle, including Christina Applegate, Katherine Heigl, Gwyneth Paltrow, Alicia Silverstone, and Charlize Theron, as well as non-blondes Jennifer Love Hewitt and Milla Jovovich. Even Tori Spelling (whose mansion was across the street from Elle's childhood home, according to the script) was on the list. But Luketic insisted on Reese Witherspoon after watching her in "Election." "I wanted someone with gravitas and brains," he explained.
4. For Vivian, Elle's romantic rival, the filmmakers wanted Chloe Sevigny, but she turned the part down in favor of an artier project (in various interviews, she's cited either the Off-Broadway production of Joe Orton's "What the Butler Saw" or the Paris shoot of Olivier Assayas's "Demonlover"), so the role went to Witherspoon's "Cruel Intentions" co-star, Selma Blair (above).
5.Matthew Davis, who played Elle's faithless boyfriend Warner, was nervous about working with Witherspoon because he harbored a secret crush on her. One day on set, he spilled the beans.
Witherspoon, who had recently married Ryan Phillippe and given birth to their daughter Ava, let him down gently. She told him she thought his crush was sweet, then said it was time for them to get back to work.
6. It took a lot of effort to style Witherspoon for the film. Over the course of "Legally Blonde," she wears no fewer than 40 different hairdos. (Luketic referred to her ever-changing coiffure as "the hair that ate Hollywood.") Not to mention all of those pink outfits, which, thanks to a clause in her contract, Witherspoon got to keep after the shoot wrapped.
7. Despite Brown's novel, Stanford University declined to grant permission to use its name. So did the filmmakers' next choice, the University of Chicago, because the college didn't want to be associated with the scene where a professor sexually harasses a student. Harvard University allowed the use of its name but not its campus, which is why all the law school scenes were actually shot in Los Angeles, on the campuses of UCLA, USC, and Pasadena's Rose City High School.
8. The movie initially ended after Elle's courtroom victory, but test audiences wanted more, so the filmmakers planned an epilogue showing Elle's graduation from law school. Witherspoon was already in London making "The Importance of Being Earnest," so she and Luke Wilson went to Dulwich College there to appear in the added scenes. Both wore wigs, as she'd cut her hair for "Earnest," and he'd shaved his head for "The Royal Tenenbaums." The rest of the cast stayed behind in Los Angeles and shot their new scenes there. Also added was that opening-credits shot of Elle brushing her hair at the sorority house, a shot that had to use a back-of-the-head double for the star 6,000 miles away.
9. "Legally Blonde" cost $18 million to make. It grossed $97 million in North America and a total of $142 million worldwide.
10. After the sequel, 2003's "Legally Blonde 2: Red, White and Blonde," there came the Broadway musical and a third, straight-to-video movie, "Legally Blondes," in which Witherspoon was involved only as a producer. But she said last fall that she'd be open to playing Elle a third time. Screenwriters, get cracking...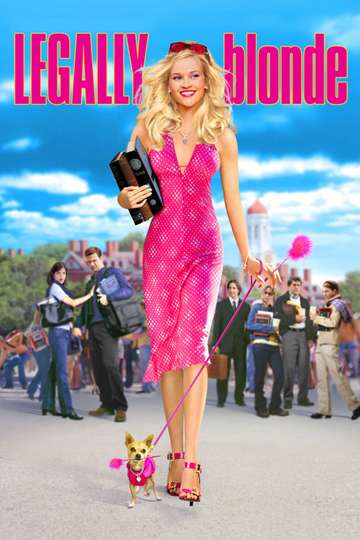 "Don't judge a book by its hair color!"
1 hr 36 min
Jul 13th, 2001
Showtimes & Tickets
Elle Woods, a fashionable sorority queen, is dumped by her boyfriend. She decides to follow him to law school, but while there, she figures out that there is more... Read the Plot