'Mission: Impossible 7' and 'Mission: Impossible 8' have been delayed until 2023 and 2024
Tom Cruise's next two 'Mission: Impossible' movies are facing yet another pandemic-afflicted delay, both moving back a year on Paramount's release schedule.
When he's playing Ethan Hunt in the 'Mission: Impossible' movies, Tom Cruise can do many things: jump out of planes, hang on to aircraft, climb mountains freehand. But the one challenge even he can't seem to conquer is Covid delays.
Paramount has decided to move back the next two 'Impossible' movies on its release schedule, to July 14, 2023, and June 2024. The new films, currently still only known as 'Mission: Impossible 7' and 'Mission: Impossible 8' have bounced around different dates for the last couple of years – there was a time when the first of the two was due in July 2020. Remember that?
Most recently, the movies had been set for September 30 this year and July 7, 2023, respectively.
Once again written and directed by Christopher McQuarrie (who was behind previous entries 'Mission: Impossible – Rogue Nation' (2015) and 'Mission: Impossible – Fallout' (2018), the latest movies in the long-running franchise see Cruise's intrepid, globe-trotting agent Hunt and his team once again confronting dire threats to the safety of the world.
No specific plot details for either movie have been released, but we can expect plenty of the practical stunt action for which Cruise and the series has become known.
Alongside Cruise, returning actors for one or both movies include Simon Pegg, Ving Rhames, Rebecca Ferguson and Vanessa Kirby. And in a move likely to spark enthusiasm in fans of the original 1996 movie, Henry Czerny is back as Eugene Kittridge, the former director of the Impossible Mission force who was framed as a mole in that film.
Among the new faces? 'Guardians of the Galaxy Vol. 2' (2017) star Pom Klementieff, 'Captain America: The First Avenger' (2011)'s Hayley Atwell, 'Saw' (2004) veteran Cary Elwes and Esai Morales, who replaced Nicholas Hoult as one of the villains of 'Mission 7'.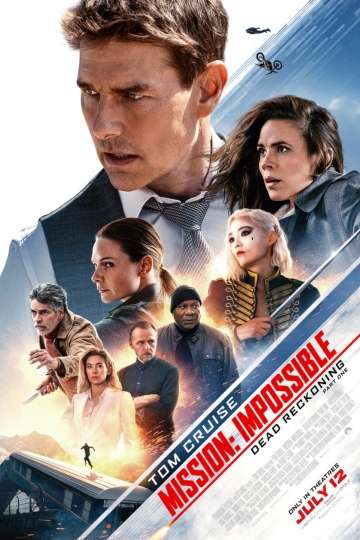 McQuarrie and his 'Mission' cast and crew have faced their own challenges shooting in a time when the pandemic caused so much disruption. Plans to film in Italy were curtailed as Covid-19 began to take its toll on the world, and resuming production required a complicated mix of safety protocols and location changes.
Cruise was overheard berating crew members who breached the distance advice on set, and the various issues caused by the pandemic have been part of the reason why Paramount has been shifting the movies around the release calendar.
Add to that the ongoing challenges with cinema attendance levels and concern for audience safety, which have led to many movies either pushing back their release or moving to streaming services. Paramount is one of the studios that has tried to keep its bigger releases in cinemas, resulting in delays for several movies, including fellow Cruise project 'Top Gun: Maverick' (currently due to land on screens on May 27 this year).
That's despite recent success with the new 'Scream', which has already earned more than $ 54 million at the worldwide box office. Paramount, of course is being more careful with the huge-budgeted 'Mission' movies, which also require extensive promotional tours.
"After thoughtful consideration, Paramount Pictures and Skydance have decided to postpone the release dates for 'Mission: Impossible 7 & 8' in response to delays due to the ongoing pandemic. The new release dates will be July 14, 2023, and June 28, 2024, respectively. We look forward to providing moviegoers with an unparalleled theatrical experience," Paramount and Skydance said in a statement.
Your mission, should you choose to accept it, is just to keep on waiting.