'Cyrano' Is a Surprisingly Entertaining and Well-Made Musical Featuring a Career-Defining Performance from Peter Dinklage
Director Joe Wright delivers a fun and romantic movie based on the 2018 stage musical with unforgettable songs from Aaron and Bryce Dessner.
After a one-week run in Los Angeles beginning December 17th, the new musical comedy 'Cyrano,' which is based on the 2018 stage musical of the same name, will open in wide release on January 28th. Directed by Joe Wright ('Darkest Hour'), the musical is loosely based on the 1897 play 'Cyrano de Bergerac,' and stars Peter Dinklage ('Avengers: Infinity War') in the title role as a man unable of telling his true love how he really feels and instead helps another man win her love. In addition to Dinklage, the film also stars Haley Bennett ('The Magnificent Seven'), Kelvin Harrison Jr. ('Ender's Game'), and Ben Mendelsohn ('Captain Marvel'). The result is a really fun, entertaining and romantic musical comedy with unforgettable songs and a powerful performance from Peter Dinklage.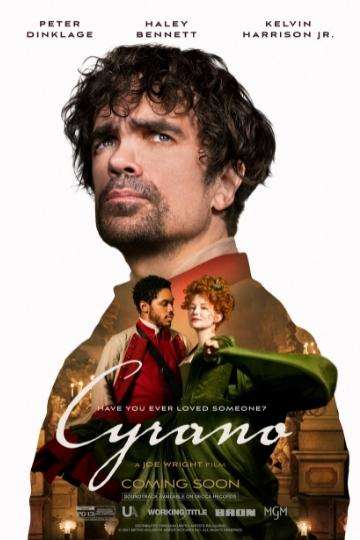 "Have you ever loved someone?"
Just like the original play, the film is set in 1640 Paris and begins with the introduction of the beautiful Roxane (Bennet), who attends a play with De Guiche (Mendelsohn), an officer in the French Army. The play is quickly interrupted by Cyrano de Bergerac (Dinklage), a cadet who is hopelessly in love with Roxane and trying to impress her. However, Roxane soon meets another cadet named Christian (Harrison Jr.) and falls instantly in love. She asks her Cyrano to introduce her to Christian and he reluctantly agrees. Christian has feelings for Roxanne too, but is too shy to talk to her. Eventually, Christian asks Cyrano for help winning Roxane's love by writing romantic letters to her on his behalf. Fearing that Roxane could never love him because of his diminutive size, which has made him an outcast, Cyrano reluctantly agrees even though it breaks his heart. Meanwhile, De Guiche also has his eye on Roxane as well and threatens her new romance when he sends the cadets to the frontlines of the war. Roxane asks Cyrano to watch over Christian, but when he discovers Cyrano's true feelings for her, it will threaten both of their lives.
Full disclosure, I had no idea this film was a musical when I saw it, I only knew that it was based on the classic literary character. I was pleasantly surprised at what a wonderful, fun and entertaining film this turned out to be. Joe Wright, who is best known for his movies like 'Atonement' and 'The Darkest Hour,' creates a large and colorful world with beautiful camera movements and an impressive production design. What really stuck with me is how unforgettable the music in the film is, which was composed by members of The National, Aaron and Bryce Dessner. I wouldn't be surprised if at least one of the songs from the film is nominated for an Academy Award for Best Original Song this year. One of the best numbers in the film comes toward the middle of the third act and features Cyrano, Christian and their fellow soldiers signing as they prepare for war. The music is haunting and the way the sequence is cut together really highlights the significance of the moment. Also, keep an eye in this scene for 'Once' star Glen Hansard who plays one of the soldiers. The film's opening number, "Someone to Say," is also a show-stopper and a fun start to the movie.
One of the clever concepts of the film, and the musical that it is based on, is that Cyrano is not an outcast because he has a large nose, but rather because of his size. This works exceedingly well, obviously because of the actor playing the role, but also because the old concept for making Cyrano an outcast seems so silly now. But Peter Dinklage plays the role beautifully giving his character other reasons for the way he is treated besides his size, such as his attitude and crass demeanor. But Cyrano is also kind of a badass in this version, with Dinklage's character being a master fighter and marksman, and someone others would not want to cross. He also plays the character like he's the smartest person in the room, which he usually is, and adds to his elitist attitude. The actor gives an absolutely brilliant performance and is definitely a frontrunner for an Academy Award nomination. I was also impressed with his singing ability, as the actor can carry quite a tune and is really terrific in all the musical numbers.
Unfortunately, the same can't be said for Ben Mendelsohn who has very strong acting scenes but struggles with his one musical number. The character is really the heavy in the film, a role the actor portrays well, so he really didn't really need to have a song at all. That being said, no one plays a villain better than Mendelsohn and he is clearly having fun in his menacing role. In any retelling of this story, Christian is kind of a thankless role and Kelvin Harrison Jr. imbues the character with an innocence and naivety that makes him both vulnerable and relatable to the audience. Who hasn't felt insecure around someone they are attracted to? As the attention of everyone's affection, actress Haley Bennet is very sweet and charming, as well as a bit devious in the role. She is believable as a woman desired by several different suiters, but also totally believable as a woman who wants to choose her own destiny and find independence of her own. The actress is a very impressive singer and has great chemistry with Dinklage and Harrison.
Obviously, the Cyrano de Bergerac story has been adapted to film several times before, probably most memorably in Steve Martin's 1987 comedy classic 'Roxanne.' While that was a modern-day adaption, oddly, 'Cyrano' seems like a more relatable film in 2021, even though it is set in 1640. The important issues the film tackles, the performances and the music give the movie a relatable feeling for today's audience. The screenplay by Erica Schmidt is smart and funny and translates the material superbly. The film itself is gorgeous to watch, thanks to Seamus McGarvey's sweeping cinematography. In the end, director Joe Wright delivered a fantastic rom-com musical based on the most unlikely source material, with wonderful songs and a career-highlight performance form Peter Dinklage.
'Cyrano' receives 4 out of 5 stars.