'Magic Mike's Last Dance' Fails to Replicate the Fun of Its Predecessors
Steven Soderbergh returns to the series as director, but that fact plus Channing Tatum's physical magnetism can't save a script that doesn't have fresh ideas.
'Magic Mike,' loosely inspired by the atmosphere and energy of some of star-producer Channing Tatum's own experiences in an all-male revue as a teenager, was a huge surprise box office hit for Warner Bros. in 2012, grossing $167 million in theaters against a minuscule $7 million budget. Three years later, with director Gregory Jacobs stepping in for Steven Soderbergh behind the camera, follow-up 'Magic Mike XXL' grossed $123 million. A loose-limbed, well-oiled, unexpected franchise seemed born.
There's a clarity of purpose in the first two 'Magic Mike' films. While actually quite different in tone, they are both movies which center the female gaze and, with goodnatured affability, invite men to ponder the fact that maybe, just maybe, there is value in working to be seen as desirable, in addition to treating women with respect. Sadly, the third installment lands in fuzzy and unfocused fashion as a sequel that's lost its way — uncertain of what its place in the world is, or for whom it is supposed to exist.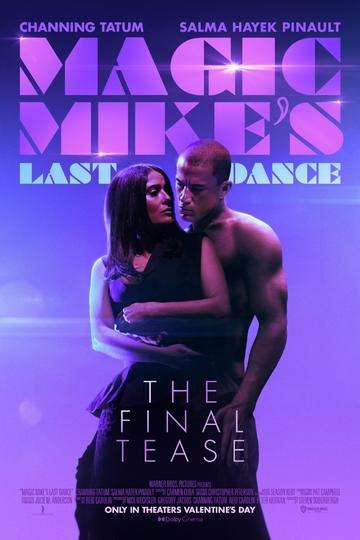 A Script That Borrows From 'Magic Mike' Stage Show, But Still Represents Only Missed Opportunities
Interestingly, that description very much mirrors the set-up for the plot of 'Magic Mike's Last Dance,' and the plight of its title character. When we first catch up with Mike, voiceover narration explains in exacting detail how Mike hasn't been able to withstand the economic stresses of life in, and after, a pandemic. Ergo, he's tending bar as part of the catering waitstaff at a swanky private fundraiser.
This fact could set the table for a fascinating exploration of the gig economy, or even just shifting values in an era of socioeconomic tumult and considerable uncertainty. (After all, Soderbergh and Tatum aren't dumb.) Instead, audiences are left with what feels like a wan, dutiful, by-the-numbers effort which borrows unimaginatively from real life (Tatum directed a 'Magic Mike Live' London stage show in 2018) without digging down into anything of interest or substance about the character that might advance a viewer's understanding of him, or deepen their rooting interest.
Despite Tatum's undeniable physical prowess ("You move like water," says one character early on), this nearly two-hour entry is vacuumed almost entirely free of gleefulness and mischievousness, two of the qualities which most elevated its predecessors. The result is a curiously flat misfire, interrupted only by a small handful of lively moments and two or three pulse-quickening, well-staged dance numbers.
How Much Does It Cost to Rent Channing Tatum For One Month?
The movie opens in Miami, at the aforementioned party. At the end of the evening, with Mike Lane (Tatum) having been recognized by an attendee, host Max Mendoza (Salma Hayek Pinault) asks him for a private lap dance. After initially turning her down, Mike relents when Max offers him $6,000. What follows is an acrobatic bump-and-grind session which makes creative use of various chairs, tables and support beams. Max, awakened and inspired, then insists that Mike accompany her back to London. Her proposition: stay with her for a month, and she will pay him $60,000.
In the light of day, Max's offer comes into sharper focus. Potentially undergoing a divorce from her media scion husband, Max breezes into a historic venue the couple owns, the Rattigan Theater, and abruptly cancels the stuffy, marry-for-money-or-love costume drama, 'Isabel Ascendant,' that is in rehearsals. She installs Mike as the new creative director, empowers his air-quote vision, and tasks him with mounting (ahem) a new show that taps into and recreates the enlightenment she experienced from his dance.
Cue the obligatory montage, as the pair recruit an array of dancers. While Mike grapples with the realities of this incredible whirlwind experience, he also leans some on Max's put-upon butler Victor (Ayub Khan Din) and adoptive, sardonic daughter Zadie (Jemelia George), in an effort to try to better understand his new benefactor.
Are There Any Dances That Can Measure Up To the Original Film's Ginuwine's "Pony" Number?
Screenwriter Reid Carolin, a longtime Tatum collaborator, has received solo credit on all three movies, so one can't reasonably accuse him of not understanding the core appeal of the franchise. Instead, the failures of 'Magic Mike's Last Dance' don't feel egregious, or particularly active. They feel passive — in choices not made, avenues not explored. Somewhat depressingly, this leads one to the conclusion that the storytelling well here had simply run dry.
The use of Zadie (who the movie tells us is writing a novel) to provide sporadic but knowing voiceover about both Mike and her mother feels like a weird choice — a fact highlighted even further in the movie's finale, when it runs headlong into the issue of her presence at Mike's sexually charged stage show debut, and has Victor cover her eyes.
Additionally, Carolin's script never really solves the set-up of Max and Mike's complicated relationship. Nor does it take it anywhere believable. Tatum and Hayek Pinault (who replaced Thandiwe Newton after shooting had already commenced) have a good chemistry together, and the movie courts intrigue by presenting Max as an impulsive dilettante, prone to whimsically adopting new hobbies and personas that she abandons once she achieves mental equilibrium.
While some scenes are a little uneven and work better than others, Hayek Pinault gives off an amusing manic energy throughout. So for a moment it seems as if the movie is going to use that to explore the idea of Mike's self-checkmate owing to economic preoccupation. Unfortunately, without giving too much away, the film abandons this in favor of far more traditional plotting. This rings enormously false.
The first two 'Magic Mike' films were in large measure hangout movies that coasted on charisma and vibes ('Magic Mike XXL' in particular), while scoring points for sociological insight around the edges. Dense plotting was, to be certain, not part of their appeal. But the whole "vibe" portion of 'Magic Mike's Last Dance' never really clicks into focus, either — the supporting cast of dancers remain personality-free background players. This leaves viewers just biding time, checking their watches as they wait for the next dance sequence.
It's here, of course, that 'Magic Mike's Last Dance' scores its highest marks. The original film memorably featured a solo dance set to Ginuwine's "Pony," and this installment has arguably two show-stoppers. Tatum's opening dance for/with/on Hayek Pinault is a thing of rather mesmerizing beauty — bold and erotic and at times even funny. Then, after the movie makes much ado of his character not dancing, Tatum returns for a water-infused duet with ballet dancer Kylie Shea. Mixing power and grace, this sequence has an element of danger; it's legitimately great.
Other performances include a brief, bus-set group effort used to secure the approval of a bureaucrat (don't ask), and a twice-used recreation (once solo, once in group form in its finale) of a number that's become a staple of live 'Magic Mike' stage performances, in which Mike and his charges celebrate the notion of obtaining consent from females, set to Ro James' slinky "Permission."
Final Verdict
Overall, the degree to which 'Magic Mike's Last Dance' borrows from the stage show, without building out any of those numbers in a particularly compelling way, is disappointing. Emotionally, the movie doesn't really take its title character anywhere new, and neither does it honor its new characters with complexity. This dance simply marks time, sadly reminding one of what once was in the franchise.
'Magic Mike's Last Dance' receives  4 out of 10 stars.
Other Movies Similar to 'Magic Mike's Last Dance:'
'Magic Mike's Last Dance' will be released in theaters on February, 10th from Warner Bros., and was written by Reid Carolin, and directed by Steven Soderbergh. The movie stars Salma Hayek and Channing Tatum, and is rated R for sexual material and language.