'Prey' is the Perfect 'Predator' Prequel
Director Dan Trachtenberg delivers a brilliant movie that recaptures the magic of the original and features a career-making performance from Amber Midthunder.
Premiering on Hulu August 5th is the latest movie in the 'Predator' franchise called 'Prey,' which is a prequel to the original and directed by '10 Cloverfield Lane's Dan Trachtenberg.
'Prey' is set in the Comanche Nation during 1719 and follows a resilient and highly skilled young warrior named Naru (Amber Midthunder) as she discovers that what she is stalking is actually a highly evolved alien with a technologically advanced arsenal.
The result is a brilliant and thrilling movie that recaptures the magic and terror of the original, while featuring a career-making performance from Amber Midthunder.
Set in 1719, the film begins by introducing us to Naru (Midthunder), a young Comanche woman who was trained as a healer but dreams of being a hunter like her brother, Taabe (Dakota Beavers). She soon sees an alien spaceship dropping off someone or something, but not knowing what it really is, thinks it's a sign from the spirits that she is ready to prove herself as a hunter. Taabe agrees to take her with him as he hunts a mountain lion that attacked their tribe.
However, as they are about to trap the lion, they are attacked by an unknown assailant, who is eventually revealed to be an alien being with technologically advanced weapons, that we as the audience know as a Predator (Dane DiLiegro). Now, with her brother injured, Naru must stop the French voyageurs who are threatening to destroy their land and defeat the alien creature in order to save her tribe and become the hunter she's always dreamed of being.
The franchise began in 1987 with director John McTiernan's groundbreaking film 'Predator,' which starred Arnold Schwarzenegger. The original saw Arnold as the leader of a military platoon who while on a mission in the jungle discover an alien creature is hunting them.
The later films in the series abandoned the idea of one person hunting the Predator in a remote location to lesser success, with 'Predator 2' and the more recent 'The Predator,' both taking place in urban cities with a large group of characters trying to kill the creature.
2010's highly underrated 'Predators' was the closest of the sequels to keep the original formula, although it takes place on an alien planet and not Earth. And don't even get me started on the 'Alien vs. Predator' films as I don't really consider them cannon.
But 'Prey' takes the series back to its roots, crafting a compelling and terrifying story about one person alone in the woods trying to survive the Predator's wrath. Setting the movie in 1719 was a brilliant move not only to stand-out from the other films in the series, but it also allows the audience to see something we haven't seen in the franchise before, which is a low-tech Predator, even though his technology is still advanced for 1719.
'10 Cloverfield Lane' director Dan Trachtenberg delivers some his finest work yet setting a somber mood and tone for the film from the opening sequence. His choice to use the Predator sparingly was also wise, as it adds to the frightening tone of the film with characters fighting a creature that we can't even see.
It also allows the human characters to actually be the leads of the movie, as you can relate to them easier than you can a Predator, who by mistake was made the main character in some of the sequels. 'Predator' movies are at their best when we as an audience can root for the human characters to defeat the monster. Trying to understand the creature and relate to him has never worked in this series and Trachtenberg successfully avoids that trap.
In fact, there are times when watching this film, you actually forget you are watching a 'Predator' movie, and that's a good thing! It means that the other characters, setting, and situations are compelling enough on their own that you don't need the Predator, but you are always thrilled when it shows up!
Fans of the series will not be disappointed by the look of the Predator, which is on par with what we expect from the character but is made even more interesting by the fact that this is an older version of the creature. Trachtenberg has fun with the retro Predator weapons, and actor Dane DiLiegro gives a menacing physical performance playing the role originally intended for Jean-Claude Van Damme (Fun fact!).
Dakota Beavers gives a solid performance as Taabe, Naru's over protective brother. At times the character can be annoying, because he keeps telling Naru she can't be the hunter she dreams of, when we all know she's the true hero of the film. But the character comes full circle by the end and really supports his sister in his own heroic way.
While in a somewhat limited role, Michelle Thrush is also quite good as Naru and Taabe's mother, Aruka. Again, she is another character constantly telling Naru she can't do what we know she can but does give her daughter the inspiration she needs to fulfill her goals.
With this film, director Dan Trachtenberg establishes himself as one of the best filmmakers working today. While Trachtenberg's smart direction and the clever screenplay by Patrick Aison help make 'Prey' so great, it's really the exceptional performance of Amber Midthunder as Naru that really makes this movie special. She is a very talented actress that you are going to be seeing a lot more of in the future.
Like Arnold in the original, you need a compelling character and an exceptional actor to make a 'Predator' movie truly entertaining. As seen in the disappointing installments of the series, just having a Predator kill people is not enough. You need characters that we can admire, relate to, and root for to defeat the creature and make it a great movie.
Amber Midthunder gives a tremendous performance as Naru, and I for one would love to see a sequel to 'Prey' following her character after the events of this film. Midthunder gives Naru an innocence and vulnerability that is essential to the character, while still possessing enough courage and strength to make us believe she is actually capable of defeating the Predator.
In the end, 'Prey' is a fantastic action movie and the best film in the series since the original. With fresh direction, a smart script, and a fantastic performance from Midthunder, 'Prey' is a surprisingly great film that both 'Predator' fans and non-fans alike will enjoy.
'Prey' receives 5 out of 5 stars.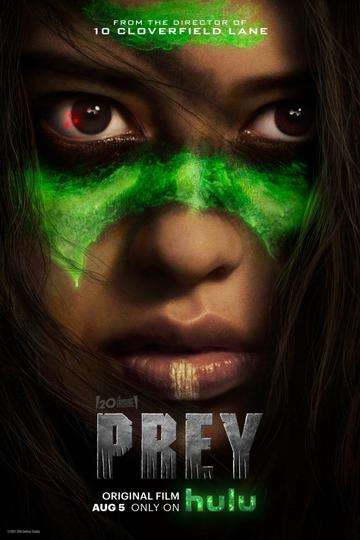 "They hunt to live. It lives to hunt."