Natalie Portman: Ashton Kutcher Paid 3 Times More for 'No Strings Attached'
Now that stars are routinely asked in interviews about pay disparity, more stories are coming out. Natalie Portman, like Jennifer Lawrence, sounds most annoyed at herself -- and maybe her agents -- for not speaking up at the time for more money, in this case for the 2011 rom-com "No Strings Attached." That anyone was paid much for that is the real shock, but Portman revealed in the new issue of Marie Claire that Ashton Kutcher was paid three times more than her, and she knew about it at the time and said nothing.
"I knew and I went along with it because there's this thing with 'quotes' in Hollywood. His [quote] was three times higher than mine so they said he should get three times more. I wasn't as pissed as I should have been. I mean, we get paid a lot, so it's hard to complain, but the disparity is crazy." She added, "Compared to men, in most professions, women make 80 cents to the dollar. In Hollywood we are making 30 cents to the dollar."
It's true that Hollywood types get so much more money than The Rest Of Us that it seems ridiculous to complain, but when films make tons of money from The Rest Of Us buying tickets, that money goes somewhere, and shouldn't it go to the people we're paying to see -- like sports figures who get the big bucks?
It's not like Natalie Portman was unknown before "No Strings Attached." It's strange to think that her "quote" would be under Kutcher's, since she not only had box office success from the "Star Wars" prequels, she was a recent Best Actress Oscar winner for "Black Swan" in 2010. What exactly were they waiting for to up her quote? Maybe Kutcher got more because he had just managed to land a sweet deal as Charlie Sheen's replacement on "Two and a Half Men" -- making a reported $750,000 per episode -- so if that's his rate, then they had to meet it. Good for him and his agents, if that's how it worked, it's just a shame so many actresses can't get the same hustle from their reps.
Anyway, no one is crying for Natalie Portman -- least of all Natalie Portman -- this just seems to be a five-year-out anecdote sharing more behind-the-scenes scoop on the status quo pay system in Tinseltown, now that more people actually seem to care. And maybe agents and producers will feel more pressure to balance payments now that they know stars aren't going to keep quiet anymore.
[via: Vanity Fair]
Want more stuff like this? Like us on Facebook.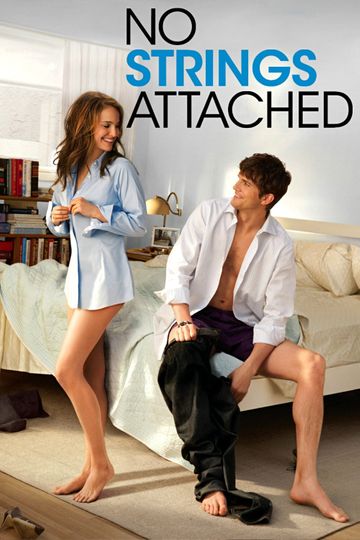 "Friendship has its benefits."
1 hr 47 min
Jan 21st, 2011
Emma is a busy doctor who sets up a seemingly perfect arrangement when she offers her best friend Adam a relationship with one rule: No strings attached. But when... Read the Plot