Viggo Mortensen's Growing New Organs in the Trailer for David Cronenberg's 'Crimes of the Future'
Léa Seydoux, Kristen Stewart and Scott Speedman also star in the director's new vision.
"Surgery is the new sex." If anything would alert you to the fact that 'Crimes of the Future' is the latest film from Canadian body horror icon David Cronenberg, it might be that line from the movie's new trailer.
Yet it would be impossible to think anyone else made this new movie, which has Cronenberg's stamp all over it. Honestly, where else are you going to see Léa Seydoux slicing open someone's chest and licking a wound? Not in the deleted scenes for 'No Time to Die', that's for sure (unless Cary Fukunaga took the Bond franchise in some truly odd directions before the producers intervened).
Cronenberg's latest stars Seydoux, Viggo Mortensen (a regular Cronenberg collaborator who seems to have found something of a kindred spirit in the director), Kristen Stewart, Scott Speedman and Don McKellar, in a startling story of body modification and human evolution.
Here's the basics: in a not-so-distant future, humankind is learning to adapt to its synthetic surroundings. Their biological makeup changed, many humans have adapted to life with "Accelerated Evolution Syndrome" thanks partly to specialized equipment that aids in everything from eating to sleeping.
Beloved performance artist Saul Tenser (Mortensen) sleeps in a womb-like bed suspended in mid-air. The OrchidBed, as it's called, comes complete with software to anticipate, and adjust his every bodily need.
The machine even detects the growth of new organs, which Saul's creative partner Caprice (Seydoux) can observe and tattoo in his personal operating theatre. Together, Saul and Caprice have turned the discovery and removal of these new body organs into performance art, via sold-out voyeuristic surgical shows using a sarcophagus-like machine where the surgeries take place.
These human evolutionary changes do not receive universal positivity. Before long, a new secret government entity is established - the National Organ Registry, led by bureaucrats Wippet (McKellar) and Timlin (Stewart) - to discreetly track new organ growths, with particular enthusiasm for Saul's artistic anomalies.
With increased scrutiny on the syndrome and therefore his art, Saul is forced to consider what would be his most shocking performance of all.
Cronenberg has had quite the history with this one… "I wrote this script for 'Crimes of the Future' in around 1998, 99, so it's over twenty years old and there were a couple of attempts to get it made and for various reasons it didn't get financed.," he explains. "That happens, that's not unusual, but it was only when the producer Robert Lantos phoned me and said, 'You know, have you looked at your old scripts,' and I said, 'Because of its science-fiction technology core, I'm sure it's completely irrelevant now.' And he said 'No, you should re-read it, it's more relevant than ever.' I thought that's a good line, and I read it and I thought he was right."
Cannes audiences will see the movie this month when it premieres as part of the Film Festival's Official Selection. It'll arrive in theaters on June 3rd.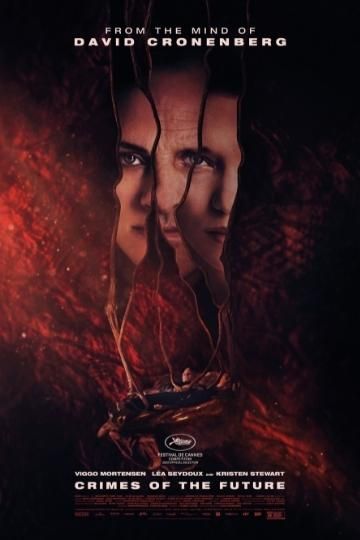 "Surgery is the new sex."
1 hr 48 min
Jun 10th, 2022