Oscar Race 2018: How the DGA Wins Impact Things
Here's how to figure out who's going to win the Academy Awards on March 4: Ask yourself who Oscar most wants to be seen with.
Yes, think of it like online dating. That was the metaphor that Directors Guild Awards host Judd Apatow used on Saturday night, joking that Guillermo del Toro's DGA portrait photo looked like a profile pic from eHarmony. Del Toro didn't get the joke at first (though later, when the Mexican director learned what eHarmony is, he chuckled), but he still got the last laugh, winning the DGA's top prize for directing "The Shape of Water." That award not only makes him the top contender for Best Director at the Oscars, but it also puts "Shape" at the front of the pack for Best Picture.
Right now, in the long limbo (nearly six weeks) between the January 23 nominations announcement and the actual Academy Awards ceremony, Oscar is trying out the nominees to see how well they match up with the self-image the Academy wants to present to the world. For the nominees, it's a seemingly endless cycle of awards ceremonies, screenings, parties, and press opportunities. And all that time, they're campaigning to win Academy voters' hearts, whether they know it or not.
As an organization that's been through a lot of humiliation over the past few years, whether for the demographics of its nomination slate or for the colossal mix-up of last year's Best Picture envelopes, the Academy is really looking for one thing from potential winners. All it asks of them is: Don't embarrass us.
That's trickier than it sounds. Which would be less embarrassing for the Academy to honor: del Toro's delirious interspecies romantic fantasy, or its chief rival, rural ragefest "Three Billboards Outside Ebbing, Missouri"? Would it be awkward to honor "Get Out," a politically on-point movie that belongs to a disreputable genre (horror)? Or "Lady Bird," a well-observed character study that doesn't seem to have a grand statement to make? Or "The Post" or "Dunkirk," both well-made historical dramas that might seem a bit old-fashioned?
So far, the Academy rank and file seem to prefer "Shape." It's already won prizes from three of the major Hollywood guilds, some members of which also belong to the various professional branches of the Academy. Besides the Directors Guild, "Shape" has also earned the top prizes from the Producers Guild (usually a very strong predictor of Best Picture) and the Art Directors Guild (which gives the film a good chance for a Production Design Oscar). "Three Billboards" has won two guild prizes, from the Casting Society of America (alas, there's not an equivalent Oscar category) and the Screen Actors Guild (a very important prize, for which "Shape" was not even nominated; no movie since "Braveheart" 22 years ago has won Best Picture without a SAG ensemble nomination).
Last week also saw "Dunkirk" win the ACE Eddie award, given out by film editors, usually a key indicator of Academy support. (In the last 37 years, only one film -- "Birdman" -- has won Best Picture without at least being nominated for its editing.) And "Coco" won the Annie, given out by animators, which makes it the Animated Feature to beat at the Oscars.
These are all helpful for handicapping the Academy Awards below the top categories. Any of these winners would be a credit to Academy voters' taste. But merit alone isn't enough. The Academy also wants to be sure that, when the winners get their moment at the podium before hundreds of millions of viewers, they're someone the Academy won't be ashamed to be associated with.
At the very least, it's up to the nominees to avoid embarrassing the Academy by behaving badly. The infamous counterexample is Russell Crowe, whose turn in 2001's "A Beautiful Mind" seemed destined to win him a Best Actor trophy. But then he was caught attacking a TV director at the BAFTAs (the British Academy Awards), whom he blamed for cutting short his acceptance speech. Did the Oscars want to be associated with such boorishness? Apparently not, since Denzel Washington took home the statuette instead for "Training Day."
Cautionary tales like that are why the annual nominees' luncheon, a seemingly inconsequential event, is actually the nominees' best opportunity to campaign before Academy voters and their own peers. Indeed, this used to be a casual, informal event. No more. Now, there are scads of reporters there, a red carpet, and even a live stream on Facebook, so that we could all watch the likes of Willem Dafoe, Laura Dern, and Kobe Bryant (nominated as producer and narrator of animated short "Dear Basketball") trading words of mutual admiration in between forkfuls of Chilean sea bass.
Held Monday, this year's luncheon was still, by allaccounts, the same democratic affair it has always been. Some 175 of the 205 nominees came to the event at the Beverly Hilton, where many of them attended the Golden Globes less than a month ago. Live action short directors and sound designers got to dine alongside the likes of Steven Spielberg and Meryl Streep. Everyone was reportedly gracious and supportive of each other, and they were all good sports for standing and posing for long minutes to pose for the annual sprawling "class photo" of the nominees present. It seemed a pleasant and non-competitive event, but all the nominees there were still, in a way, campaigning. They were auditioning like actors proving they can be well-mannered, follow instructions, speak kindly of others, and offer a compelling personal narrative that will resonate with strangers.
Not everyone showed up to campaign; Daniel Day-Lewis, who has no need to impress anyone after three wins, was absent. So was two-time winner Washington, who doesn't have much of a chance this year anyway. (Gary Oldman is still the Best Actor front-runner.) Then again, Streep, who also doesn't have a chance or a need to impress anyone, still came, while likely winner Frances McDormand did not. Does her no-show hurt her chances? At this point, probably not, but the "Three Billboards" star did miss an opportunity to make her case.
The three oldest nominees also didn't show. Then again, Christopher Plummer (at 88, the oldest acting nominee ever) and "Call Me by Your Name" screenwriter James Ivory (at 90, the oldest nominee in any Oscar category ever) have long since proven their worthiness to the Academy.
Legendary French director Agnès Varda (nominated for documentary feature "Faces Places") also didn't come, but the 89-year-old's co-director, visual artist JR, made up for her absence by bringing two life-size cardboard standee versions of Varda, placed at strategic points at the luncheon. Several of the nominees posed for pictures alongside one of the virtual Vardas. It was a clever stunt, one that will certainly make the voters remember Varda and her movie when they see it on the ballot for Best Documentary. It may not win her the prize, but everyone seemed to find Varda a delightful luncheon companion, and she didn't even have to leave France.
It fell to Dateline' just did a four-part series on."
There will be other chances for nominees to impress the Academy voters, or at least not humiliate them, between now and the Oscar balloting period (members have from February 20th to the 27th to vote). There are as many as nine other awards ceremonies during that time, including the Writers Guild awards (Feb. 11) and the BAFTAs (Feb. 18), whose winners will help clarify Oscar odds in various categories. It's a grueling circuit for the nominees, but they'll have to grin and bear it with poise. If they don't, they run the risk of being swiped left.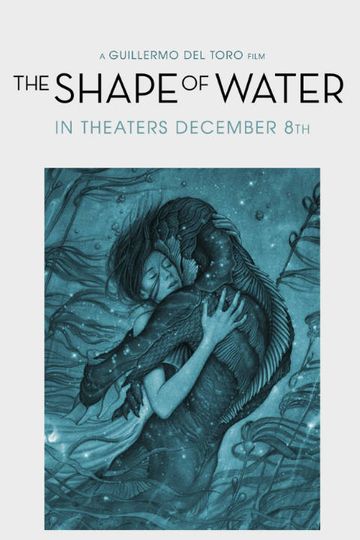 "A Fairy Tale for Troubled Times"
An other-worldly story, set against the backdrop of Cold War era America circa 1962, where a mute janitor working at a lab falls in love with an amphibious man being... Read the Plot