Quentin Tarantino Names the Best Character He's Ever Written
Who would you pick as Quentin Tarantino's best character? He's the guy who wrote all the misters of "Reservoir Dogs," the lovebirds (plus Floyd, who smoked the second page of the letter) of "True Romance," the $5 shake-loving criminals of "Pulp Fiction," plus everyone in "Natural Born Killers," "From Dusk Till Dawn," "Kill Bill," "Inglourious Basterds," "Django Unchained," "The Hateful Eight," etc.
Quentin Tarantino recently spoke to a sold-out crowd at a film festival in Jerusalem, and he named Christoph Waltz's Oscar-winning role of Hans Landa in the irritatingly spelled "Inglourious Basterds" as the best character he's ever written.
"I'm looking for that take where an actor just kicks into something — actors describe it as flying, they're not them anymore, it's the reason they become actors," QT told the crowd, via Screen Daily. "Landa is the best character I've ever written and maybe the best I ever will write. I didn't realize [when I was first writing him] that he was a linguistic genius. He's probably one of the only Nazis in history who could speak perfect Yiddish."
QT revealed more about that casting process, leading to the ideal actor. "I was getting worried. Unless I found the perfect Landa, I was going to pull the movie. I gave myself one more week and then I was going to pull the plug. Then Christoph Waltz came in and it was obvious that he was the guy; he could do everything. He was amazing, he gave us our movie back." Tarantino and Waltz reunited for another Oscar-winning performance in "Django Unchained."
Also, QT reiterated that his current plan is still to stop directing after 10 films, "but at 75 I might decide I have another story to do." If so, he'll probably cast Christoph Waltz in it.
[h/t: Collider]
Want more stuff like this? Like us on Facebook.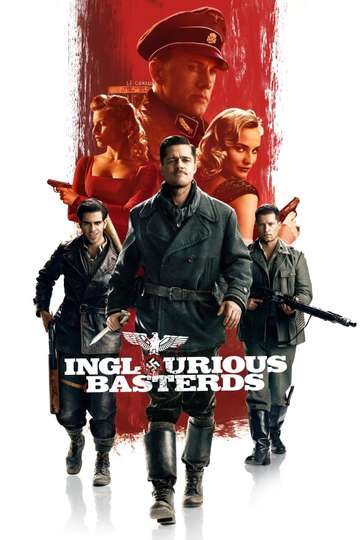 "Once upon a time in Nazi occupied France..."
2 hr 33 min
Aug 21st, 2009
Showtimes & Tickets
In Nazi-occupied France during World War II, a group of Jewish-American soldiers known as "The Basterds" are chosen specifically to spread fear throughout the Third... Read the Plot