'Reacher' Actress Willa Fitzgerald Talks Watergate Comedy '18 ½'
Moviefone speaks with Willa Fitzgerald about her new movie and if she will return to 'Reacher.' "I will not be in the next season," the actress confirmed.
Now available on digital and VOD is the new Watergate scandal comedy '18 ½,' which was directed by Dan Mirvish ('Between Us').
Set in 1974, the new movie stars Willa Fitzgerald as Connie, a White House transcriber who discovers the missing 18 ½ minutes from President Nixon's infamous tapes. Scared for her life, and unsure of what to do, Connie turns to Paul ('The Big Short's John Magaro), a local newspaper reporter trying to expose the President.
In addition to Fitzgerald and Magaro, the cast also includes Richard Kind ('Argo'), Vondie Curtis-Hall ('Romeo + Juliet'), and the voices of Jon Cryer ('Two and a Half Men'), Ted Raimi ('Evil Dead II'), and Bruce Campbell ('Doctor Strange in the Multiverse of Madness').
Actress Willa Fitzgerald has appeared in such films as 'Freak Show,' 'Blood Money,' and ' The Goldfinch,' as well as TV shows like 'Gotham,' 'Scream,' and 'Billions.'
But she is probably best known for role as Roscoe Conklin on the first season of Prime Video's hit series 'Reacher,' which stars Alan Ritchson.
Moviefone recently had the chance to speak with Willa Fitzgerald about making '18 ½,' her knowledge of the Watergate Scandal, and working with John Magaro, as well as her experience on 'Reacher' and if she will return to the series in the future.
You can read the full interview below or click on the video player above to watch our interviews with Willa Fitzgerald and John Magaro about '18 ½.'
Moviefone: To begin with, how did you get involved with this project and what was your first reaction to this Watergate comedy?
Willa Fitzgerald: I got sent the script quite a long time before I even got the job. I had a meeting with Dan Mirvish a year before we shot it. I feel like as an actor, I'm always drawn to scripts that are contained in the way that '18 ½' is. It's very few characters, very few locations, and it reads on the page almost like a play.
I also really loved how it took the constraints of a low budget indie and made them into really interesting choices on the page for how to deal with an extended fight scene, or just a lack of a lot of supporting characters. I always find that to be a really fun challenge.
MF: How much did you know about the Watergate scandal before you did research for this movie, and in your opinion, what is it about that event that has kept Americans fascinated with it for 50 years now?
WF: I knew about Watergate, insofar as I knew about the things that I had been taught in school and the little bit extra beyond that. I think there's just been a renewed cultural interest in Watergate. I think that's because of the political instability in our country again. I think there's always an inclination to look to the past to understand the present, and Watergate kind of pales in comparison to a lot of the stuff that we're hearing about at the January 6th hearing right now. But I think that long before January 6th even happened, we were thinking about Watergate because we were thinking about what it means to have the highest office in the country suddenly under intense scrutiny.
I think what this movie does really well is that it leaves it up to the audience, what they take away from what the movie's saying, what we're saying as artists, and it gives the viewer this almost 'Alice in Wonderland' sort of romp through the imagined version of this 18 ½ minute gap. I think that's a cool way of engaging with something that we've seen so much about. I mean, there's been so many Watergate projects just in the past several years.
MF: Can you describe Connie, your approach to playing her, and what is she looking to get out of this whole situation?
WF: I love Connie. I feel like I've gotten the opportunity to play a lot of intelligent women, and Connie is certainly an intelligent woman. I was really interested when I was reading the script and thinking about the ways in which, as a woman in the seventies, she was confined to a certain level. She couldn't ever quite get beyond the level of the transcriber that she was, it was kind of the top of the ladder for her as a woman at the time.
I think that there's a lot of interesting stuff in her backstory as someone who once supported the administration, who believed in the administration, who then has this crisis of faith in the administration, reaches her own personal tipping point and then makes a radical decision. All of that backstory was really interesting to me in the actual playing of her as a character.
MF: Can you talk about Connie and Paul's relationship and working with John Magaro?
WF: John Magaro is great. I really had a fantastic time working with John. I think that there's this interesting constant suspicion, reevaluation, questioning of the other's intentions in a lot of ways, and it's just like the beginning of any romantic relationship. But then with the additional stakes of the world that those characters are occupying, it made it really fun to explore those tropes with the heightened background of the character's worlds.
I think that one of my favorite scenes is that first scene at the diner, they're kind of really figuring each other out and getting to know each other. I think it's such a fun introduction to both of those characters and the ways that their minds work, which are so different.
MF: There is a fantastic fight scene at the end of the film that is presented as one continuous shot. Can you talk about how you shot that scene?
WF: I mean, we did do a lot of it in chunks. It's a very long scene. There are tricks to a continuous shot, and you just find things that you pass over (with the camera) and then you're suddenly in a different take, but you don't know it. That's the trick of stitching that together. We had limited time, we're a small movie, so it all did move quite quickly.
I kind of love that scene because it's so weird and I've never seen anything like that in a movie before. I think it's such an interesting way of having a fight scene, which largely takes place off camera, while you're listening to this huge delivery of information and climactic moment of what these characters have been trying to find out the whole time.
MF: What was your experience like working with director Dan Mirvish?
WF: Dan is a veteran, he has certainly been so deeply enmeshed in the indie film scene. It's no surprise to me that he is inventive in those ways, because necessity is the mother of invention. When you have a small film that you're making, it's just one constraint after the next, whether it's what days you have availability to shoot or when you can be at a location. There're just a million things that can go wrong and they often do, and you have to work with all of those constraints.
MF: Finally, what was the 'Reacher' experience like for you, and were you surprised by how many people binged the show during the pandemic?
WF: It's a great show. I think it was really what audiences were looking for. I think it's actually funny. I remember earlier in the pandemic, everyone was like, "No one's going to make a pandemic show. No one is going to make something really dark." I feel like of late, actually a lot of the shows that are on television right now are quite dark and apocalyptic. There's a lot of resonance to our current situation in a lot of the television that's being put out there, and a lot of the good television that's being put out there.
I think 'Reacher' was kind of a real break in that stylistic genre choice that was being made. I think that's probably why people kind of responded to it so positively, it was just like this total departure from what else was available. I mean, it was a great show to be a part of, it's such a genre piece. At the same time, it spans so many different genres. It was just fun. I loved doing something in the action world. It was great and Alan's wonderful.
MF: Will you be returning for season 2 of 'Reacher?'
WF: I will not be in the next season. I can tell you that. But you never know what's going to happen.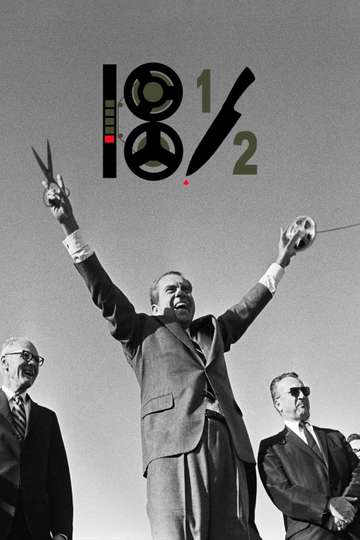 "Watergate's biggest secrets are about to unwind..."