'House of Gucci" is unnecessarily long but features captivating performances from Lady Gaga and Jared Leto
Director Ridley Scott's latest movie is over-bloated but tells an intriguing and entertaining story, and is anchored by fantastic performances from Gaga, Leto, Adam Driver and Al Pacino.
Opening in theaters on November 24th is Oscar winning director Ridley Scott's latest film, 'House of Gucci,' which chronicles the rise and fall of the Gucci family and the empire they created and lost. The movie features an incredible cast all delivering their best, including Lady Gaga ('A Star is Born'), Adam Driver ('Star Wars: The Rise of Skywalker'), Salma Hayek ('Eternals'), and Academy Award winners Jared Leto ('Dallas Buyers Club'), Jeremy Irons ('Reversal of Fortune') and Al Pacino ('The Godfather'). The result is an over-sized movie with a strong story and truly winning performances from the cast including Gaga and Leto but suffers in the pacing and falls apart in the third act.
The film begins by introducing us to Patrizia Reggiani (Gaga), who works for her father's trucking business in Italy. One night at a party, she meets Maurizio Gucci (Driver), the heir to the famous Italian luxury label dynasty. Patrizia is relentless in her pursuit of Maurizio, and eventually they fall in love, but he has no interest in his family's business. Maurizio soon introduces Patrizia to his estranged father Rodolfo Gucci (Irons), who believes Patrizia just wants the Gucci money and forbids his son to marry her. After their wedding, the couple begin spending time with Rodolfo's brother, Aldo Gucci (Pacino), who encourages Maurizio to join the family business, much to Patrizia's delight. She then orchestrates a way for her husband to take over the company from Aldo, with the help of his incompetent cousin and Aldo's son, Paolo (Leto). But Maurizio and Patrizia get greedy for power and betray Paolo in the process. Eventually, their marriage begins to fall apart, and the Gucci brand falls in financial trouble. Maurizio has an affair and leaves Patrizia, who turns to her psychic (Hayek) for help finding someone to murder her husband.
'House of Gucci' marks the second film directed this year by Oscar winner Ridley Scott after 'The Last Duel.' That's a pretty amazing accomplishment for anyone, especially an eighty-three-year-old filmmaker. It's no question that Ridley Scott is one of the greatest directors of his generation, with a resume that includes 'Alien,' 'Blade Runner,' 'Thelma & Louise,' and 'Gladiator.' But for every 'Black Hawk Down' or 'The Martian' there is a 'Robin Hood' or 'Exodus: Gods and Kings,' and the prolific director can be hit or miss to say the least. He's taken a crack at the crime thriller genre before with mixed success, again, for every 'American Gangster' there is 'The Counselor.' But this time around, Scott scores pretty well by turning the Gucci family into the Corleone's, and it works… for the most part.
However, the biggest issue I have with the film is the length, as it would have benefited from a tighter run time and better pacing towards the end. Since it is a true story, it can be easily googled, so trying to draw on the drama doesn't really work because we know Patrizia will kill Maurizio in the end. Where the film, as well as Scott and the cast, shine is in setting up the inevitable and really diving into their relationship and the family business. Scott also sets the tone for the decadent 80s quite well with appropriate music like The Eurhythmics and Blondie, as well as the clothes, cars, and over-the-top lifestyles. Scott also has a sharp eye for performances, and he got stellar ones out of his four lead actors.
Jeremey Irons and Salma Hayek are both fine in the film, but have very small roles and honestly do not do a lot. I'm surprised actors of their caliber would even take roles that small, but undoubtfully it was just for the chance to work with the celebrated director. Al Pacino is very strong as Aldo Gucci and even though he does terrible things, you feel a great sympathy for him at the end, thanks to his performance. After a terrific performance in 'The Irishman,' it seems like the legendary actor has another chance at a Best Supporting nom this year. But the actor who is definitely getting a nomination for best supporting actor is Jared Leto for his transcending work as Paolo. The actor is completely unrecognizable, which the Academy loves, and his quite funny playing the sad and pathetic character. Much like Pacino, Leto draws on great sympathy from the audience for his bumbling character and creates a singular performance all to his own. I have no idea if the real Paolo Gucci looked anything like Leto does in the film, but the performance is original and fun.
Adam Driver gives an almost thankless performance in the film, playing opposite Lady Gaga, but he is definitely the anchor of the movie. Driver gives a quiet performance but is completely believable as a man with good intentions wrapped up in a world of greed and power. His accent is excellent, and he also gives a performance worthy of at least Oscar attention. But unfortunately for Driver, all eyes are on Lady Gaga, who shares almost every scene with Driver in the film and can't help stealing most of them. Gaga gives a completely commanding performance as Patrizia and reminded me of Sharon Stone in 'Casino.' She creates a character that you understand and relate to, even if you can't relate to many of her actions. It would be easy for the movie to paint Patrizia as a "gold digger," but Gaga's performance elevates that, so you really believe that she truly loved Maurizio, even if the money was also enticing. In my opinion, Lady Gaga is 2 for 2 after her performance in 'A Star is Born,' and deserves another nomination this year.
In the end, 'House of Gucci' is certainly no 'Godfather,' but it is a decent modern-day story about the rise and fall of a family empire filled with all the drama, passion, greed and betrayal that comes with it. Ridley Scott delivers a strong film that is too long and drags in the third act but is saved by top-notch performances from the accomplished cast, especially Lady Gaga and Jared Leto.
'House of Gucci' receives 3.5 out of 5 stars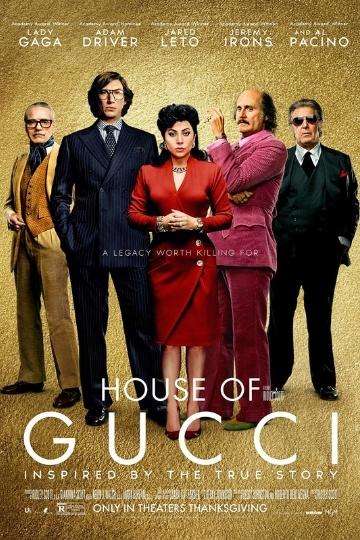 "A legacy worth killing for."
2 hr 38 min
Nov 24th, 2021