Ryan Reynolds Congratulates 'Wonder Woman' on Beating 'Deadpool's Box Office
Ryan Reynolds congratulated "Wonder Woman" on surpassing "Deadpool" at the box office this weekend. Or was he commenting on Diana Prince's B.O.?
"The Merc may be filthier, but her B.O. is stronger," Reynolds said in cheeky yet heartfelt Instagram post. "Congrats #WonderWoman." He (along with the official Deadpool account) shared a photo of Deadpool making a heart sign around a gold Wonder-Woman emblem necklace. Awwww! We heart her too.
"Wonder Woman," starring Gal Gadot as the warrior princess, has now racked up $368 million in North America, edging out "Deadpool"'s domestic take of $363 million. At the worldwide box office, "Deadpool" still leads with $783 million to $746 million.
Among the other box-office milestones set by "Wonder Woman" since its July 9 debut: It's the highest-grossing live-action film directed by a woman, the highest-grossing film domestically of Warner Bros.' DC Extended Universe, and (so far) the second-highest-grossing DCEU film worldwide, behind "Batman v Superman: Dawn of Justice." "Batman v Superman," in which Gadot made her debut as Wonder Woman, racked up $873 worldwide. "Wonder Woman" has, to date, earned $745.5 million globally.
Reynolds is currently filming "Deadpool 2," which opens June 1, 2018. The box-office battle isn't over, as "Wonder Woman 2" is also in the works.
[Via EW]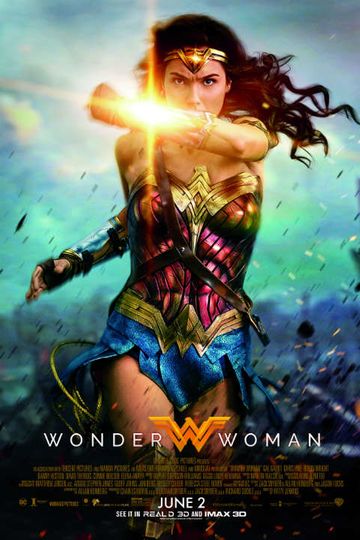 "Power. Grace. Wisdom. Wonder."
An Amazon princess comes to the world of Man in the grips of the First World War to confront the forces of evil and bring an end to human conflict. Read the Plot