Taylor Swift May Cameo as Dazzler in 'X-Men: Apocalypse'
Mutants like music, too, and one of the most famous singers in the "X-Men" orbit is Dazzler, who just so happens to be a mutant herself. Now, the musician is set to make a small cameo in "X-Men: Apocalypse," and it seems that a real-life famous singer will be playing her.
Taylor Swift is the number one candidate for the job, after internet sleuths noticed a clue from actress Sophie Turner, who plays the young Jean Grey in the flick. Turner posted a new still from the film on her Twitter account, in which she and Cyclops (Tye Sheridan) are rifling through albums at a record store, and Cyclops discovers one from Dazzler.
#FBF that time Cyclops and I went shopping at the mall and found our favorite singer's album (pre 1989, of course) pic.twitter.com/BherKQbE4Z

— Sophie Turner (@SophieT) April 29, 2016

Turner noted that the pair "found our favorite singer's album (pre 1989, of course)," and, of course, as any pop music fan can tell you, that 1989 hint sure seems like a direct reference to Swift's latest album. But could she really be playing Dazzler, or is this just some clever misdirection on Turner's part?
The folks over at Collider actually pieced together this theory months ago, back in July of 2015, when "Apocalypse" was still in production in Montreal. Screenwriter and producer Simon Kinberg posted a photo of himself alongside cast members James McAvoy and Turner -- and none other than Swift herself. At the time, it seemed like it may just be pure coincidence that Swift visited the set; now, with Turner's clue, it seems all but a given that she's in the flick.
It's hard to tell anything from the photo itself, since the album sleeve is so small, but examine it for yourself above and see if you can detect any of Swift's features. Keep your eye out for her on the big screen when "X-Men: Apocalypse" opens on May 27.
[via: Sophie Turner, h/t Collider]
Photo credit: 20th Century Fox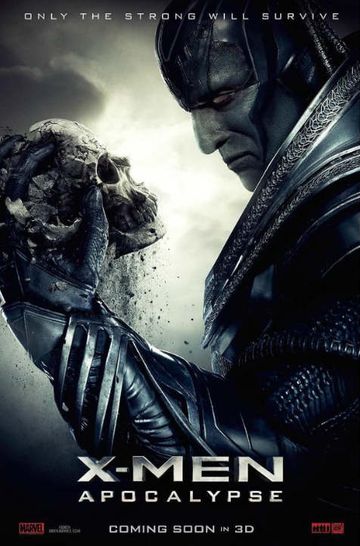 "Only the strong will survive."
2 hr 24 min
May 27th, 2016
After the re-emergence of the world's first mutant, world-destroyer Apocalypse, the X-Men must unite to defeat his extinction level plan. Read the Plot