7 Reasons Why 'TMNT2' Stumbled at the Box Office
Welcome to the first really bad weekend of the summer. Even though this weekend saw three new wide-releases, it's still the lowest-grossing weekend of Summer 2016 so far.
The new "Teenage Mutant Ninja Turtles: Out of the Shadows," debuted at No. 1 with an estimated $35.3 million, but that's just over half of the $65.6 million debut that the previous "Teenage Mutant Ninja Turtles" enjoyed two summers ago. Romance "Me Before You" did half as well as "Out of the Shadows," opening in third place with an estimated $18.3 million -- besting Warner Bros.' expectations. And Andy Samberg's boy-band mockumentary, "Popstar: Never Stop Never Stopping," underperformed with an estimated $4.6 million -- landing in eighth place. Woof.
Meanwhile, the modest sales of "Out of the Shadows" were enough to displace last week's winner, "X-Men: Apocalypse," which fell 66 percent in its second weekend to No. 2 with an estimated $22.3 million. Last week's big box office disappointment, "Alice Through the Looking Glass," also fell more than 60 percent, landing in fourth place with an estimated $10.7 million.
C'mon, Hollywood, this is supposed to be the most lucrative season of the year, full of record-setting debuts of superhero sagas and family-friendly cartoons. What happened? What lessons can studio programmers learn from this weekend's lackluster box office? Well, here are seven of them.
1. Sequel-itis
Remember, "TMNT" started out in the 1980s as a comic book parodying the "X-Men" franchise. It must be galling both to the publishers at Marvel and to the executives at Fox that their teenage mutants are playing second fiddle this weekend to the jokey, pizza-chomping, sewer-dwelling versions of their carefully cultivated intellectual property. Give credit, at least, to Paramount for recognizing that "X-Men: Apocalypse" was puny enough to be dethroned after just one week by a more kid-friendly team of comic-book heroes.
2. In the Summer, Reviews Don't Matter...
Audiences know what they want from their summer escapism, critics be damned. "Popstar" had the best reviews among the new films, with a 78 percent "Fresh" on Rotten Tomatoes. "TMNT" had the weakest, just 37 percent. But the young male audience that "Popstar" targeted doesn't care about reviews, and neither do the kids that "TMNT" sought. People were already predisposed to see (or avoid) both movies, and reviews weren't going to sway them.
Same with "Me Before You," which had middling reviews (55 percent fresh) from critics who complained about the movie's heartstring-yanking manipulativeness. Of course, that's precisely the romantic movie's biggest selling point. Feature, not bug.
3. ...And Neither Does Star Power
Of course, the. stars of "TMNT" are all computer-generated, but the filmmakers have chosen to surround them with actors familiar from roles in grown-ups-only movies, like Arrow" star Stephen Amell joins the franchise as fan favorite Casey Jones, as if there's much overlap between his dark, adult comic-book series on the CW and the "TMNT" kids.
Meanwhile, Game of Thrones" wants to see her playing an adorable Manic Pixie Dream Girl in a contemporary romance.
Andy Samberg, at least, is working within his usual wheelhouse as the star of musical spoof "Popstar," and he and the other Lonely Island guys have been promoting the heck out of it on TV appearances and on social media. Nonetheless, the former "Saturday Night Live" mainstay and "Brooklyn Nine-Nine" star has never proved that his TV following will follow him to the big screen.
4. There's an Audience Starved for Romance
"Me Before You" was expected to bring in only about $12 to $14 million, so its estimated $18.3 million take is a pleasant surprise. Chalk it up to smart counter-programming against the family-oriented and male-oriented movies otherwise dominating the multiplex.
Indie romances "Love & Friendship" and "The Lobster" also added hundreds of theaters each this weekend and are reaping the benefits, with "Love" earning an additional estimated $2.2 million and "Lobster" clawing another estimated $1.6 million. As "Apocalypse" plummets," "Neighbors 2: Sorority Rising" runs out of gas, and "Popstar" fails to get off the ground, it might be time for the studios to stop saturating the market with movies made for young men and start thinking about young women.
5. Might Be Time for More Originality at the Multiplex
In this weekend's top 10, "Popstar" and "The Nice Guys" are the only two films not based on a pre-existing property. How's that working out for them? It's not so much that audiences only want to see sequels and reboots; rather, it's that sequels and reboots seem to have crowded everything else out of the marketplace, at least throughout the summer. It seems that the ho-hum response to "TMNT 2" might be evidence of "sequel fatigue" among moviegoers, which could spell trouble for Hollywood this summer as sequels are what studios use to line their coffers during the season.
While the aforementioned originals have proven to be misfires, audiences will still flock to original ideas -- as long as they are executed in ways that make it worth our hard-earned box office dollars.
6. There's Only So Many Family Movie Dollars Out There
This might seem counterintuitive, especially now that school's out. But "TMNT" might have done better if it weren't competing against "Alice Through the Looking Glass," "The Angry Birds Movie," "The Jungle Book," and even "Zootopia" (still in 400 theaters after 14 weeks).
7. The Math on Sequels Doesn't Always Add Up
The last "Teenage Mutant Ninja Turtles," which relaunched the franchise in 2014, cost about $125 million to make and earned nearly $500 million worldwide. Given that, for blockbusters like these, marketing costs about as much as production, and that the studio keeps only about half of the worldwide ticket receipts, the 2014 "TMNT" just about broke even.
Nonetheless, that was apparently good enough to justify a sequel, so now we have the $135 million "Out of the Shadows," which will have to gross $540 million worldwide to break even. So far, it has taken in an estimated $69.3 million around the globe. Not a good sign.
Who knows, maybe Turtle fans are willing to shell out another $470 million for this one, but because family dollars are finite, the new Turtle tale is likely to sink in a couple weeks when "Finding Dory" swims into the multiplex. There may have been a sweet victory in beating "X-Men: Apocalypse" in early June, but at least if "Out of the Shadows" had come out in August, like its predecessor, it could have had the multiplex all to itself for a whole month.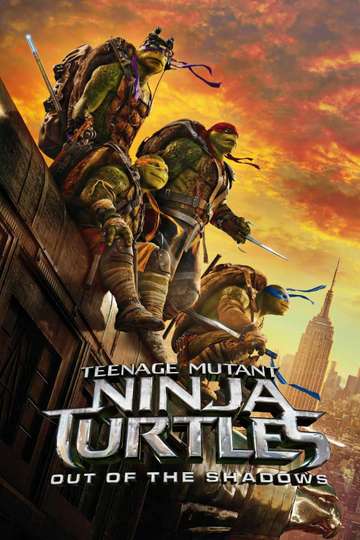 After supervillain Shredder escapes custody, he joins forces with mad scientist Baxter Stockman and two dimwitted henchmen, Bebop and Rocksteady, to unleash a diabolical... Read the Plot