The 9 Best Superhero Movies Not Based on a Comic The comic book medium may be where superheroes were born, but not every great superhero movie is based on a comic. In fact, some of the very best superhero movies are completely original creations. Here are our nine favorite examples.
'The Toxic Avenger' (1984) If you like your heroes disgusting but lovable, look no further than "The Toxic Avenger" this campy homage to B-movies stars a puny nerd who transforms into a hideous but super-buff hero. It didn't find much of an audience at first, but it eventually became a cult phenomenon that spawned three sequels and a more kid-friendly animated series, with a big budget remake in the works.
'RoboCop' (1987) "RoboCop" may not immediately spring to mind when you think of superhero movies, but it's got all the ingredients we've come to expect from the genre. The sequels are even more overly comic book-y, what with comic book legend Frank Miller penning the screenplays. We prefer to forget those exist, however, and stick with the original (a stone-cold, blood-splattered classic).
'Darkman' (1990) Sometimes, if you can't get the rights to make a movie about your favorite superhero, the best option is to make up your own hero. That's what Sam Raimi did when he created the tragically scarred vigilante Darkman. This 1990 was an early sign of how good superhero movies could be in the right hands, and it paved the way for Raimi to work his magic on the "Spider-Man" franchise.
'Unbreakable' (2000) This movie's greatest strength is that it's a superhero origin story that doesn't truly reveal itself till the climax. M. Night Shyamalan pushed the genre is a much darker and more grounded direction. Best of all, we're finally seeing the rivalry between Bruce Willis and Samuel L. Jackson's characters pay off almost 20 years later thanks to "Glass."
'The Incredibles' (2004) As frustrating as it is that we have yet to see a decent "Fantastic Four" movie, does it really matter when we already have the "Incredibles" series? The original film remains one of the best superhero movies of all time, animated or not. Its trademark combination of family drama and Silver Age superhero/spy movie zaniness never gets old.
'Sky High' (2005) You'll be hard-pressed to find a more charming and family-friendly superhero movie than "Sky High." It soars on the strength of its simple but brilliant premise -- a coming-of-age high school comedy set at a school for the children of superheroes. It's not every day you get to see Kurt Russell put on a cape and muscle suit.
'Megamind' (2010) While not exactly the most groundbreaking animated movie around, "Megamind" nonetheless features an entertaining spin on the usual hero vs. villain dynamic. Will Ferrell is pitch-perfect as a hyper-intelligent villain who grows so bored after defeating his nemesis that he creates a replacement and winds up accidentally creating an even bigger threat to humanity.
'Super' (2010) Years before turning the Guardians of the Galaxy into household names, director James Gunn cut his teeth on this small, quirky comedy. Rainn Wilson and Ellen Page star as two completely ordinary nobodies who decide to put on spandex and fight crime. The Crimson's Bolt's tagline "Shut up, crime!" may be the best superhero slogan we've ever heard.
'Chronicle' (2012) If you want to know the very last time a found footage movie was actually a unique and novel experience, watch "Chronicle." This grounded look at a group of teen friends torn apart after gaining superhuman powers makes great use of that played-out format. Sadly, director Josh Trank wasn't able to carry over the momentum from this movie to 2015's "Fantastic Four."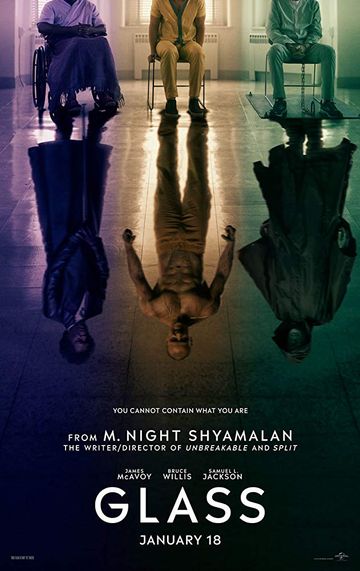 "You Cannot Contain What You Are"
In a series of escalating encounters, former security guard David Dunn uses his supernatural abilities to track Kevin Wendell Crumb, a disturbed man who has twenty-four... Read the Plot