Halle Bailey and Jonah Hauer-King Talk Disney's 'The Little Mermaid'
Moviefone speaks with Halle Bailey and Jonah Hauer-King about 'The Little Mermaid.' "Be prepared for a fun, magical, and emotional journey," Bailey said.
Opening in theaters on May 26th is the live-action adaption of Disney's 'The Little Mermaid,' which was directed by Rob Marshall ('Mary Poppins Returns').
What is the plot of 'The Little Mermaid?'
Ariel (Halle Bailey), the youngest daughter of the kingdom Atlantica's ruler King Triton (Javier Bardem), is fascinated with the human world but mermaids are forbidden to explore it. After saving Prince Eric (Jonah Hauer-King) from a shipwreck and falling in love with him, she becomes determined to be with him in the world above water. These actions lead to a confrontation with her father and an encounter with the conniving sea witch Ursula (Melissa McCarthy), making a deal with her to trade her beautiful voice for human legs so she can discover the world above water and impress Eric. However, this ultimately places her life (and her father's crown) in jeopardy.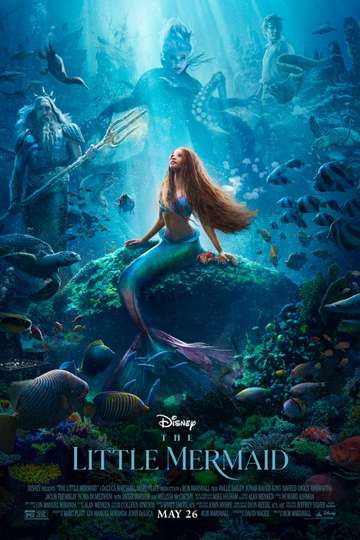 Who is in the cast of 'The Little Mermaid?'
'The Little Mermaid' stars Halle Bailey ('Lemonade') as Ariel, Jonah Hauer-King ('This Is the Night') as Eric, Daveed Diggs ('Blindspotting') as the voice of Sebastian, Awkwafina ('Renfield') as the voice of Scuttle, Jacob Tremblay ('Room') as the voice of Flounder, Noma Dumezweni ('The Kid Who Would Be King') as Queen Selina, Javier Bardem ('Lyle, Lyle, Crocodile') as King Triton, and Melissa McCarthy ('Bridesmaids') as Ursula.
Moviefone recently had the pleasure of speaking with Halle Bailey and Jonah Hauer-King about their work on 'The Little Mermaid,' what audiences can expect from the new movie, shooting the underwater scenes, and working with the puppeteers.
You can read the full interview below or click on the video player above to watch our interviews with Bailey, Hauer-King, Javier Bardem, and Melissa McCarthy, as well as director Rob Marshall and producer John DeLuca.
Moviefone: To begin with, Halle, what would you say to moviegoers to prepare them for this live-action version of 'The Little Mermaid?'
Halle Bailey: I would definitely say to moviegoers who are excited to see the film, be prepared for a fun, joyful, exciting, magical, emotional journey that we take you on in this film. Rob Marshall is a visionary and has done such a beautiful job with directing this film, and everyone has worked collectively so hard to just make everyone happy. We hope that they love it ultimately.
MF: Jonah, what would you say to moviegoers to prepare them for the theatrical experience they are about to have?
Jonah Hauer-King: Yeah, exactly that. It's a huge, big epic adventure, but I think it's really grounded in human stories, and mermaid stories, about what it means to relate to one another, and what it means to fall in love. I think it feels grounded in reality despite how big and epic the scale is.
MF: Halle, I understand that for some of your underwater scenes you actually did not perform them in water, but rather on wires without water. What was that process like for you?
HB: Yes, so it was really beautiful because I had kind of split time between the blue-screen work, which is what you see when we're doing the underwater scenes and the dialogue, like me and Javier or me and Flounder and Sebastian, which was me harnessed in the air in a swimming position, simulating the iconic Ariel swim. Then when it gets to the shipwreck scenes or when I'm saving Eric, that was in water, in real water in the tank at Pinewood, which is this huge beautiful tank. So I feel like I had the best of both worlds and it was really cool for me because it was a lot of physicality, but I was able to just have fun with it, and we had so much fun.
MF: But Jonah, you were actually in the water for a lot of your scenes, how challenging were those sequences for you to shoot?
JHK: What was crazy though was that when we were in the water together, I could interact with water like a human would, which is fine. So when the storms go in, it's okay, I can just be drowning and that's all right. She had to look like she actually was a mermaid. So that was insane, but I think she pulled it off pretty well.
MF: Halle, which was more difficult for you, actually being in the water, or pretending to swim while on wires?
HB: The wires were a bit harder because it was a lot of core strength that you had to hold yourself up with. Then we had this beautiful stunt team that would hold my legs together basically, and then I would be kind of just suspended in the air on my side. So it was a lot of oblique work and trying not to look like I'm shaking while I'm doing the dialogue and singing. So I think that was maybe the more difficult. Whereas the water, you can just let it take you and it'd be fine.
MF: Finally, Halle, I also understand that characters like Scuttle, Flounder and Sebastian were actually performed by puppeteers on set. What was it like for you performing with the puppeteers?
HB: Yes, so we had a really awesome preparation period. Rob Marshall is a perfectionist, and he's prepared. So before we actually started filming, we had three months of rehearsals with the cast, getting to know each other, bonding, and getting that connection that ultimately we needed to be able to play with these characters. We had already rehearsed a lot with Jacob, Daveed, and Awkwafina. So by the time it got to actually filming for me, they were no longer on set, but I would hear them in my ears. We had already built that connection and bond, and I was left with these amazing puppeteers, so they would kind of hold them in place for my eye-line before we started shooting. Then when we had to film, they took them away and I would literally just be talking to nothing, talking to air, looking like a crazy person before they're added it in after. Then when it was added after, it's like, "Okay, great." It looks like I'm actually talking to them and they're actually there.
Other Movies Similar to 'The Little Mermaid:'
'The Little Mermaid' is produced by Walt Disney Pictures, Lucamar Productions, and Marc Platt Productions. It is set to release in theaters on May 26th, 2023.