Meet Ducky and Bunny, the New 'Toy Story 4' Characters Voiced by Keegan-Michael Key and Jordan Peele
If you've been missing the comedic stylings of hilarious duo (and BFF goals poster boys) Keegan-Michael Key and Jordan Peele, you need look no further than "Toy Story 4" for a fix.
The pair have joined the long-awaited, hotly-anticipated Pixar sequel as new characters Ducky (Key) and Bunny (Peele), adorable stuffed animals who serve as prizes at a carnival visited by Woody (Tom Hanks) and Buzz (Tim Allen) and the gang. Here's their official character poster, released by Disney this week along with the film's first teaser trailer:
Of course, they're not just cute and cuddly: They're also ridiculously funny, as evidenced by this special teaser reaction video, which features Ducky and Bunny riffing on the previous "Toy Story" flicks, and trying to remember the exact wording of Buzz Lightyear's famous catchphrase. ("To infinity and your mom"? "To insanity and a blonde"?)
Fans of the duo's beloved Comedy Central series "Key & Peele" may find this new clip pretty similar to the recurring "Valets" sketch. If only Liam Neesons had shown up at the end.
According to "Toy Story 4" director Josh Cooley, the pair are a crucial addition to the "Toy Story" family.
"Of course, [Key and Peele] are effortlessly funny, which would be enough," Cooley said in a statement. "But they are incredible actors that understand story. Their improvs weren't just for comedy sake, they were story motivated which elevated Ducky and Bunny and the film to a level I never could have expected."
We can't wait to see more from these characters, and all the rest of our "Toy Story" favorites.
"Toy Story 4" hits theaters on June 21, 2019.
[via: DisneyPixar/Twitter, DisneyPixar/Twitter, People]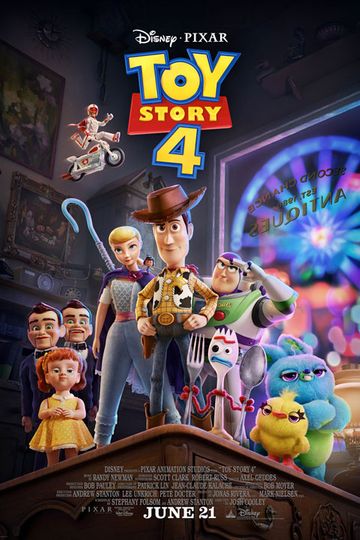 "Get Ready to Hit the Road"
1 hr 40 min
Jun 21st, 2019
Woody has always been confident about his place in the world and that his priority is taking care of his kid, whether that's Andy or Bonnie. But when Bonnie adds... Read the Plot