The First Trailer For 'The Woman King' Finds Viola Davis Defending a Kingdom From Conquest
John Boyega, Lashana Lynch and Thuso Mbedu also feature in Gina Prince-Bythewood's historical action drama.
Looking to upend what we have traditionally seen from historical action dramas – which, let's be honest have often been focused on white dudes swinging swords to avenge their families or conquer other countries – director Gina Prince-Bythewood's 'The Woman King' instead puts Viola Davis front and center as the general commanding an army.
Inspired by true events, 'The Woman King' tells the story of the Agojie (AKA Amazons), the all-female unit of warriors who protected the African Kingdom of Dahomey in the 1800s with skills and a fierceness unlike anything the world has ever seen. This is the emotionally epic journey of General Nanisca (Davis) as she trains the next generation of recruits and readies them for battle against an enemy determined to destroy their way of life.
Looking like the sort of fighting force that inspired 'Black Panther's fearsome Dora Milaje, the Agojie are responsible for defending King Ghezo (John Boyega). Our way into the story, meanwhile, is via Nawi (Thuso Mbedu), who is a relatively new recruit and learns that there's more to this fighting force than just being badasses.
"I've never had a role like this before. It's transformative," Davis tells Vanity Fair. "And to be a producer on it, and to know that I had a hand in bringing it to fruition…. There's always a vision you have for your career, but there are very few roles as an actress of color. Dark skin with a wide nose and big lips. I'm just gonna continue to say it. Those stories are extraordinarily limited. I knew what it would mean to us as Black people. Something that has never been done before. And what it would mean for Black women sitting in that movie theater. The responsibility is really high."
For Prince-Bythewood, part of getting a handle on the movie's impressive-looking action was also taking inspiration from her own past. "I grew up an athlete. The women around me were athletes," she says. "There was a normalcy to how I thought about myself. You fight. Aggression is good. Leave it all out on the floor. And as I got older, it surprised me how few women had the advantage of growing up like that. That innate warrior that I believe we all have is dormant in so many women because it wasn't encouraged or valued."
With a cast that also includes Lashana Lynch (no stranger to impressively mixing action and drama after 'Captain Marvel' and 'No Time to Die'), Sheila Atim (who had a small role in 'Doctor Strange in the Multiverse of Madness' but deserved more and should get that here), Hero Fiennes Tiffin, Jordan Bolger, Adrienne Warren, Jayme Lawson, Shaina West and Jimmy Odukoya. Dana Stevens wrote the initial drafts of the movie, while Prince-Bythewood added her own material once she came aboard.
'The Woman King' will march into theaters on September 16th.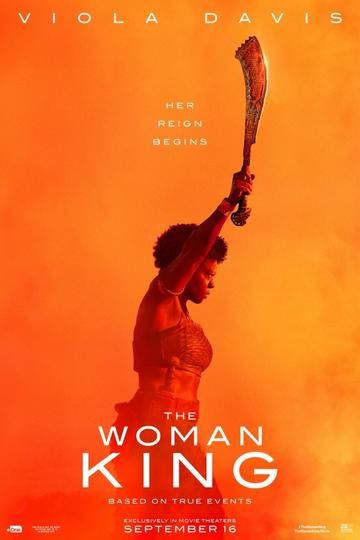 "Her reign begins."
2 hr 15 min
Sep 16th, 2022
Showtimes & Tickets
The Woman King is the remarkable story of the Agojie, the all-female unit of warriors who protected the African Kingdom of Dahomey in the 1800s with skills and a... Read the Plot