Watch Ryan Reynolds & Jake Gyllenhaal Lose It Through 'Useless' Junket Interview
Move over, Blake Lively and Hugh Jackman, 'cause Ryan Reynolds just found his perfect goof-off partner: Jake Gyllenhaal. The two stars actually had to be spoken to on the set of their new sci-fi movie "Life" because they "wasted so much money" by laughing through (expensive) takes. You can watch an example of that beautiful tomfoolery in the interview FOX 5 DC attempted to do with the pair during the "Life" junket.
Reporter Kevin McCarthy tried desperately to get out one question about a tracking shot in the movie, but before he could get a semi-serious answer, he got something much better -- a live comedy act between the riffing co-stars. The hilarity started with Gyllenhaal throwing his "Deadpool" gift pin over his shoulder, sending Reynolds into hysterics, and continued with a raunchy discussion of Reynolds's use of the term "big oner" to describing one long take. Blake Lively's name got thrown in there at one point, and the two stars kept things at a junior high level by joking about the name tags on their chairs -- in case they couldn't figure out where to sit -- and also made some fake earrings.
The stars laughingly acknowledged that they had given the reporter a "useless interview" with no actual information, but this was much better, no?
"The Tonight Show," Gyllenhaal talked to Jimmy Fallon about his bromance with Reynolds, and revealed that the producers pulled them aside to the corner and told them to "cut it out" 'cause they were wasting so much time and money.
Check out Moviefone's (much more serious) interview with Gyllenhaal on "Life" and the 10th anniversary of "Zodiac." "Life" -- which is actually horror, not comedy, opens March 24.
Want more stuff like this? Like us on Facebook.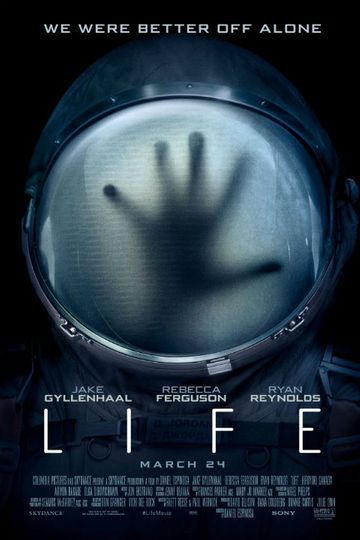 "Be careful what you search for"
1 hr 44 min
Mar 24th, 2017
The six-member crew of the International Space Station is tasked with studying a sample from Mars that may be the first proof of extra-terrestrial life, which proves... Read the Plot