Where To Watch The High Fantasy-Adventure 'Dungeons and Dragons: Honor Among Thieves'
Epic fantasy adventure 'Dungeons & Dragons: Honor Among Thieves' expected to arrive on Paramount+ this month and is now available on digital.
Roll for initiative! The fantasy adventure movie based on the popular tabletop role-playing game 'Dungeons & Dragons' may be arriving on Paramount+ this month.
What happens when a Bard, a Barbarian, a Wizard, and a Druid meet at a tavern? Chaos, naturally. In 'Dungeons & Dragons: Honor Among Thieves', directors John Francis Daley and Jonathan M. Goldstein (both worked on 'Game Night') found the perfect balance of bringing elements of the original tabletop game and an epic fantasy adventure to the big screen. The film incorporated enough easter eggs from the game lore for the fans while making it appealing and interesting to those who have not played the game.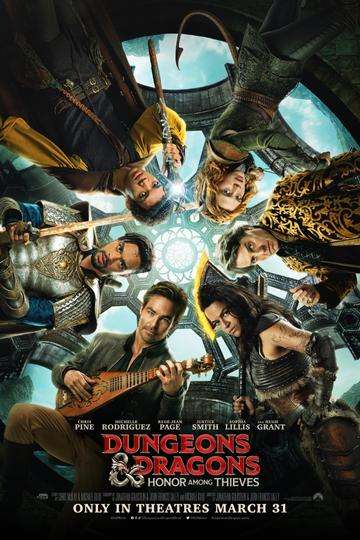 The official synopsis for 'Dungeons and Dragons: Honor Among Thieves' is below:
"A charming thief and a band of unlikely adventurers undertake an epic heist to retrieve a lost relic, but things go dangerously awry when they run afoul of the wrong people. 'Dungeons & Dragons: Honor Among Thieves' brings the rich world and playful spirit of the legendary roleplaying game to the big screen in a hilarious and action-packed adventure."
'Dungeons & Dragons: Honor Among Thieves' opened in theaters on March 31st to $37.2 million domestically and has grossed over $203.2 million worldwide since its release. Critics and audiences reacted positively to the movie, warranting the film 91% and 93% score on Rotten Tomatoes respectively.
The adventuring party of 'Dungeons & Dragons: Honor Among Thieves' stars Chris Pine ('Don't Worry Darling') as the bard Edgin Darvis, Michelle Rodriguez ('Fast X') as the barbarian Holga Kilgore, Justice Smith ('Sharper') as young wizard Simon Aumar, Sophia Lillis ('The Adults') as the druid Doric, Regé-Jean Page ('The Gray Man') as the lawful good paladin Xenk Yendar, Hugh Grant ('Operation Fortune: Ruse de Guerre') as Forge Fitzwilliam, and Daisy Head ('Wrong Turn') as the film's antagonist Sofina.
From Tabletop To The Big Screen
Tabletop Roleplaying games (or TRPG) have become increasingly popular, especially with the exposure from shows like 'Stranger Things', live-play web series from groups such as Dimension 20 and Critical Role, as well as the animated Prime Video series 'The Legend of Vox Machina' (also created by Critical Role).
There's a fine line between adapting the game to screen - how do you fit in all the lore while embracing the hilarity and havoc from a session and still tell an epic high fantasy adventure story? D&D fans may recall the ill-fated 2000 'Dungeons & Dragons' movie. So bad it received a 9% score from critics and 20% from audiences on Rotten Tomatoes. However, thanks to the well-crafted script for 'Dungeons & Dragons: Honor Among Thieves', it manages to capture both the heart and comedy of the story and the amazing chemistry of the cast gives this movie a +2 to Charisma.
Ahead of filming, the cast did play a one-shot session of D&D together prior to filming, which is the best method of researching when it comes to prepping for their roles in the film. After all, what better way to study your character and bond with your cast mates than spending an hour planning out what you'll do in the dungeon crawl just to have the entire plan go up in flames because of one failed dice role?
One of the great things about this 'Dungeons & Dragons: Honor Among Thieves' is that it is just as much for the well-versed D&D players as it is for the general audience who may not have ever rolled a d20. Yes, those who have played the game might get an all-knowing chuckle at seeing Simon cast a spell to speak with the dead at the cemetery. Still, the scene was executed so well that the general audience would never feel lost from the references and easter eggs.
Aside from the cast of main characters and dungeon crawls, the film is filled with creatures and easter eggs from Dungeons & Dragons lore such as the original characters from 'Dungeons & Dragons' Saturday morning cartoon, a gelatinous cube, a mimic, displacer beast, the beholder, and more.
Where Can I Watch 'Dungeons and Dragons: Honor Among Thieves'?
The film premiered at SXSW on March 10, 2023, and was released theatrically in the United States on March 31, 2023. While the movie is available to rent on digital, it is better experienced in the theater so be sure to check below for showtimes in your area. 'Dungeons & Dragons: Honor Among Thieves' has a total runtime of 2 hours and 14 minutes.
Watch the official trailers for 'Dungeons and Dragons: Honor Among Thieves' below:
Can't make it out to the theater? You have the option to rent or purchase the movie on VOD. Services such as Amazon Prime Video, Direct TV, Google Play, Vudu, YouTube, AppleTV, AMC On Demand, and Redbox allows you to rent the movie for $19.99 or purchase it for $24.99.
As for as streaming goes, an official date hasn't been confirmed. The movie is released by Paramount so it is likely to end up on Paramount+ once it is ready to go to streaming. Seeing as the movie premiere on March 31, it is closing in on its 45-day theatrical release window. If it follows the same timeline, we could see the fantasy-adventure streaming on Paramount+ as soon as mid-May.
More High Fantasy Adventures Like 'Dungeons and Dragons: Honor Among Thieves':