Why Was There Never Another 'Simpsons Movie'?
Ten years ago, "The Simpsons Movie" opened nationwide. The David Silverman-directed film was a hit with critics (The New York Times film critic A.O. Scott said he'd watch it "20 or 30 more times") and audiences alike, grossing more than $525 million worldwide on a budget of just $75 million. And yet, here we are, without a proper follow-up. In the same amount of time, Michael Bay has directed five logistically nightmarish "Transformers" movies; there have been just as many "Fast and the Furious" movies released in the same time span but yet no "Simpsons Movie" sequel. In fact, the last time the most famous animated family of all time was on the big screen was in "Maggie Simpson in The Longest Daycare," a Silverman-directed 3D animated short that was attached to 2012's "Ice Age: Continental Drift" and subsequently nominated for the Best Animated Short Oscar.
But still, no sequel.
The question, of course, is why?
Well, by all accounts the making of "The Simpsons Movie" was a long and tortured one, even by the relative standards of a feature-length animated movie. As far back as 1991, series creator Matt Groening had expressed interest in making a feature-length animated film, one that would be launched as the series came to an end. (The 29th season starts this fall.) An early cut of 1992's "Kamp Krusty" episode was long enough that they could have released it to theaters. On the DVD commentary for the Season 4 episode "A Streetcar Named Marge," Groening discussed his desire to do a feature-length musical parody of Walt Disney's "Fantasia," entitled "Simpstasia" (this also never materialized).
Part of the holdup was that Fox had to agree to the terms of producer James L. Brooks, which basically boiled down to: "you can hire us to write a script but if we deem it unsatisfactory, we can abandon it at any time." Fox head Tom Rothman eventually agreed in 1999.
In 2001, during one of the contentious contract renegotiations, the cast signed on for three more seasons plus (finally) a movie. That's when Groening began building his army, inviting back lauded producers and a murderer's row of "Simpsons" writing alums, including Al Jean, George Meyer, David Mirkin, Mike Reiss, Mike Scully, Jon Vitti, and the venerably lauded John Swartzwelder (the reclusive weirdo who wrote such classics as "Homer the Vigilante" and "You Only Move Twice"). Director David Silverman left his cushy job at Pixar in anticipation of directing the movie. Early creative principles Conan O'Brien and Brad Bird spoke about joining the team but couldn't fit it into their busy schedules. By 2003, the team had assembled.Ideas were bandied about, each writer was assigned 20 pages of the script and they kept churning. Actors were called in 18 months after the initial creative team had been put together and what was thought to be a two-year production schedule eventually turned into four years. There were, quite literally, hundreds of pages of rewrites. In an Entertainment Weekly article shortly before the film was released, the rough calculation was that more than 18 years had been spent on the movie. And you wonder how it cost $75 million.
So if Fox, Groening, Brooks, and the team had reconvened immediately after the movie premiered (which, of course, they didn't), chances are the movie still wouldn't be ready to go now. The fact that a sequel isn't in production yet means that we are going to be waiting a while.
There's also the fact that the show is still airing. That means that many key players in the movie are also busy with their day jobs. Part of the reason that the movie got made at all was that they had so many extra writers on hand and that abandoned story ideas for the movie (like one in which Marge becomes a manatee trainer) were recycled as television episodes. Fashioning a similar production pipeline is a daunting proposition and one that nobody is probably interested in figuring out (just yet).
There's also the fear, of course, of finally ruining the billion-dollar franchise. And something like a poorly produced sequel could do just that. How many film series have been halted because of a follow-up that underperformed? Entire multi-part sagas have just been abandoned, left covered in vines and grass. "The Simpsons" is far too important to allow that kind of neglect. There's merchandise, theme park attractions, mobile games, and home video box sets to think about. Groening said at the time of the first movie (and it's still true today): "Nobody wants to be the one that rams the ship into the iceberg." So if there was pressure for the first film, then there's really pressure for a follow-up. (There's also the issue with contracts for the cast, which would have to be renegotiated and are incredibly complicated.)
And yet ... there seems to be a glimmer of hope, however dim and fleeting it might be.In 2015, prior to the airing of "The Man Who Came to Be Dinner," Al Jean revealed on Twitter that the episode was purposefully held back because it was being considered for the second movie (the episode was produced way back in 2012 and was set to be the Season 24 finale in 2013). Jean later said that the weird episode, directed by David Silverman, which has the family being abducted by Kang and Kodos, has appeal as a feature. "Two of the allures were exploring the rules of the new world and the cinematic nature of doing something in space," Jean told Entertainment Weekly.
The area of contention came when discussion of whether or not the events of the episode are technically "canonical," since they didn't actually happen within the timeline of the series. "It just got to the point where, if we were unsure about it as a movie, then it would be good to air the episode. And then, if we do a movie, we'd just think of something else. ... So if you want to know what was thought of a possible 'Simpsons Movie 2,' we just aired it -- for free."
At San Diego Comic Con last summer, during "The Simpsons" panel, producer Al Jean, "We talk about it, but if we do it we only want to do it if it's going to be really good. We would never do it just to cash in, so if it comes out, it's because we believe in it." Now, this might be an artful dodge (it is), but there seems to be something to the fact that this was one of the fan questions that Fox included in a two-minute sizzle reel of an hour-long panel. Also telling: that Spider-Pig, Homer's pet pig from the movie, has periodically popped up in the series, seemingly stoking the fires for a big-screen return.
At this point, the show will run through 2019 (so, at least 30 seasons), which means that Groening's original prophecy for the movie to follow the series might be dead-on. That'd be the perfect send-off to the most famous animated family in the history of comedy, right? After all, it'd certainly be easier to make a movie with everyone's schedules a little less cluttered.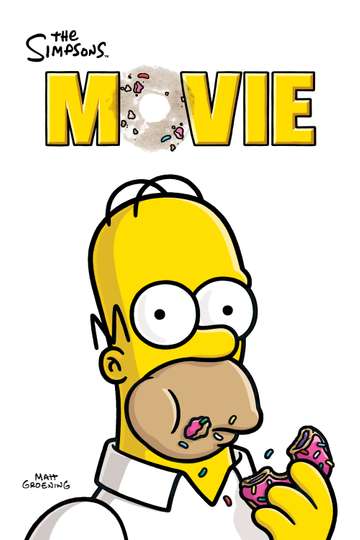 "See our family. And feel better about yours."
1 hr 27 min
Jul 27th, 2007
After Homer accidentally pollutes the town's water supply, Springfield is encased in a gigantic dome by the EPA and the Simpsons are declared fugitives. Read the Plot