Matt Damon and Ben Affleck are famously the closest of Hollywood friends. But onscreen, Damon thinks his action hero "Bourne Identity" character would crush Affleck's Batman.
"Jason Bourne would kick the s--t out of Batman—absolutely!" Damon tells E! News at the premiere of his film "The Martian," in theaters Oct. 2, at Toronto International Film Festival. "Batman's gotta take on Superman first," he adds. "If he could beat him then maybe he could take on Jason Bourne."
If the BFFs ever do battle it out, it would make it their eighth big screen appearance together as actors, starring in "Field of Dreams," "School Ties," "Glory Daze," "Chasing Amy," "Good Will Hunting," "Dogma," and "The Third Wheel."
Nearly 18 years ago, Damon and Affleck's collaboration on "Good Will Hunting" earned nine Academy Award nominations, ultimately winning the duo a Best Original Screenplay statue. Of course, fans want to know about their next joint effort.
"I wish I knew, Damon tells NY Times in a recent fan-submitted Q&A session, "I would love to do that."
"Now it's just more of a scheduling issue for us," Damon says, citing Affleck's "Batman" franchise commitments. "I think he knows what he's doing until 2020."
Since 1997's "Good Will Hunting" Damon went on to collaborate with other members of the film's team. For 2002's "Gerry," he shares a writing credit with Affleck's brother Casey Affleck, who costarred with them in the drama, and it served as another reunion with director Gus Van Sant. Ben Affleck continued to write as well, penning 2010's "The Town" and 2007's "Gone Baby Gone," among other projects.
Together, Damon and Affleck have re-teamed as executive producers and presenters of HBO's "Project Greenlight" - a documentary about filmmaking, now in its fourth season, returning to the cable network Sept. 20.
But the Hollywood buddies have not rekindled their Oscar magic together as writers ever since their big win.
"'Good Will Hunting' was really easy to write for us because we were unemployed," he recalls. "And nobody was waiting for it either. It's not like we were on deadline. The world didn't care."
He describes writing 2002's "Promised Land" with John Krasinski as a "blast," but says that synchronicity is paramount in the creative process. "The one thing about writing is that it's very time consuming," he explains. "And the only way to do it is when you're basically in the same place as your writing partner."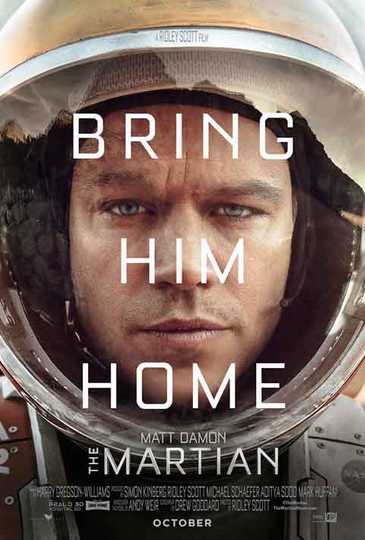 The Martian
"Bring Him Home"
2 hr 24 min
Sep 27th, 2015
During a manned mission to Mars, Astronaut Mark Watney is presumed dead after a fierce storm and left behind by his crew. But Watney has survived and finds himself...Read More