A Heist Spirals Out of Control in Star-Studded 'Triple 9' Trailer
What do you do to cover up a bank robbery? Set it up so that an even bigger crime is taking place at the same time.
That's the premise we see in the trailer for the star-studded heist drama "Triple 9." This cast is incredible: Kate Winslet, Chiwetel Ejiofor, Woody Harrelson, Anthony Mackie, Casey Affleck, Aaron Paul, Gal Gadot, Michael K. Williams, Norman Reedus, and Clifton Collins Jr.
Winslet plays a Russian mob boss (so awesome) who puts the screws to a gang of thiefs to pull off a nearly impossible heist. The only way they can get it done is to manufacture a "999," police code for "officer down." But things go very awry when the rookie they target foils the plan, putting everyone in a high-stakes game of life or death.
The trailer looks down and dirty, and it seems we can expect a lot of intense action and scenery-chewing (particularly on the part of Winslet).
"Triple 9" opens in theaters February 19.
Want more stuff like this? Like us on Facebook.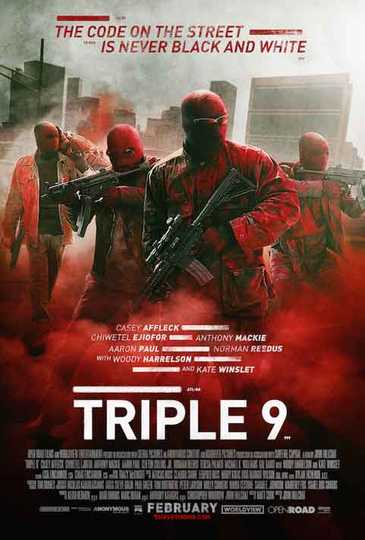 "The Code on the Street is Never Black & White"
1 hr 55 min
Feb 26th, 2016
A gang of criminals and corrupt cops plan the murder of a police officer in order to pull off their biggest heist yet across town. Read the Plot