Producer Jon Landau Talks 'Avatar: The Way of Water' Digital Release
Moviefone speaks with Jon Landau about 'Avatar: The Way of Water' and tours Lightstorm Entertainment. "Jim's an engineer and I'm not," he said of Cameron.
Available on digital beginning March 28th is Best Picture nominee at the 95th Academy Awards and the third-highest grossing movie of all time, James Cameron's 'Avatar: The Way of Water.'
What is 'Avatar: The Way of Water' about?
Set more than a decade after the events of the first film, 'Avatar: The Way of Water' launches the story of the Sully family (Jake, Neytiri, and their kids), the trouble that follows them, the lengths they go to keep each other safe, the battles they fight to stay alive, and the tragedies they endure.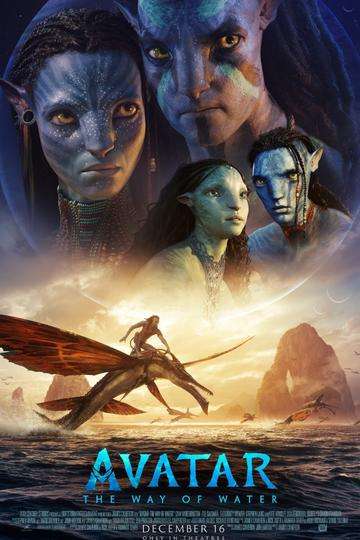 Who is in the Cast of 'Avatar: The Way of Water?'
Produced by Cameron and his longtime partner Jon Landau, the Lightstorm Entertainment production stars Sam Worthington, Zoe Saldaña, Sigourney Weaver, Stephen Lang, Cliff Curtis and Kate Winslet. Joining the adult cast are talented newcomers Britain Dalton, Jamie Flatters, Trinity Jo-Li Bliss, Bailey Bass and Jack Champion.
Moviefone recently had the pleasure of traveling to Manhattan Beach, California to the offices of Lightstorm Entertainment to speak with producer Jon Landau about the digital release of 'Avatar: The Way of Water,' along with several other members of the press.
We had a chance to look through the Lightstorm Entertainment Museum, as well as watch bonus material from the digital release. We also spoke to Jon Landau about the film and the future of the franchise, and watched a camera demo presentation from recent Oscar Award winner Richard Baneham.
Lightstorm Entertainment Museum and VFX Tour
Our visit began with a tour of Lightstorm's museum, which in addition to housing props and visual reference pieces from the 'Avatar' series, but it also included memorabilia from 'Aliens,' 'Alita: Battle Angel,' 'Terminator 2: Judgment Day,' and 'Titanic.'
Some of the pieces that stood out include a T-100 from 'T2,' the Queen and Ripley's exosuit from 'Aliens,' a replica of the ship from 'Titanic,' as well as 'The Heart of the Ocean' necklace worn by Kate Winslet, and Jon Landau's Oscar for Best Picture from 'Titanic.'
Before speaking with Jon Landau, we had a chance to experience a camera demo presentation from recent Oscar winner Richard Baneham, who explained how the underwater scenes were shot for the movie.
What are the Bonus Features on the Digital Release of 'Avatar: The Way of Water?'
Next, we had a chance to screen some of the bonus material from the digital release. The bonus features will be included in a section called 'Inside Pandora's Box,' and will include a series of featurettes on the challenges facing cast and crew as filmmakers devise new technologies to push the limits of cinema with 'Avatar: The Way of Water.'
You can read about the different featurettes below:
Building the World of Pandora– James Cameron and a team of talented artists combine years of research with their design skills to build the world of Pandora with new characters, creatures, indigenous clans, underwater environments and the take-no-prisoners hard-tech world of the RDA.
Capturing Pandora– James Cameron's approach to performance capture has the cast performing in a volume rigged with infrared cameras to capture their movement, and head rig cameras to capture emotion on their faces with only the boundaries of imagination to limit them.
The Undersea World of Pandora– Co-production designer Dylan Cole and his team conceive of the marine creatures required for 'Avatar: The Way of Water' while James Cameron and his stunt team devise extraordinary means to bring those creatures to life in a performance capture tank.
The Challenges of Pandora's Waters– James Cameron tackles the "non-trivial challenge" of performance capture above and below the water's surface, utilizing a wave machine and current generator to reproduce ocean conditions, and underwater vehicles to replicate creature movement.
Pandora's Returning Characters– James Cameron reunites with his returning cast – Sam Worthington, Zoe Saldaña, Sigourney Weaver and Stephen Lang. Together they discuss the amazing evolution of their characters in 'Avatar: The Way of Water.'
Pandora's Next Generation– Meet the talented young newcomers who have been cast as the next generation of Na'vi and follow them through the adventure of making 'Avatar: The Way of Water.'
Spider's Web– James Cameron introduced the human character of Spider into the fabric of Pandora – thus creating a host of technological challenges on set…and an incredible journey for the young actor, Jack Champion.
Becoming Na'vi– The 'Avatar' cast is immersed in the culture of the indigenous Na'vi, living off the land in the Hawaiian rainforest and training in a multitude of disciplines in preparation for their roles.
The Reef People of Pandora– In true James Cameron-style, the Metkayina reef clan has been developed with great attention to detail, bearing unique evolutionary traits and a culture – with new dwellings, new clothes and different way of life – all a result of living off the ocean.
Bringing Pandora to Life– Once James Cameron completes his virtual production process, every sequence is turned over to Wētā FX to bring Pandora to life – with unprecedented advancements in facial performance, environments and making CG water look real.
The RDA Returns to Pandora– Co-production designer Ben Procter and his team present an armada of new vehicles and human technologies that the RDA brings to Pandora – in concept design and with practical builds.
The New Characters of Pandora– Meet the important new characters of the 'Avatar' saga played by Kate Winslet, Cliff Curtis, Edie Falco, Brendan Cowell and Jemaine Clement.
The Sounds of Pandora– Hear how James Cameron worked with composer Simon Franglen to create the distinctive music of 'The Way of Water' while building on James Horner's brilliant score for 'Avatar,' and learn how Chris Boyes created the immersive sounds of Pandora.
New Zealand – Pandora's Home– The production of the 'Avatar' sequels is so thoroughly ensconced in New Zealand that James Cameron considers The Way of Water a "New Zealand film." Hear reflections from the cast and crew, including the remarkable New Zealand crew, on making the film.
Jon Landau Q&A
Finally,  we had a chance to speak with Oscar winning producer Jon Landau, along with other members of the press, about 'Avatar: The Way of Water,' working with James Cameron and the future of the franchise.
Can you talk about your experience working with James Cameron over the years, and particularly with 'Avatar: The Way of Water?'
Jon Landau: I think that I got to know Jim as a studio executive. I was the suit when he was doing 'True Lies.' But my objective was always the same as his objective, make the best movie. I didn't come at it with a different agenda. That's how I think we look at it. I think that what has developed over the 30 years, and Jim calls it a marriage that we've had, is we divide and conquer. I think there are certain things that I can't do. Jim's an engineer and I'm not. I don't profess to be. But there are things as it relates to Wētā and problem solving that Jim would allow me to go tackle and take something much further down the line for him. We even created what we called FLFs, First Look Finals, which Jim was amazed at when that started to happen, where we would present something to him and he was able to sign off on it because we solved some of these other problems. So I think one of the keys is communicating. I think one of the keys is identifying when you have a problem, because sometimes you don't recognize that. On the first film, there was a day we were doing performance capture and we did something and we stopped to name it. Because if we ever wanted to do it again, we needed to be able to refer to it. We couldn't go, "Oh, that thing we did 12 weeks ago." So we named something. So it's taking that time and saying, "Okay, let's stop for a minute and solve this."
Can you talk about the scheduling process on a movie like this?
JL: So the scheduling, it's really interesting. The first thing we had to figure out because we were not just filming 'Avatar 2,' we were actually filming and capturing for '2,' '3,' and the first act of movie '4.' So, how do you do that? What are the things you do? The first thing we did, if you ever have seen a script, the scene numbers usually start at one and they end whatever number the scene is. I came up with the idea that our scene numbers for this movie would start at 2,001. The two at the beginning of 2,000 would tell us it's movie '2.' If you look at a script for movie '3,' it's 3,001. That way we would know, "Okay, what scene?" Because you couldn't say, "We're working on scene 56." Of what movie? So we had to do that. Then we had to say, "Okay, let's figure out what needs to be shot in what order." We quickly realized that we needed to do performance capture before we could do live-action because it impacted the live-action filming. If we knew what the CG character was supposed to do, we would then line it up and do that. So we started out with the scheduling of the performance capture. There, we had a lot of flexibility because we weren't limited to saying, "You're on a set." Because our sets are just these gray scale pieces and they could be very easy to reconstitute and the lighting went into it. So we tried to do that in two different waves. One is non-wet work, because our tank wasn't built yet, and we tried to do that in as much continuity order for the cast as we could. Then we dove literally and figuratively into the tank work. Then we did some more capture work. When we went to do the live-action, we then treated it more like a traditional movie and said, "Okay, if we are in this set that's the screening room, let's shoot out every scene, whether it's in movie '2,' '3' or that first part of '4,' and knock that off right at the beginning." So we did it logistically that way when we went down to New Zealand for our live-action filming.
As a producer, how do you budget a project as large as this?
JL: Look, I think you learn to budget based on experience. We sit there and we know there's uncertainty. So we sit there and say, "Here's what we know. We're going to put a fudge factor on top of it." Look, when we went and did 'Titanic,' and this was a big learning lesson for us on 'Titanic,' there was a time where in pre-production we were under a lot of pressure not to spend money and we didn't spend money on engineering the ship being raised and then tilted. We put it in a ballpark number. We were way off. So one of the things we now really try to do as we budget is bring in people early on and put in money in our early development budget and say, "Okay, we need an engineer." Perfect example. On 'Avatar: The Way of Water,' we brought in engineers to design our tank before we signed off on a budget. We didn't build the tank, we didn't buy the steel, but it was engineered and it put us on a much sounder ground. So I think it's about going and doing your homework and recognizing that you don't have all the answers and not to be overly optimistic and say, "Here's what we think it's going to be." When you look at our movies, these movies are challenging and they're big in scale and scope and we acknowledge that upfront.
Can you talk about the future of the franchise?
JL: So we have '3,' '4,' and '5' written right now. We didn't set out to make a sequel. We set out to make a movie that happened to be based on a world and characters that were created, almost like you look at the first 'Avatar' as if it was a novel. We're now doing something that was inspired by that. In these three more scripts we have, we believe that each movie is a standalone film that comes to its own story resolution, its own emotional conclusion. I don't think people need to have seen the first 'Avatar' to enjoy 'Way of Water.' That's how we want each one of these movies to be. Now, I believe that Pandora and these characters and people that we will continue to meet have many other stories to tell. From a new cast standpoint, each movie we'll introduce new biomes and new cultures. Because we're introducing new cultures, we have new characters. But just because we are introducing a new one doesn't mean we've lost an old one. They will stay with us. So the sea people, they'll have different roles, the Metkayina, will be in and out of these stories, but they are a part of the canon that we've created. But we're going to meet at least two new clans in the next movie, culturally, and go on and on as we continue that.
Have you already shot 'Avatar 4?'
JL: The first act. Because truth be told, there's a time cut after the end of the first act and we needed to get all the kids before they got older and shoot all that out. We still have roles to cast in '4' and '5,' in the latter part.
You've said that you learn on each movie how to make the next one better, what did you learn from making 'The Way of Water' that you will apply to the next project?
JL: The visual effects side of things is never revolutionary, it's evolutionary. Something that we are doing tomorrow is going to be better than if we're doing it today because we're learning more. Wētā FX is learning more. ILM, who we work with, is learning more. So we will continue to push and to strive to create an even higher product. One of the things that people say is, "What type of people do you want to hire?" I go back to people who don't want to rest on the laurels of their past. People who are not afraid to push the boundaries. When you do that, people have to be prepared to fail. Because when you've gone down a path that's never been traveled, failure needs to be an option and we need a system that's going to support them.
Other Films By James Cameron and Lightstorm Entertainment:
'Avatar: The Way of Water' will be available exclusively to purchase on Digital March 28th from Lightstorm Entertainment and 20th Century Studios.
Directed by James Cameron, and written by Cameron, Rick Jaffa and Amanda Silver, the film stars Sam Worthington, Zoe Saldana, Sigourney Weaver, Stephen Lang, and Kate Winslet.
Watch Moviefone's interviews with James Cameron and the cast of 'Avatar: The Way of Water' below: