'Everything Everywhere All at Once' Wins (Almost) Everything at the 2023 Oscars
It was a goodnight for the verse-jumping family sci-fi drama, and the awards were spread across a variety of movies, blending expected winners with surprises.
Given the events of last year's memorable-for-the-wrong-reasons Academy Awards, everyone was likely either hoping for a buzzy reprise or (on the producers' front) a quiet evening. As it happens, the show tended towards the latter.
And the viral, memorable moments are mostly going to be remembered for being on the positive side –– Michelle Yeoh's historic Best Actress win, Ke Huy Quan and Brendan Fraser successfully completing their trophy tours on the biggest stage (with typically emotional responses and standing ovations) and 'Everything Everywhere All at Once' proving to be an awards powerhouse still.
Nominated for 11 Oscars, the indie sci-fi film might not have seemed to be potential Oscar bait; could a movie with dildo fights and hot dog fingers really win over stuffy voters? But win them over it did, taking home seven awards, including the aforementioned acting triumphs, Best Original Screenplay, Best Director and Best Picture. Its cast and crew were universally thrilled with their recognition and pulsed with joy.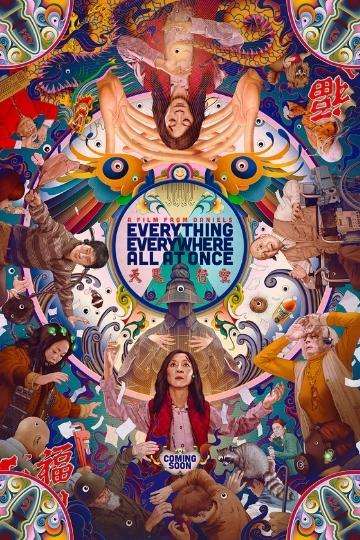 Elsewhere, it was also a good night for 'All Quiet on the Western Front', the World War I movie wining a nice clutch of awards itself. And there were trophies for movies such as 'Top Gun: Maverick', 'Black Panther: Wakanda Forever', 'Guillermo del Toro's Pinocchio', and 'RRR.'
The ceremony around those blips of happy success was more mundane, feeling like a safe overcorrection in the wake of Slap gate to ensure things ran smoothly. They did (the show actually finished early), but even with Jimmy Kimmel drawing from the book of Oscar Hosting 101 (he arrived on stage under a parachute having spoofed 'Maverick') it was all blandly factory produced.
Presenter banter was slight and cheesy (enlivened by Elizabeth Banks sharing the stage with an actor in a bear costume and Hugh Grant telling the audience he's "basically a scrotum" in a gag about moisturizer use while standing next to 'Four Weddings and a Funeral' co-star Andie MacDowell), and things ran on rails. The musical performances ran the gamut from energetic ('RRR's "Naatu Naatu", which would go on to claim the prize) to seeming more like they were set to be performed in a coffee shop (Lady Gaga's muted, yet still effective "Hold my Hand" which ended with a sweet tribute to original 'Top Gun' director Tony Scott).
It might not have been the most memorable show, but some of the moments will linger longer than the sting of any slap.
Here is the full list of winners…
BEST PICTURE
'All Quiet on the Western Front'
'Avatar: The Way of Water'
'The Banshees of Inisherin'
'Elvis'
'Everything Everywhere All at Once' - WINNER
'The Fabelmans'
'TÁR'
'Top Gun: Maverick'
'Triangle Of Sadness'
'Women Talking'
DIRECTING
Martin McDonagh – 'The Banshees of Inisherin'
Daniel Kwan, Daniel Scheinert – 'Everything Everywhere All at Once' - WINNER
Steven Spielberg – 'The Fabelmans'
Todd Field – 'TÁR'
Ruben Östlund – 'Triangle of Sadness'
ACTOR IN A LEADING ROLE
Austin Butler – 'Elvis'
Colin Farrell – 'The Banshees of Inisherin'
Brendan Fraser – 'The Whale' - WINNER
Paul Mescal – 'Aftersun'
Bill Nighy – 'Living'
ACTRESS IN A LEADING ROLE
Cate Blanchett – 'TÁR'
Ana de Armas – 'Blonde'
Andrea Riseborough – 'To Leslie'
Michelle Williams – 'The Fabelmans'
Michelle Yeoh – 'Everything Everywhere All at Once' - WINNER
ACTOR IN A SUPPORTING ROLE
Brendan Gleeson – 'The Banshees of Inisherin'
Bryan Tyree Henry – 'Causeway'
Judd Hirsch – 'The Fabelmans'
Barry Keoghan – 'The Banshees of Inisherin'
Ke Huy Quan – 'Everything Everywhere All at Once' - WINNER
ACTRESS IN A SUPPORTING ROLE
Angela Bassett – 'Black Panther: Wakanda Forever'
Hong Chau – 'The Whale'
Kerry Condon – 'The Banshees of Inisherin'
Jamie Lee Curtis – 'Everything Everywhere All at Once' - WINNER
Stephanie Hsu – 'Everything Everywhere All at Once'
ADAPTED SCREENPLAY
'All Quiet on the Western Front'
'Glass Onion: A Knives Out Mystery'
'Living'
'Top Gun: Maverick'
'Women Talking' - WINNER
ORIGINAL SCREENPLAY
'The Banshees of Inisherin'
'Everything Everywhere All at Once' - WINNER
'The Fabelmans'
'TÁR'
'Triangle of Sadness'
INTERNATIONAL FEATURE FILM
'All Quiet on the Western Front' -WINNER
'Argentina, 1985'
'Close'
'EO'
'The Quiet Girl'
ANIMATED FEATURE FILM
'Guillermo del Toro's Pinocchio' - WINNER
'Marcel The Shell with Shoes On'
'Puss In Boots: The Last Wish'
'The Sea Beast'
'Turning Red'
DOCUMENTARY FEATURE FILM
'All That Breathes'
'All the Beauty and the Bloodshed'
'Fire of Love'
'A House Made of Splinters'
'Navalny' - WINNER
COSTUME DESIGN
'Babylon'
'Black Panther: Wakanda Forever' - WINNER
'Elvis'
'Everything Everywhere All At Once'
'Mrs. Harris Goes To Paris'
SOUND
'All Quiet on the Western Front'
'Avatar: The Way of Water'
'The Batman'
'Elvis'
'Top Gun: Maverick' - WINNER
ORIGINAL SCORE
'All Quiet on the Western Front' - WINNER
'Babylon'
'The Banshees of Inisherin
'Everything Everywhere All at Once'
'The Fabelmans'
ORIGINAL SONG
'Woman Talking': "Applause" – Diane Warren
'Top Gun: Maverick': "Hold My Hand" – Lady Gaga
'Black Panther: Wakanda Forever': "Lift Me Up" – Rihanna
'RRR': "Naatu Naatu" - WINNER
'Everything Everywhere All at Once: "This Is A Life" – Son Lux, Mitski, David Byrne
MAKEUP AND HAIRSTYLING
'All Quiet on the Western Front'
'The Batman'
'Black Panther: Wakanda Forever'
'Elvis'
'The Whale' - WINNER
PRODUCTION DESIGN
'All Quiet on the Western Front' - WINNER
'Avatar: The Way of Water'
'Babylon'
'Elvis'
'The Fabelmans'
FILM EDITING
'The Banshees of Inisherin'
'Elvis'
'Everything Everywhere All at Once' - WINNER
'TÁR'
'Top Gun: Maverick'
CINEMATOGRAPHY
'All Quiet on the Western Front' - WINNER
'Bardo, False Chronicle of a Handful of Truths'
'Elvis'
'Empire of Light'
'TÁR'
VISUAL EFFECTS
'All Quiet on the Western Front'
'Avatar: The Way of Water' - WINNER
'The Batman'
'Black Panther: Wakanda Forever'
'Top Gun: Maverick'
DOCUMENTARY SHORT FILM
'The Elephant Whisperers' - WINNER
'Haulout'
'How Do You Measure a Year?'
'The Martha Mitchell Effect'
'Stranger at the Gate'
LIVE ACTION SHORT FILM
'An Irish Goodbye' - WINNER
'Ivalu'
'Le Pupille'
'Night Ride'
'The Red Suitcase'
ANIMATED SHORT FILM
'The Boy, The Mole, The Fox and The Horse' - WINNER
'The Flying Sailor'
'Ice Merchants'
'My Year of Dicks'
'An Ostrich Told Me the World Is Fake and I Think I Believe It'
Other Movies Similar to 'Everything Everywhere All at Once:'