We lost another good one. Director Curtis Hanson, who won an Oscar for co-writing "L.A. Confidential," died Tuesday, September 20 in Los Angeles. The L.A. Times said police were called to a Hollywood Hills home for a medical emergency just before 5 p.m., and Hanson was pronounced dead at the scene. He was 71, and police said he died of natural causes.
Hanson is probably best known for directing "The Hand That Rocks the Cradle" (1992), "The River Wild" (1994), "8 Mile" (2002), "The Wonder Boys," and the modern classic "L.A. Confidential" (1997), which earned him an Academy Award for Best Adapted Screenplay.
"8 Mile" star Eminem was one of the many celebrities to honor Hanson after the news broke. Here's what he shared in a statement (via Entertainment Weekly):
"Curtis Hanson believed in me and our crazy idea to make a rap battle movie set in Detroit. He basically made me into an actor for '8 Mile.' I'm lucky I got to know him."
Here are more reactions from stars who worked with Hanson:
RIP Curtis Hansen . Thank you for believing in me & standing your ground. In reality you made my job a career. Love & respect my friend.

— Russell Crowe (@russellcrowe) September 21, 2016
Obviously distracted & upset...RIP to Curtis Hanson... this correction because he would have asked for another take..."in technicolor sir"

— Russell Crowe (@russellcrowe) September 21, 2016
So sad to lose Curtis Hanson. No one taught me as much about film acting as this man. A father figure and mentor. I will miss you my friend pic.twitter.com/RLIl7OedqW

— Guy Pearce (@TheGuyPearce) September 21, 2016
So sad to hear about Curtis Hanson. great director. great man. Riding that river with him was one of the greatest gigs of my life

— Kevin Bacon (@kevinbacon) September 21, 2016
So honored I got to work with the dear #CurtisHanson -- the most lovely & wonderful. Heartbroken. My condolences to his family. #rip

— Abigail Spencer (@abigailspencer) September 21, 2016
It was an honor to make "Bad Influence" with Curtis Hanson. So smart, so kind and a great storyteller. I will miss him.

— Rob Lowe (@RobLowe) September 21, 2016
Thank you Curtis Hanson for all that you've given us. You'll be missed. pic.twitter.com/pOJJigZmso

— The Academy (@TheAcademy) September 21, 2016

According to the L.A. Times, Hanson "fell gravely ill" in November 2011 while directing "Chasing Mavericks" with Jonny Weston, Gerard Butler and Elisabeth Shue; director Michael Apted reportedly finished the last 15 days of principal photography.
Condolences to the director's family, and the film world at large, for this huge loss.
Want more stuff like this? Like us on Facebook.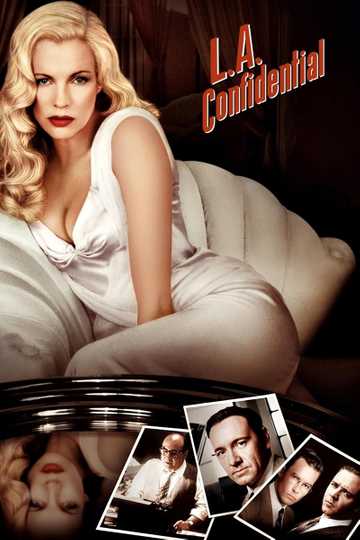 L.A. Confidential
Three detectives in the corrupt and brutal L.A. police force of the 1950s use differing methods to uncover a conspiracy behind the shotgun slayings of the patrons at an all-night diner. Read More