23 Things You Didn't Know About Stephen King's 'Carrie'
Worst. Prom. Ever.
Four decades later, we're still creeped out by "Carrie," still the ultimate high school horror movie. Released 40 years ago this week (on November 3, 1976), "Carrie" not only made a star of Sissy Spacek and introduced movie audiences to Stephen King, but it also marked the big-screen debuts of Amy Irving, P.J. Soles, and Betty Buckley, as well as giving early film-career boosts to William Katt and John Travolta.
Still, as many times as you've watched Spacek wreak telekinetic vengeance over her bloody prom-night humiliation, there's a lot you may not know about "Carrie." Celebrate the 40th anniversary with these need-to-know facts.
1. "Carrie" was both Stephen King's first novel and his first to become a movie. Back then, he was still obscure enough that the makers of the film's trailer misspelled his first name as "Steven." See below: 2. Directors Brian De Palma and George Lucas staged open auditions together for both "Carrie" and the original "Star Wars." Both sought Amy Irving for their female lead, and William Katt almost ended up starring in Lucas' movie instead of De Palma's.
3. Eventually, of course, Lucas cast Carrie Fisher as Princess Leia (after De Palma had picked Sissy Spacek over Fisher for Carrie) and Mark Hamill as Luke Skywalker, while Irving and Katt wound up in supporting roles in De Palma's film. Even so, Irving and Fisher ended up becoming close friends. 4. Irving and Katt (above) had dated a year before making "Carrie." Their screen test included a makeout scene in the back of a car, a scene that didn't end up in the movie.
5. Spacek was already 26 when she was cast as a teen having her first period. (Her husband, Jack Fisk, was the film's production designer.) In fact, all of the principal stars were well past their teen years. 6. For Carrie's religious-fanatic mother, De Palma considered Louise Fletcher, then fresh off her scary, Oscar-winning performance as Nurse Ratched in "One Flew Over the Cuckoo's Nest."
7. Eventually, however, he sought out Piper Laurie (above), even though she hadn't made a film in 15 years, since her Oscar-nominated turn in "The Hustler." She had all but retired from acting to raise a family and was reluctant to return in what could have been a two-dimensional role. But De Palma convinced her that she could bring some dark humor and even sex appeal to the character beyond what was scripted. 8. The prom sequence was shot on an MGM soundstage that had been the site of another celebrated fire scene, the burning of Atlanta in "Gone With the Wind."
9. To keep the red stains on her prom dress and all over her body consistent throughout the three days it took to shoot the prom sequence, Spacek slept in the bloody gown. Yeah, it wasn't really pig blood, just corn syrup and food coloring. Still, De Palma said that it made Spacek smell like gummy candy that had been sitting on a radiator. 10. During the prom shoot, Soles got hit so hard with the water jet from the fire hose that she burst an eardrum. She didn't regained her full hearing for six months.
11.Nancy Allen, who played mean-girl Chris, started dating De Palma during the shoot. They were soon married and made three more movies together. 12. During the "Carrie" shoot, De Palma also fixed up Steven Spielberg with future wife Irving (above). Soles has said De Palma invited his filmmaker pal to the set because of all the attractive actresses, and that the "Jaws" director asked several of them out, including her, but that Irving was the only one who didn't turn him down.
13. Irving recalled the matchmaking a little differently. She said De Palma fixed them up by sending her to read for Spielberg's "Close Encounters of the Third Kind," for a part she was obviously not old enough to play. Either way, Irving and Spielberg were soon living together, though they didn't get married until 1985. They had one child before they divorced in 1989. 14. At the end of the movie, Carrie and Margaret's house was supposed to be destroyed by a rain of boulders, but the conveyor belt moving the pebbles toward the tiny model house jammed. So De Palma just burned the little house down.
15. The notorious dream sequence at the end was shot in reverse (with Irving walking backwards and cars driving in reverse), then played forward. De Palma borrowed the hand-thrusting-from-the-grave shot at the end from the climax of "'Deliverance." De Palma wanted to use a stunt woman, but Spacek insisted on doing the shot herself. 16. Fisk buried her (because De Palma was too squeamish to do it himself) in a pit under a board covered with pumice stones. There, she received a signal to reach out and grab Irving's arm. The rocks scratched up Spacek's arm, but she felt the result was worth it.
17. Studio executives watching an early test screening were appropriately terrified by that last shot; they hadn't known it was coming, since De Palma had purposely left it out of the script. 18. Since it was not taken from King's book, that final moment startled King, too, when he first watched "Carrie." "Man, I thought I was going to sh** in my pants," he recalled of the scene years later.
19. King's first time seeing "Carrie" was during a sneak preview on Halloween night in 1976, three days before it opened. As he has recalled a number of times, he and his wife Tabitha attended the screening in Boston, where the sneak was the second half of an unlikely double feature with the Redd Foxx comedy "Norman... Is That You?" 20. The Kings were the only two white people in the theater, and the author worried that an African-American audience that had come to watch the "Sanford & Son" star's sex farce wouldn't be receptive to his high-school horror story. "They're not gonna have any sympathy at all for this little white girl and her menstrual problems," he remembered thinking. But the audience got into "Carrie." When he saw two large men seated near him jump out of their seats and clutch each other during the final scene, he knew "Carrie" would be a hit.
21. Indeed, "Carrie," which cost $1.8 million to make, earned $33.8 million at the box office, making it a smash by 1976 standards.
22. "Carrie" earned Spacek an Academy Award nomination for Best Actress and a Best Supporting Actress nod for Laurie, making them two of only a very few performers who've ever been nominated for their roles in a horror movie. 23. The film has spawned numerous follow-ups, including a sequel, a notorious flop Broadway musical, and the 2013 remake with Chloë Grace Moretz. All of which King thought were superfluous. Why bother, he wondered in 2011, "when the original was so good? I mean, not 'Casablanca,' or anything, but a really good horror-suspense film, much better than the book."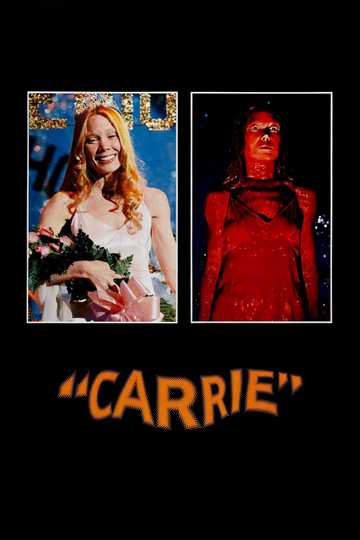 "If you've got a taste for terror… take Carrie to the prom!"
Carrie White, a shy and troubled teenage girl who is tormented by her high school peers and her fanatically religious mother, begins to use her powers of telekinesis... Read the Plot