6 Reasons Why 'LEGO Batman's' Disappointing Box Office Is a Bad Sign for the Dark Knight
Bruce Wayne is a billionaire, so a missing $20 million here or there isn't going to put a big crimp in his Bat-budget.
Still, box office experts must be scratching their heads wondering why "The LEGO Batman Movie" opened about $15 million below the $70 million they projected, taking the No.1 spot with $55.6 million.
Analysts widely expected the new animated feature to top the $69 million opening that "The LEGO Movie" enjoyed three years ago, released around the same time as "LEGO Batman." The success of the first movie, the eight-decade popularity of Batman, and the 4,088-screen release (the biggest ever for a February film) all made for much loftier prediction than what the film brought it for its opening weekend.
Fellow sequels "Fifty Shades Darker" and "John Wick: Chapter Two" both outperformed expectations. Pundits predicted "Darker" would premiere in the low $40s, but its estimated sales as of Sunday came to $46.8 million. For "Wick," predictions hovered around $20 million, but the Keanu Reeves action film over-performed with an estimated $30.0 million.
Why did "LEGO Batman" fall short of expectations, while "Darker" and "Wick" outdid them? Here are six likely reasons why:
1. Fanbases Batman's been a popular character for nearly 80 years, but last year's "Batman v Superman: Dawn of Justice" and "Suicide Squad" may have squandered a lot of the franchise's good will.
Not that it's at all clear that fans of those grim, grown-up movies would have come to see the family-oriented "LEGO" film's funnier take on the Caped Crusader, unless they wanted to see a spoof of the bleak bummers the live-action "Batman" movies have become. But it's also not clear that fans of the first movie, with its universe of characters, wanted to see a "LEGO" movie confined to Gotham City.
Meanwhile, fans of the first "Fifty Shades" were widely expected to come back for a movie that pretty much offered more of the same "Mommy Porn" elements. And "John Wick" may have had the most ardent fanbase of all, those who made the 2014 hitman movie a modest hit in theaters -- and even bigger on home video. The "John Wick" fanbase may have been cultish, but they're also vocal and enthusiastic.
2. "LEGO Batman" < "LEGO Movie" It's no wonder that "LEGO Batman" can't match the startling originality of the first movie. Sure, it was a feature-length toy commercial, but it also had a message (about world-building and childlike imagination) that fit the product. It also had a bright and dazzling visual style, one that seems both familiar and slightly muted in the new movie.
Familiarity, not novelty, is the selling point of "Darker." Indeed, the point of casting Kim Basinger in a supporting role seems to be to remind older viewers that this sort of kinky-yet-glossy romance is nothing new, since Basinger herself practically invented it 31 years ago with "9 1/2 Weeks."
As for "John Wick," the franchise's balletic action choreography and complex backstory will be novelties to most viewers, while the "Wick" cult from the first movie should appreciate the sequel's deeper dives into both style and mythology.
3. Reviews Actually, reviews for "LEGO Batman" have been very strong (91 percent "Fresh" on Rotten Tomatoes), as has word-of-mouth (as measured by an A- grade at CinemaScore). Not that kids read reviews, of course.
The new "John Wick" has enjoyed nearly identical praise from both critics (90 percent on RT) and fans (A- at CinemaScore). In fact, the sequel's $30 million is more than twice the $14.4 million premiere of "John Wick" in October 2014, which shows just how strong the word-of-mouth is among "Wick" fans.
The new "Fifty Shades," on the other hand, has earned terrible reviews (9 percent "Rotten" on RT), not that they matter so much to fans of the novel. Even they, however, seem to agree a bit with critics, having given "Darker" a good-but-not-great B+ grade at CinemaScore.
To the extent that "Darker" viewers are older adults who still read reviews, the drubbing critics gave the movie may have kept some of them away. Indeed, that's why the sequel was expected to premiere with only about half the $85.2 million that "Fifty Shades of Grey" opened with two years ago.
4. Star Power The names on the marquee don't much matter for animated movies, not that "Batman" voice star Arrested Development" fans, but it's true.)
Neither are Dakota Johnson and Jamie Dornan; certainly, neither has proved to be any kind of box office draw outside the "Fifty Shades" franchise. Keanu Reeves doesn't have the greatest track record either, but he is a household name, and as long as he stays in his wheelhouse (brooding men of action who remain mysterious as long as they don't speak much), he's capable of delivering, as the "John Wick" movies have shown. Still, even the 52-year-old Reeves has to be pleasantly surprised by the robust premiere of "Chapter Two," which marks his best opening weekend since "The Day the Earth Stood Still" eight years ago.
5. Not Great Timing February can be a good month for surprise blockbusters. This time last year, we saw "Deadpool" open with $132 million, about as much as this week's three new releases earned combined.
Still, having three big movies open at the same time, even in February, means at least one will suffer. Yeah, you wouldn't think the audiences for the family-friendly "LEGO Batman," the female-friendly "Darker," and the testosterone-heavy "Wick" would overlap, and yet nearly $15 million of that extra $20 million projected for "LEGO Batman" seems to have gone instead to its new rivals. The rest may have gone to the other still-strong family films already established at the multiplex, including "A Dog's Purpose," "Sing," and even "Rogue One: A Star Wars Story."
"Darker" may also have suffered from a quirk of timing. It opened on the same weekend as the first movie did two years ago, but in 2014, that Friday fell on February 13, so the weekend included both Valentine's Day and President's Day. That meant both a date-movie crowd and a Monday holiday helped boost sales. With Friday falling on the 10th this year, "Darker" enjoys neither of those advantages.
6. Bad Weather on the East Coast The downside of a February opening? iAudiences may get snowed in, as much of the country did this weekend.
Even so, moviegoers braved blizzard conditions to make this the biggest overall weekend at the box office since "Rogue One" opened two months ago. Plus, all of these movies have already earned sizable amounts overseas (a massive $100.1 million, in the case of "Darker"), so profitability is assured, as are the prospects of third installments for each franchise.
Still, even though he's sitting on a $92.6 million worldwide jackpot, which will surely double by the time his movie leaves theaters, LEGO Batman's still going to brood over that $20 million left on the table.
He's the Dark Knight, after all, and he's just built that way.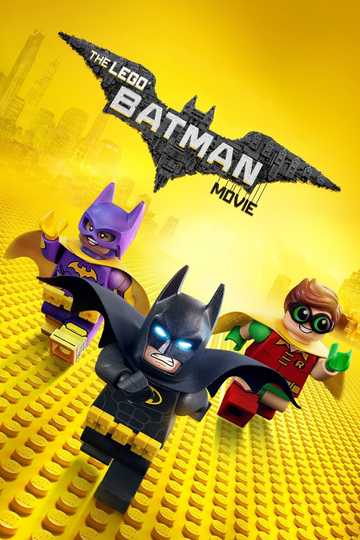 "Always be yourself. Unless you can be Batman."
1 hr 44 min
Feb 10th, 2017
A cooler-than-ever Bruce Wayne must deal with the usual suspects as they plan to rule Gotham City, while discovering that he has accidentally adopted a teenage orphan... Read the Plot