'Fast 8' Press Tour Is Separating The Rock & Vin Diesel 'as Much as Possible'
The Feud of the Furious is not yet in park.
"Fast 8," aka "The Fate of the Furious," opens April 14th, and the cast is now revving up the promotion tour. The movie had a CinemaCon presentation on March 29, and Dwayne "the Rock" Johnson was conspicuously absent, even though he was at CinemaCon earlier to promote "Jumanji" and "Baywatch."
Apparently the official reason for The Rock's absence was that he had to get back to the set of "Ballers" in Miami. But The Hollywood Reporter's sources suggest it's more about the lingering bad blood between The Rock and the always rumored subject of his infamous Instagram rant, Vin Diesel. Sources told THR the actors are being kept from one another as the team continues its press tour. They said the CinemaCon panel scheduling could've easily been accommodated to include The Rock. As an insider put it, "They're keeping them separated as much as possible."
The panel included a screening of the movie; and here's a reaction from Collider:
not sure I saw even one shot in Fate of the Furious with @TheRock & Vin Diesel together. Take that how you will.

— Steven Weintraub (@colliderfrosty) March 29, 2017
You must recall what The Rock wrote on Instagram last August:
"This is my final week of shooting #FastAndFurious8. There's no other franchise that gets my blood boiling more than this one. An incredible hard working crew. UNIVERSAL has been great partners as well. My female co-stars are always amazing and I love 'em. My male co-stars however are a different story. Some conduct themselves as stand up men and true professionals, while others don't. The ones that don't are too chicken shit to do anything about it anyway. Candy asses. When you watch this movie next April and it seems like I'm not acting in some of these scenes and my blood is legit boiling - you're right. Bottom line is it'll play great for the movie and fits this Hobbs character that's embedded in my DNA extremely well. The producer in me is happy about this part????. Final week on FAST 8 and I'll finish strong. #IcemanCometh #F8 #ZeroToleranceForCandyAsses"
Production sources told TMZ that was about Vin Diesel. TMZ added these details in the same August week the rant was posted:
"We're told The Rock has butted heads with Vin during the production, in part because V.D. is a producer and has made decisions that didn't sit well with the former wrestling champ. Our sources say The Rock and Vin had a meeting on the Atlanta set mid-day Tuesday ... partly because tensions were running so high it was almost impossible to shoot scenes. We do not know if they resolved their issues. As we reported, almost the entire cast is angry at Rock for causing a stir just a week and a half before filming ends."
The Rock was later asked about his candy asses comments, and said this to the L.A. Times:
"I was very clear with what I said. I've been in the game a long time," he said with a knowing smile. "Would Universal have preferred that didn't happen? Sure, we talked about it. The irony is after that and as they do their tracking and all their analysis, the interest shot through the roof to a whole other level."
Both actors are said to be contractually obligated to appear at the upcoming New York premiere of "Fate of the Furious" on April 8.
[via: Lainey Gossip, THR]
Want more stuff like this? Like us on Facebook.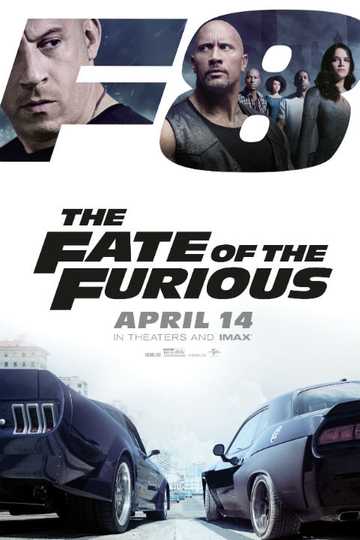 "Family no more."
2 hr 16 min
Apr 14th, 2017
When a mysterious woman seduces Dom into the world of crime and a betrayal of those closest to him, the crew face trials that will test them as never before. Read the Plot