 Director Zack Snyder has gotten his fair share of harsh comments from DC fans over the years, but they recently gave him a lot of love.
The "Justice League" director announced Monday in a THR interview that he was stepping back from the film to cope with his daughter Autumn's March suicide, inspiring a wave of heartfelt tweets. His decision was clearly not an easy one, and Snyder admitted that he and his family have been struggling. Although he had initially taken a two-week break and then returned to work, he came to realize it would be better for him and his family if he handed over the reins.
"I've decided to take a step back from the movie to be with my family, be with my kids, who really need me," Snyder told THR. "They are all having a hard time. I'm having a hard time."
While Warner Bros. was reportedly willing to push the film back, Snyder and his wife, Deborah, one of the film's producers, opted to let others take over. Fortunately, the project is being left in good hands; Joss Whedon is stepping in for Snyder.
Like the studio, many fans felt for Snyder and understood his decision. Supportive tweets rolled in, wishing the director and his family the best during this horribly difficult time.
@ZackSnyder You've already united the 7. Time to unite your home. We love you. #JLA

— Sloan Jacob (@peacepipe23) May 22, 2017
As much as we give Zack Snyder hell for everything else, stepping away to grieve over the loss of a child shouldn't be one of them.

— Minovsky (@MinovskyArticle) May 22, 2017
Zack Snyder is a hero. The studio was going to push the film back for him, but he felt that was wrong, idk how you can hate this guy pic.twitter.com/mNYDhh1Opb

— roby (@iamthatroby) May 22, 2017
I don't care your opinions about his films, have some respect for Zack Snyder and his family. We all love you and are praying for you guys!

— Comic Fans (@ComicBookTalks) May 22, 2017
I really hope that if Justice League is an amazing movie, people give the credit to Zack Snyder.

— Brandon Davis (@BrandonDavisBD) May 22, 2017
My deepest thoughts and condolences go out to Zack Snyder and his family. My heart goes out to you all. ????

— Devin Druid (@DevinDruid) May 22, 2017
I can't even imagine the things Zack Snyder is going through. My thoughts and prayers go out to him, his wife, and their family.

— Eren - CabooseXBL (@Caboose_XBL) May 22, 2017
If you're happy that Zack Snyder left Justice League, you should probably evaluate what the hell is wrong with you.

— Christian Hoffer (@CHofferCBus) May 22, 2017
"Justice League" is still on track to open Nov. 17.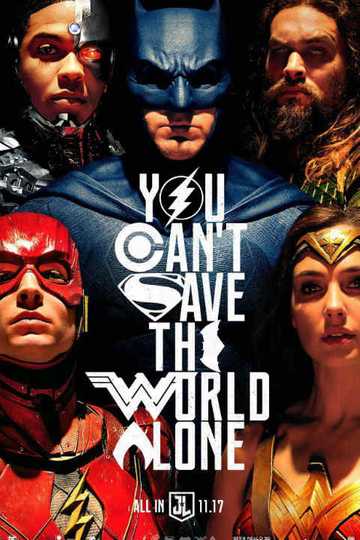 Justice League
Fuelled by his restored faith in humanity and inspired by Superman's selfless act, Bruce Wayne and Diana Prince assemble a team of metahumans consisting of Barry Allen, Arthur Curry and Victor Stone to... Read More