Dwayne Johnson is Driven by Rage in the New Trailer for 'Black Adam'
The latest DC movie also stars Pierce Brosnan, Aldis Hodge, Noah Centineo, Quintessa Swindell and Sarah Shahi.
With movie releases in a relatively quiet period following the end of summer, many are looking to Dwayne Johnson and 'Black Adam' for the next big shot of moviegoing business.
The Rock is headed back to our screens with his first DC movie, which will see him playing the titular vengeful anti-hero whose approach to justice butts heads with the more straightforward likes of Superman.
And, as with all things Dwayne Johnson, expect something on a big scale, as the new trailer suggests.
Created by Otto Binder and C. C. Beck, the character is one of the archenemies of Shazam (as played in his own movies by Zachary Levi) and the nemesis of the Shazam Family. Black Adam first appeared as a one-time villain for the first issue of Fawcett Comics' 'The Marvel Family' comic book December 1945 (a reminder here that Shazam was once known as Captain Marvel, before Marvel had Carol Danvers out there).
Black Adam was revived as a recurring character after DC Comics first licensed and then acquired the Fawcett characters and began publishing Shazam Family stories under the title 'Shazam!' in the 1970s.
While Johnson was at one point going to play the character as a direct villain to Levi's Shazam, that plan evolved to give him his own movie (not a bad idea when you have someone with the Rock's audience appeal). And in keeping with how he's evolved in the comics, the tone shifted more towards him being an antihero rather than a straight up bad guy.
Jaume Collet-Serra, who worked with Johnson on 'Jungle Cruise', is in the director's chair here, while the script has seen drafts from Adam Sztykiel, Rory Haines and Sohrab Noshirvani.
In the movie's story, Johnson's Teth Adam rose from being a slave, dying, being reborn a god and meting out his particular, powerful brand of justice in the society of Kahndaq 5,000 years ago. It didn't end so well for him, after he's betrayed and imprisoned.
But he returns to dispense some no-nonsense justice in the present day, something that will bring him into conflict with more straightforward heroes, including, in the film the Justice Society of America, including Hawkman (Aldis Hodge), Dr. Fate (Pierce Brosnan), Cyclone (Quintessa Swindell) and Atom Smasher (Noah Centineo). And yes, that's Viola Davis popping up as Amanda Waller.
This latest look at the movie is full of action and shows Johnson going for a grittier, more serious performance than his usual charm-filled work of late.
And yes, the JSA are certainly concerned about Adam's power and behavior, looking to lock down the near godlike warrior. And they've plenty of tools to try to make that happen (including a jet taking off from an underground facility beneath a mansion that 'X-Men' fans will find very familiar, but does come from the JSA comics.
After a couple of release date shifts, 'Black Adam' is ready to rock into theaters on October 21st.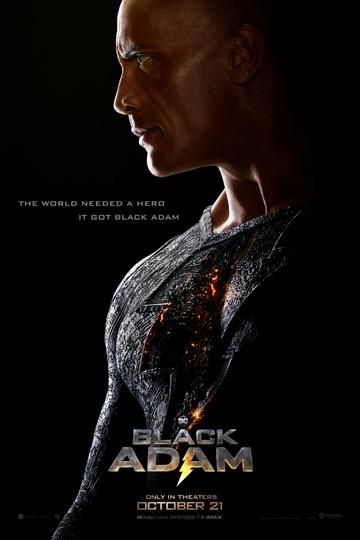 "The world needed a hero. It got Black Adam."
Showtimes & Tickets
Nearly 5,000 years after he was bestowed with the almighty powers of the Egyptian gods and imprisoned just as quickly Black Adam is freed from his earthly tomb,... Read the Plot