July 18th, 2017
by Moviefone Staff
Everything We Learned From the 'Lion King' Panel at the 2017 D23 Expo
This weekend, at the D23 Expo, there was a special retrospective panel devoted to "The Lion King," the 32nd animated classic from Walt Disney Animation Studios. And it made sense, too -- the film is a perennial favorite, often cited amongst the very best movies the studio ever produced, and there's a current buzz about the film, especially after a sequence from the remake was screened earlier in the weekend during the studio's live action presentation. Hosted by the film's producer Don Hahn, this "Lion King" retrospective was a total extravaganza. It ended with a choir flooding the aisles, being led in a rendition of "Circle of Life" performed by the film's original singer Carmen Twillie. It was pretty awesome.
But above all the panel was super informative -- it was full of firsthand accounts and possibly apocryphal anecdotes from the principles that created the film, including a surprise appearance by Whoopi Goldberg. Here are the biggest things we took away from the "Lion King" panel at D23.
The Movie Was Seen as Something of a Lesser Project
When Hahn asked Rob Minkoff, the co-director of "The Lion King," why it was so hard to get animators and other principles excited about working on the project, Minkoff said that it was a unique situation. "The reason was that when we were making 'The Lion King' it was the first time in the history of the Walt Disney Studio that two movies were being made at the same time -- 'The Lion King' and 'Pocahontas.'" "Pocahontas" was seen as the prestige film (Minkoff said Jeffrey Katzenberg had called it "a home run" and described it as "'West Side Story' meets 'Romeo & Juliet' meets 'Dances with Wolves'"), while "The Lion King" was more of an experimental doodle. Katzenberg promised that if "The Lion King" made $50 million, he'd get down on his hands and knees. When the movie tidily made that, the producer and directors held him to his promise. "We made him do it!" Minkoff exclaimed.
The Original Version of 'Circle of Life' Was Terrible
Minkoff said that sometimes it was hard getting on the same page as songwriter Elton John, since the fabled musician was always traveling and performing. Minkoff remembers getting a table of the original version of "Circle of Life." "It went 'We all join in, in the Circle of Life,'" Minkoff remembered. The task of telling John that it was lousy fell to collaborator Tim Rice. "He'd go back to Elton and he'd say, 'They decided to change the story and it needs to be a big anthem.' Then he delivered the 'Circle of Life,' Minkoff said. "And we said, 'Yeah that's a good song.'" Yeah it is. Simba Animator Mark Henn Was More Interested in Scar
Mark Henn, a legendary Disney animator whose expertise in hand drawn animation is unparalleled and still utilized today (if you've seen the new fireworks show at Walt Disney World's Magic Kingdom, then you've seen some of his recent handiwork), was the lead animator on Simba. But it wasn't always like that. In fact, he was more interested in the villainous Scar (eventually drawn by Andreas Deja). Henn is mostly known for his work animated various Disney Princesses, so this was a unique opportunity.
"I was excited to put the princess aside for the change and looked to do something different," Henn said. "What really attracted me was Scar. I campaigned to get the character and had this Rex Reed version of Scar. I wanted to get out of my princes box." But others thought he was better suited for Simba, the most important character in the movie. "I had some very good council who told me, 'Simba is the key to this movie. If Simba doesn't work, the movie doesn't work.' It's hard to say no to that." Thankfully for us, Henn didn't say no. And the indelible character of Simba was born.
Timon and Pumbaa Originally Sang 'Can You Feel the Love Tonight'
The production of "The Lion King" was a particularly fraught one. Not internally; that was smooth. But outside, things were roiling. "It was a crazy time. There was not only an earthquake, there were brushfires, a riot. It was biblical," Minkoff said. Hahn for his part was out of town, although he still had a run in with disaster. "I was in Atlanta to show Elton John the movie. We brought the lights down. Elton John sat in the back row. We showed the whole movie. At the time we had 'Can You Feel the Love Tonight' sung by Timon and Pumbaa."
As you might imagine, this didn't go over well. "It sounds crazy. And we thought that we should do something different. So we had Ernie Sabella and Nathan Lane to do the song," Minkoff said. "When the lights came up, Elton said, 'You destroyed my song. The only reason I did this movie was to write a big Disney love song." So we left with our tails between our legs. But we did use the Timon and Pumbaa stuff at the beginning of the end, which we might not have done without that experimentation." That's right -- bad ideas often lead to very good ideas, especially when they're warthog-related.
Ernie Sabella and Nathan Lane Auditioned for Hyenas
Ernie Sabella, who voiced gassy warthog Pumbaa, joined the presentation. And he shared a story about how he and Nathan Lane (who voiced Timon) were originally up for the villainous hyenas. "Nathan Lane and I auditioned as the hyenas. We were doing 'Guys & Dolls' on Broadway. I think Roger [Allers, co-director] was there," Sabella recalled. "We were in this little booth and we were ad libbing and when we got done there was silence in the room and I said to Nathan, 'At least we have a job at night.'" Part of their ad-libbing was the gas gag, which Sabella employed to crack up Lane during early-morning recording sessions. Quite innocently Sabella said: "I didn't know it'd be in the movie."
Laughing Hyena Ed Was Inspired by a Late Night Sidekick
Jim Cummings, who has been the voice for a number of memorable Disney characters (including Winnie the Pooh and Darkwing Duck) eventually joined the panel and they talked about the inspiration behind his character, the laughing hyena Ed. "We had Shenzi, Bonsai and we thought some of you know this. There was 'The Tonight Show With Johnny Carson.' And he had this guy on his couch named Ed McMahon," Minkoff said. "He was the laugher." But the laughing was harder than you'd think. "I remember the script was anger, lust, betrayal, hunger, recalcitrance, but it had to be a laugh," Cummings said. Then they ran archival footage of all the different types of laughs Cummings came up with. It was pretty impressive and kind of freakish. Whoopi Begged for the Role
It's fascinating to think that Whoopi Goldberg, coming off of her Oscar win for "Ghost" and at the top of her Hollywood game, would beg to be in an animated feature. But that's exactly what she did. "I begged. I'd heard they were making this and I said, 'Can I be in it?' They said, 'What?' It's Africa ... you know," Whoopi (a newly minted Disney Legend) said, which got a huge laugh. "And then they waited a little while and I found out you guys said yes."
Minkoff remembers the head of animation telling him that Whoopi wanted to be in the movie. The filmmakers weren't sure where to put her in the movie, but they'd had the idea of having Cheech and Chong be two of the hyenas, except that they refused to work together. So it became Cheech and Whoopi. The two actors were allowed, like Sabella and Lane, to record their lines together. It clearly meant a lot to Whoopi to be included and, towards the end of the panel, everyone expressed how grateful they were to be a part of such a classic film. As Mark Henn succinctly put it: "This was kind of the little film that could and to see the miracle of 'The Lion King' as it happened, we had no idea. We just put our heart and souls into it and had a ball."
It's Coming Back Out on Home Video
That's right! It's coming out of the vault! The final surprise of the panel was that "The Lion King" will be coming back out on home video, with the film getting its first-ever digital release, thanks to Disney Movies Anywhere. It'll be on digital August 15 and on Blu-ray August 29. And yes, it's going to be awesome.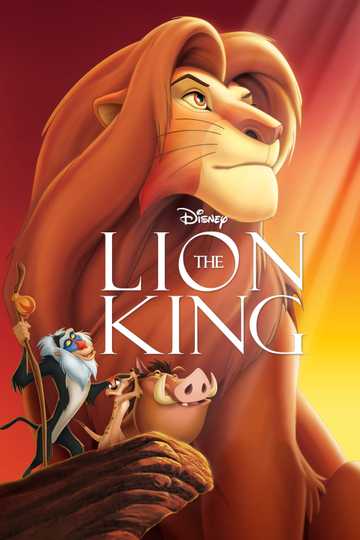 The Lion King
A young lion prince is cast out of his pride by his cruel uncle, who claims he killed his father. While the uncle rules with an iron paw, the prince grows up beyond the Savannah, living by a philosophy:... Read More