 Hold on to your butts, 'cause this is pretty darn cute.
"Jurassic Park" fans learned early that velociraptors aren't exactly adorable in action, but if you have the right touch -- like Owen Grady -- you can have some sweet moments. The sequel to "Jurassic World," called "Jurassic World: Fallen Kingdom," comes out in June, directed by J.A. Bayona. The director of the previous film, Colin Trevorrow, tweeted a mini teaser, just showing Chris Pratt with one of his buddies:
From our Jurassic family to yours. @FilmBayona@PrattPrattPratt@BryceDHoward@LeDoctor#FALLENKINGDOMpic.twitter.com/KiR3et9Vx1

— Colin Trevorrow (@colintrevorrow) November 22, 2017
Awwwww. Baby raptor just wants a widdle chin rub.
Is that a look back at baby Blue? Or is it Blue Jr.? Fans are now speculating.
Back in September 2016, Trevorrow -- who co-wrote this sequel -- told Jurassic Outpost that the "Jurassic World" sequel "will be more suspenseful and scary. It's just the way it's designed; it's the way the story plays out. I knew I wanted Bayona to direct it long before anyone ever heard that was a possibility, so the whole thing was just built around his skill set."
Bayona shared the first image from the film back in March:
So excited to show you this!! A first look of the new Jurassic adventure. #JW2pic.twitter.com/U7eJRANXgg

— JA Bayona (@FilmBayona) March 8, 2017
Trevorrow previously teased that "Jurassic World 2" was "built upon the concepts and stories that [Michael] Crichton created with the novels," including the real-world theme "a mistake made a long time ago just can't be undone. You can't put it back into the box."
"Jurassic World: Fallen Kingdom" -- costarring Bryce Dallas Howard, BD Wong, James Cromwell, Ted Levine, Justice Jesse Smith, Geraldine Chaplin, and Daniella Pineda -- is scheduled for release in theaters on June 22, 2018. We're on standby for the first official trailer, which is expected to be attached to "Star Wars: The Last Jedi."
Want more stuff like this? Like us on Facebook.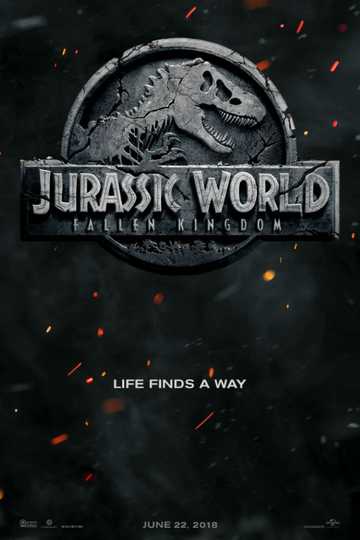 Jurassic World: Fallen Kingdom
Three years after the demise of Jurassic World, a volcanic eruption threatens the remaining dinosaurs on the isla Nublar, so Claire Dearing, the former park manager, recruits Owen Grady to help prevent... Read More