 There's a LOT of action packed into these 15 seconds.
The first "Jurassic World: Fallen Kingdom" trailer comes out this Thursday, Dec. 7. To promote it, Universal followed its recent very short (and very cute) first footage with this trailer tease. This time, Chris Pratt's Owen Grady isn't having a sweet bonding moment with a raptor. Instead, he's running scared, and suggesting Bryce Dallas Howard's Claire Dearing do the same.
The humans aren't the only ones running, though, since it looks like a volcano has erupted. Because deadly dinos aren't enough?
Watch the trailer tease:And here it is again with a note from Chris Pratt:Aaaaand here's Pratt again, with *exactly* when the full trailer will be unveiled:
This thursday night! During the Falcons and Saints game. Thursday night football. #JurassicWorld#fallenkingdom#trailerhttps://t.co/hnmXAqBJi5

— chris pratt (@prattprattpratt) December 4, 2017
Now for the official synopsis from Universal:
"With all of the wonder, adventure and thrills synonymous with one of the most popular and successful franchises in cinema history, this all-new motion-picture event sees the return of favorite characters and dinosaurs—along with new breeds more awe-inspiring and terrifying than ever before. Welcome to Jurassic World: Fallen Kingdom.

Stars Chris Pratt and Bryce Dallas Howard return alongside executive producers Steven Spielberg and Colin Trevorrow for Universal Pictures and Amblin Entertainment's Jurassic World: Fallen Kingdom. Pratt and Howard are joined by co-stars James Cromwell, Ted Levine, Justice Smith, Geraldine Chaplin, Daniella Pineda, Toby Jones, Rafe Spall, while BD Wong and Jeff Goldblum reprise their roles.

Directed by J.A. Bayona (The Impossible), the epic action-adventure is written by Jurassic World's director, Trevorrow, and its co-writer, Derek Connolly. Producers Frank Marshall and Pat Crowley once again partner with Spielberg and Trevorrow in leading the team of filmmakers for this stunning installment. Belén Atienza joins the team as a producer."
"Jurassic World: Fallen Kingdom" arrives in theaters June 22, 2018
Want more stuff like this? Like us on Facebook.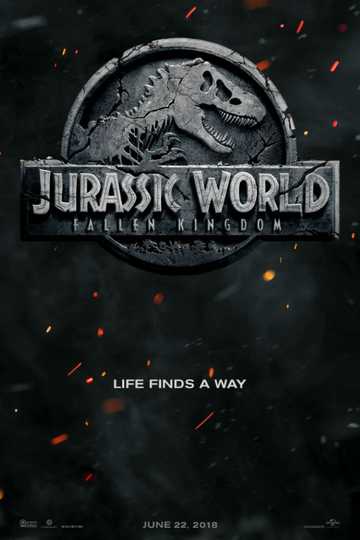 Jurassic World: Fallen Kingdom
Three years after the demise of Jurassic World, a volcanic eruption threatens the remaining dinosaurs on the isla Nublar, so Claire Dearing, the former park manager, recruits Owen Grady to help prevent... Read More