 Oh hai, Tommy!
"The Room" director/star/writer/producer Tommy Wiseau had the best time at the 2018 Golden Globe Awards, where he was finally recognized for something good. His 2003 movie became a cult classic as "the worst movie ever made," but it became the inspiration for "The Disaster Artist," starring and directed by James Franco in the role of the Wiseau himself.
"The Disaster Artist" was nominated for Best Picture – Comedy or Musical, and James Franco won Best Performance by an Actor in a Motion Picture – Musical or Comedy for playing Wiseau.
Wiseau was there in the audience, and got to go on stage for Franco's win. Before that, he rolled up to the Globes red carpet in style, promoting "The Room" the entire way:
Me: Tommy, where are you really from?
Tommy Wiseau: Who cares?#GoldenGlobespic.twitter.com/Zcp9nirvX3

— Kevin Polowy (@djkevlar) January 8, 2018
"The Disaster Artist" costar Seth Rogen (the most famous Seth in the room, as we learned) introduced the comedy film nominee by talking about his first experience viewing "The Room." He mentioned seeing a billboard for the movie with the creator's phone number actually on it. Then he watched the film and joined everyone else who found it bad. So bad.
Oh, hai! @SethRogen is here to introduce a clip from his Best Motion Picture - Musical or Comedy nominated film, @DisasterArtist. #GoldenGlobespic.twitter.com/jHFexfOZlH

— Golden Globe Awards (@goldenglobes) January 8, 2018
"It made you actually question the nature of quality itself." Seth Rogen describing THE ROOM while introducing clips from THE DISASTER ARTIST. The cutaway to Tommy Wiseau somewhere in the back of the room was hilarious & heartbreaking.

— Mark Olsen (@IndieFocus) January 8, 2018
All I wanted from this year's #GoldenGlobes was a Tommy Wiseau cutaway shot. Lo and behold, we got one — AND IT WAS SO MUCH BETTER THAN I HAD EVEN DREAMED!!!!! pic.twitter.com/tiY2JKUXS2

— Devan Coggan (@devancoggan) January 8, 2018
When James Franco won his acting award, he immediately said, "The first person I have to thank is the man himself, Tommy Wiseau." He invited Tommy on stage and said, 19 years ago, Wiseau was stuck in traffic from the Golden Globes and told his best friend, "Golden Globes? So what? I'm not invited." He knew they didn't want him with his accent and long hair. He said he'd show them, he wouldn't wait for Hollywood, he'd make his own movie. Franco said he was happy to share this moment with Wiseau. Not that he was willing to share his trophy:
Tommy Wiseau trying to give James Franco's acceptance speech at the #GoldenGlobespic.twitter.com/N5ePIt28j7

— ScreenCrush (@screencrushnews) January 8, 2018
i've teared up at a lot of women's speeches at the golden globes tonight, but tommy wiseau giving a hang ten and smiling so big just put me over the edge ????????

— leyna burel (@kittenvelour) January 8, 2018
Congrats, man!
Want more stuff like this? Like us on Facebook.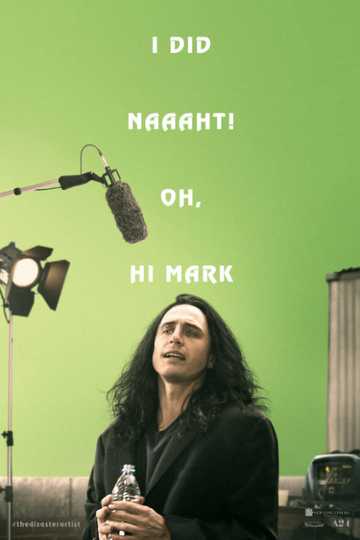 The Disaster Artist
An aspiring actor in Hollywood meets an enigmatic stranger by the name of Tommy Wiseau, the meeting leads the actor down a path nobody could have predicted; creating the worst movie ever made. Read More