Daniel Radcliffe Weighs in on Johnny Depp 'Fantastic Beasts' Casting
Accio, controversy!
Daniel Radcliffe is not part of the "Fantastic Beasts" movies, which are prequels to "Harry Potter," but he did tie the recent Johnny Depp debate to the Potter films.
As you probably know, there's been chatter in the HP fandom about the casting of Johnny Depp as dark wizard Gellert Grindelwald. He'll obviously have a major role in the second film, since it's called "Fantastic Beasts: The Crimes of Grindelwald." Director David Yates and J.K. Rowling both weighed in with support of Johnny Depp, although they couldn't go into detail due to "agreements" between Johnny Depp and ex-wife Amber Heard. Heard had accused Depp of abuse, but he was never arrested or charged. Entertainment Weekly asked Daniel Radcliffe, aka Harry Potter, about the controversy. He made a comparison to Jamie Waylett, who played Crabbe in six "Harry Potter" films and was fired before the two "Deathly Hallows" movies ended the series. His firing was tied to his arrest for growing 10 marijuana plants in his mother's home in 2009. He pleaded guilty.
Here's DanRad's response to EW when asked about the Depp casting controversy:
"It's a very hard thing for me [since the producers] gave me a great start in life and an amazing job. [However] I can see why people are frustrated with the response that they were given from that ... I'm not saying anything that anybody hasn't already said — and this is a weird analogy to draw — [but] in the NFL, there are lots of players arrested for smoking weed and there is other people's behavior that goes way beyond that and it's tolerated because they're very famous players. I suppose the thing I was struck by was, we did have a guy who was reprimanded for weed on the [original Potter] film, essentially, so obviously what Johnny has been accused of is much greater than that."
It is apples to oranges to compare a guy who admitted to a crime to a guy who was accused of a crime but never charged. However, there's a good point in there about the power of the "very famous" when it comes to getting off the hook. Don't be naive enough to think superstar money isn't a huge help in keeping stars' legal woes under wraps. That's what the lawyers are paid big bucks for.
Anyway, everyone seems to have strong feelings on the subject but the truth is we have no idea what went on in the Depp-Heard marriage. If you support him, you don't really know what he did. If you support her, you don't really know what she did. But the debate will probably continue to rage until "The Crimes of Grindelwald" opens in theaters November 16. For the record, we're perfectly happy keeping the conversation on young Dumbledore and ignoring Grindelwald entirely.
Want more stuff like this? Like us on Facebook.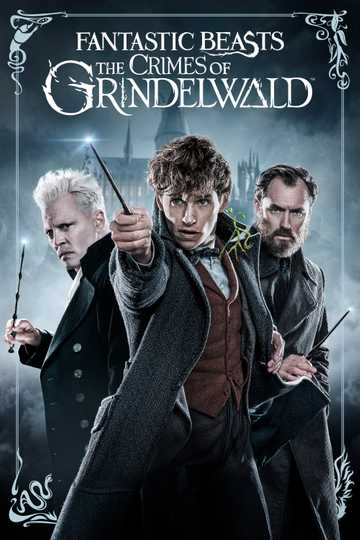 "Fate of one. Future of all."
2 hr 14 min
Nov 16th, 2018
Gellert Grindelwald has escaped imprisonment and has begun gathering followers to his cause—elevating wizards above all non-magical beings. The only one capable... Read the Plot