 Plus, this one has Neve Campbell!
Super Bowl 2018 was packed with TV and movie trailers, amid the many commercials and -- or so we heard? -- a football game.
One of the trailers was for Dwayne "The Rock" Johnson's latest action movie, "Skyscraper." The title and poster tell you everything you need to know... But if you're curious for more, the trailer fills in the blanks:Fans saw a lot of familiar themes, especially one in particular. Not that there was anything wrong with that.
**WRITERS ROOM**

"Are we worried this is going to be panned as a Die Hard ripoff?"

"Give The Rock a prosthetic foot."

"Are we worried we're going to make TOO much money?"

— Zach Harper (@talkhoops) February 5, 2018
Love the trailer for the Rock's new movie Not Die Hard.

— Brett Erlich (@bretterlich) February 5, 2018
Wait, The Rock is in a remake of Die Hard AND The Towering Inferno? SIGN ME UP

— Rich Siegel (@siegel) February 5, 2018
So they're remaking #DieHard with The Rock and calling it #Skyscraper ? ????

— Will Kennedy (@willkennedynews) February 5, 2018
Yippy kai-yay IF YOU SMELL WHAT THE ROCK. IS. COOKING.

— Ken Yeung (@thekenyeung) February 5, 2018
Here's the official synopsis:
"Global icon Dwayne Johnson leads the cast of Legendary's Skyscraper as former FBI Hostage Rescue Team leader and U.S. war veteran Will Sawyer, who now assesses security for skyscrapers. On assignment in China he finds the tallest, safest building in the world suddenly ablaze, and he's been framed for it. A wanted man on the run, Will must find those responsible, clear his name and somehow rescue his family who is trapped inside the building...above the fire line.

Written and directed by Rawson Marshall Thurber (Central Intelligence, We're the Millers), the 3D action-thriller is produced by Beau Flynn (San Andreas, Baywatch), Johnson, Thurber and Hiram Garcia (San Andreas, Central Intelligence).

Skyscraper's executive producers are Dany Garcia (Baywatch, Ballers), Wendy Jacobson (San Andreas), Eric McLeod (Kong: Skull Island, Pirates of the Caribbean series) and Eric Hedayat (The Great Wall, Real Steel). The film will be released by Universal Pictures."
"Skyscraper" opens this summer.
Want more stuff like this? Like us on Facebook.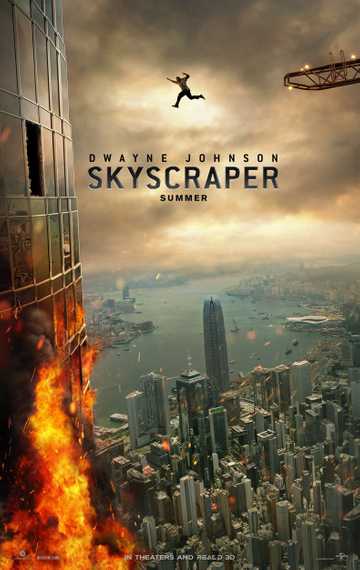 Skyscraper
Framed and on the run, a former FBI agent must save his family from a blazing fire in the world's tallest building. Read More