 "Black Panther" is going to be huge.
Early word on the film (that we can confirm) is that it's a superhero game-changer; the type of bold, progressive, inclusive filmmaking that we've always wanted from the genre but never really gotten before.
Early tracking has it being a blockbuster, too, with advance ticket sales eclipsing even the "Avengers" films. And, it being a Disney movie, there are a plethora of high profile promotional tie-ins, from that Lexus ad that ran during the Super Bowl, to the hype-generating soundtrack album, supervised by renowned rapper Kendrick Lamar and his Top Dawg team.
It's a great fit, too -- when Marvel Studios took over Hall H at Comic Con last year, they showcased a "Black Panther" sizzle reel set to Lamar's thunderous "DNA," and the angry, politically charged lyrics of the rapper align perfectly with the movie's themes and narrative.
The last time a musical artist and a superhero formed such a symbiotic bond was when Prince, at the insistence of Warner Bros, penned nine songs for Tim Burton's "Batman." (Burton hated the songs and railed against pop music in his films until Lana del Rey created two tracks for "Big Eyes.") Lamar only appears in three of the "Black Panther" songs, but he can be felt in all the rest.
Without further ado, here is the track-by-track review of the "Black Panther" soundtrack, out today on Interscope/Top Dawg/Aftermath (in conjunction with Walt Disney Records). 01 "Black Panther" Kendrick Lamar
"Batdance" this isn't. This might be the rawest and most Kendrick-y track on the entire album, a two-minute forest fire of a track.
Starting out with some vaguely tribal drums, before transitioning to a simple piano line (before mutating at least one more time), "Black Panther" establishes the themes of both the movie and the album -- legacy, responsibility, the intersection of the personal and the political. These themes (and their accompanying sonic obsessions) reverberate throughout. "Black Panther, King Kendrick," all hail.
02 "All the Stars" Kendrick Lamar and SZA
Our first taste of the "Black Panther" soundtrack was this buttery R&B jam by Top Dawg breakout (and multiple Grammy nominee) SZA, with a much-appreciated assist from Lamar. This is the song that plays over a dizzyingly James Bond-ian credits sequence directly after the movie concludes. (The main-on-end conceit has become a staple of the Marvel Cinematic Universe.)
And in that context, the great song becomes even greater, with glittery sand particles swirling around while SZA and Lamar's vocals soar overhead. Shirley Bassey would be proud.
03 "X" Schoolboy Q, 2 Chainz, Kendrick Lamar and Saudi
Initially, this track didn't identify Kendrick as being a part of this song, but he's there, right from the bat. This awesome, Middle Eastern-tinged banger features a rattling beat and round robin vocals that effortlessly flow from one rapper to another (all held together by that great Lamar line and a shocking commitment to expletives). Still not quite sure what "Are you on ten yet?" means, but it's very, very cool.
04 "The Ways" Khalid and Swae Lee
This track, from 2017 breakout Khalid, is something of an outlier -- just for its sheer poppiness. Not that it's bad. Khalid (who, it's hard to remember, is still jus 19), coos beautifully. Thematically, it's like he wrote a love song to one of the movie's strong, fierce warrior women. The romantic angle of the track is only enhanced when Swae Lee, one half of the hip hop duo Rae Sremmurd, whose gilded falsetto takes things to another level. This track is a highlight. Play it for the "power girl" in your life.
05 "Opps" Vince Staples and Yugen Blakrok
If you've been paying attention to the "Black Panther" marketing push, then you might remember snippets of this song in early TV spots. It instantly sparked speculation on the album about just how big this thing was going to be. (As it turns out, pretty huge.)
Continuing with the Afrofuturism of Vince Staples excellent 2017 album "Big Fish Theory," it's got a techno-worthy beat that is perfect for some diamond hard rhymes. And, honestly, Staples, Lamar and Yugen Blakrok kill it. This is something that villain Erik Killmonger would probably listen to before a heist. It also gets bonus cool points for being co-produced by Ludwig Goransson, who composed the movie's score and has produced acts like Childish Gambino.
06 "I Am" Jorja Smith
Another outlier, this gorgeous track from British singer Jorja, who made memorable appearances on last year's Drake playlist "More Life," definitely keeps within the thematic concerns of both the album and the movie. "Sometimes we ain't meant to be free," is the haunting lyrical through line. Plus, in the last minute of the song, it becomes something of a duet, as an uncredited Kendrick comes into the mix. It's awesome.
07 "Paramedic!" SOB X RBE
You can tell that this song is taking from a very specific point-of-view when the first words of the song are, "I am Erik Killmonger." This song is an old-fashioned rap song, or -- in the words of "Star Trek Beyond" -- all beats and shouting. And that's okay.
It's nice to hear a song that could have been played during the movie's early-1990's Oakland section without much fuss or incongruity. This track won't dazzle you with its star power, but you won't skip it either (and, yes, that's an uncredited Kendrick).
08 "Bloody Waters" Ab-Soul, Anderson Paak and James Blake
Upon initial listen, this is one of the highlights. One of the weirder tracks, it begins with James Blake's lilting British vocals, before giving way to Anderson Paak's boisterous vocals, and then the more hard-edged style of Ab-Soul.
And all of this happens alongside a loopy bubble of a beat that feels both comforting and disconcerting. (Ab Soul's California-specific lyrics are super awesome.) Turn this one up, it's a fun and surprising tour de force.
09 "King's Dead" Jay Rock, Kendrick Lamar, Future and James Blake
Within the larger "Black Panther" framework is the theme of royalty (and royal ascension), which "King's Dead" engages in fully. This surprisingly hard-edged rap song, with interlocking vocal exchanges from Lamar, Jay Rock and Future -- along with unspecified sonic assistance from Blake -- is a total banger. (Keep in mind, Future squeaks "Murder everyone" on an album coming out from Disney.)
If there was ever a doubt that, in putting such a commercial project together, Lamar would lose his point of view and fiery personality, then "King's Dead" can handily answer with a resounding, "Nope." His unbroken rap/monologue towards the end of this sound is amazingly impressive and not at all what you'd expect from this kind of package.
10 "Redemption Interlude" Zacari
Moody and atmospheric, but at a minute-and-twenty-five-seconds, it's both too short as a song and too long as an interstitial. It's pretty, but you can skip it.
11 "Redemption" Zacari and Babes Wodumo
I believe that this song is played in the movie, but I'm not entirely sure where. Still, it's totally cool.
It's a futuristic R&B song with an irresistible beat and a terrific energy. It feels like the kind of utopian futurism of Wakanda, personified and put to a rhythm that you can dance to. What more do you want (or need), really?
12 "Seasons" Mozzy, Sjava and Reason
This somber, somewhat reserved track -- which is built around Sacramento rapper Mozzy (who, it should be noted, is not a Top Dawg signee) -- is already being heralded as one of the best things about the album.
It's a reflective song, one that doesn't want to dazzle you with big guest verses or shimmery production. Instead, against a laid back beat, Mozzy, Sjava, and Reason rap realistically about the hardships of contemporary blackness, while subtly tipping their hat towards the larger concerns of the movie ("We go to war for this African blood"). It's a hardscrabble groove.
13 "Big Shot" Kendrick Lamar and Travis Scott
Another one of the marquee tracks, this truly awesome rap track -- with Lamar and Travis Scott -- has a beat embellished by a somewhat African flute. And if you've forgotten what album you're listening to, at the top of the track, you hear a voice cry out, "Wakanda!"
This song is really, truly incredible, the work of two hip hop powerhouses going all in (and all out). Yes, please.
14 "Pray for Me" The Weeknd and Kendrick Lamar
In terms of placement, "Pray for Me" has the flashiest spot in the actual "Black Panther" movie. It scores a lengthy, elaborate sequence that takes place inside a South Korean nightclub/casino (another huge 007 echo). And honestly, the song fits perfectly.
It's slinky, with a gooey synth line and the Weeknd's honeyed lyrics. (Lamar, who pops up for a few choice verses, adds some much-needed grit to the otherwise velvety song.) Honestly, it's not hard to imagine this gaining chart dominance in the weeks ahead, especially if the Weeknd decides to include the track on his forthcoming album.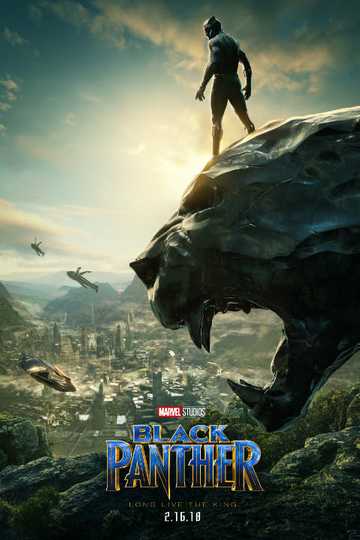 Black Panther
King T'Challa returns home from America to the reclusive, technologically advanced African nation of Wakanda to serve as his country's new leader. However, T'Challa soon finds that he is challenged for... Read More