Comic-Con 2022: Marvel Studios Unveils New 'Avengers' Movies and More
'She-Hulk,' 'Black Panther: Wakanda Forever,' 'Guardians of the Galaxy Vol. 3,' 'Ant-Man and the Wasp: Quantumania' and 'Secret Invasion' all featured.
In the years since the Marvel Cinematic Universe began to dominate the box office and impact all corners of pop consciousness, Marvel Studios Comic-Con panels have begun to resemble rock concerts or religious sermons. Or a bit of both.
And, following two years of virtual or reduced San Diego conventions, the company was not going to waste the opportunity to go big, announcing whole phases as well as what we can expect.
Following an initial sizzle reel, cartoon clock Ms. Minutes from 'Loki' introduced Marvel Studios boss Kevin Feige, who was master of ceremonies as usual.
Following some talk about the Phase 4 announcements that Feige made way back in 2019, he announces that the next Marvel show – 'She-Hulk: Attorney at Law' – and movie ('Black Panther: Wakanda Forever') will mark the end of that particular Phase.
Team 'She-Hulk', including star Tatiana Maslany, were on hand to answer brief questions and then debut the new trailer for the show, which debuts on Disney+ on August 17th this year. You can watch the trailer above and keep an eye out for a Daredevil cameo.
But if that and the 'Panther' sequel (more on that later) close out Phase 4, what constitutes Phase 5? Glad you asked. Fortunately, Feige, with an accompanying timeline graphic, was ready to inform us.
It all kicks off with 'Ant-Man and the Wasp: Quantumania', in theaters February 17th next year. We're promised another fun romp with Paul Rudd's Scott Lang and Evangeline Lily, though this time they'll have to deal with trouble from powerful multiverse entity Kang the Conqueror (Jonathan Majors, who played a version of the character in 'Loki').
Director Peyton Reed and stars Rudd, Lilly, Majors and Kathryn Newton (Scott's daughter Cassie) were on stage for a Q&A and to introduce a sizzle reel from the film, which was only shown to those in the audience. One big takeaway? Giant-headed character MODOK will show up in the movie.
Whether he'll be voiced by Patton Oswalt (who played him in the recent Hulu stop-motion series) remains to be seen.
"Scott is pretty pleased with himself in his role with saving the universe," Rudd told the crowd. "Scott's been busy at work–ish. With a little book (his memoir). And I don't know what else I'm supposed to say!"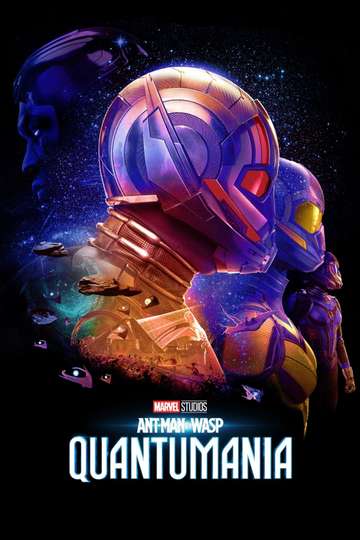 Next up was 'Secret Invasion', which stars Samuel L. Jackson, Ben Mendelsohn and Cobie Smulders. The series showcases a faction of shapeshifting Skrulls who have been infiltrating Earth for years, and according to Smulders (who arrived on stage in Hall H) will be a darker, grittier show that will keep you guessing as to who is a Skrull. That'll arrive on Disney+ next spring.
'Guardians of the Galaxy Vol. 3' will hit theaters on May 5th, 2023, and wraps up James Gunn's trilogy. The director and a select group of cast including Chris Pratt, Sean Gunn, Karen Gillan and Pom Klementieff were on stage to talk the emotional end to the film. They were joined by Maria Bakalova, who we learned plays Cosmo The Space Dog.
And that wasn't all – Chukwudi Iwuji (who worked with Gunn on 'Peacemaker') strode through the crowd in costume to announce he's playing a villain known as the High Evolutionary. "Call me sire!" he demanded after making it to the stage.
Will Poulter was also on stage, though he made no demands and he was dressed in a T-shirt and slacks. He's playing Adam Warlock in the movie. "I'm truly, truly grateful," he admitted. "It's pretty surreal to have ever stepped on the 'Guardians' set."
A 'Guardians' sizzle reel – again, not released to the public outside the convention center – showed some details, including the fact that Zoe Saldana's Gamora still has no memory of her friends and his running with the Ravagers.
We can also expect to see a younger Rocket Racoon (voiced as usual by Bradley Cooper) with the movie exploring his tragic origin. Groot (Vin Diesel) is grown up again in the new movie.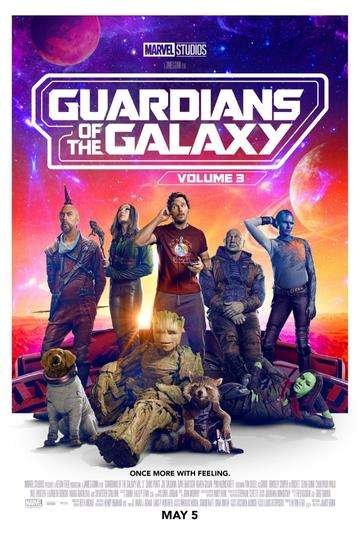 The remainder of Phase 5 was limited to the announcement graphic. 'Echo', the spin-off series from 'Hawkeye' about Alaqua Cox's deaf gangster Maya Lopez, is due on Disney+ in summer 2023. 'Loki' Season 2 will follow that, also on Disney+, while 'The Marvels' – the 'Captain Marvel' sequel that also features Iman Vellani from 'Ms. Marvel' will be in theaters on July 28, 2023.
Fall 2023 brings 'Ironheart' – starring Dominique Thorne as young genius armor-builder Riri Williams – to Disney+. 'Blade', with Mahershala Ali as the daywalking vampire, hits theaters on November 3rd, 2023.
'Agatha: Coven of Chaos', which returns Kathryn Hahn's character from 'WandaVision' heads to Disney+ in Winter 2023/2024.
Perhaps even more exciting is official confirmation of a new 'Daredevil' series once starring Charlie Cox and Vincent D'Onofrio. 'Daredevil: Born Again' lands on Disney+ in the spring of 2024.
'Captain America: New World Order', which will see the big-screen debut of Sam Wilson's (Anthony Mackie) version of Cap following his suiting up in 'The Falcon and the Winter Soldier', is due in theaters on May 3rd, 2024. After that will be the anti-hero team 'Thunderbolts' making it to theaters on July 28th, 2024.
And what of Phase 6? So far, only three movies have been confirmed for that, with plenty of date slots still to be filled with other films and shows.
The long awaited 'Fantastic Four' MCU edition is due out on November 8th, 2024. And then the biggest of the title-only announcements: Phase 6 wraps up in 2025 with 'Avengers: The Kang Dynasty' on May 2nd, 2025, and 'Avengers: Secret Wars' on November 7th, 2025.
Last, but very, very far from least, Feige wound things back to this year. 'Black Panther: Wakanda Forever' will be with us on November 11th.
After some traditional African music paying homage to the 2018 original's score, we got co-writer/director Ryan Coogler plus Mabel Cadena, Michaela Cole, Winston Duke, Danai Gurira, Tenoch Huerta, Florence Kasumba, Alex Livinalli, Lupita Nyong'o, Dominique Thorne and Letitia Wright.
In the movie, Queen Ramonda (Angela Bassett), Shuri (Wright), M'Baku (Duke), Okoye (Gurira) and the Dora Milaje (including Kasumba), fight to protect their nation from intervening world powers in the wake of King T'Challa's death. As the Wakandans strive to embrace their next chapter, the heroes must band together with the help of War Dog Nakia (Nyong'o) and Everett Ross (Martin Freeman) and forge a new path for the kingdom of Wakanda.
They'll need it – as the Wakandans will face conflict with an undersea nation, which will introduce Namor the Sub-Mariner, played by Huerta.
After Coogler paid emotional tribute to the late Chadwick Boseman, he and the cast debuted the new trailer. You can see it for yourself below.
It's an emotional, effective promo for the trailer, showcasing and enraged Angela Bassett and some very different locales. Oh, and someone new in the Black Panther suit (though we don't know who yet).
And for those who like their Marvel movies in sagas as well as phases, you'll be happy to know that Phases 4 through 6 constitute 'The Multiverse Saga' (as 1-3 were 'The Infinity Saga').
All in all, another huge successful event for Marvel, who certainly know how to put on a show!